Kitchen Influential
Over the past decade, Patrick Mulvaney has not only created one of Sacramento's most celebrated restaurants, but perhaps the city's de facto salon, with a cross section of engaged citizens and power brokers charting the region's future in his dining room. Meanwhile, he's morphed from gregarious host to having a seat at the proverbial table, effecting change through food, wine and his wits.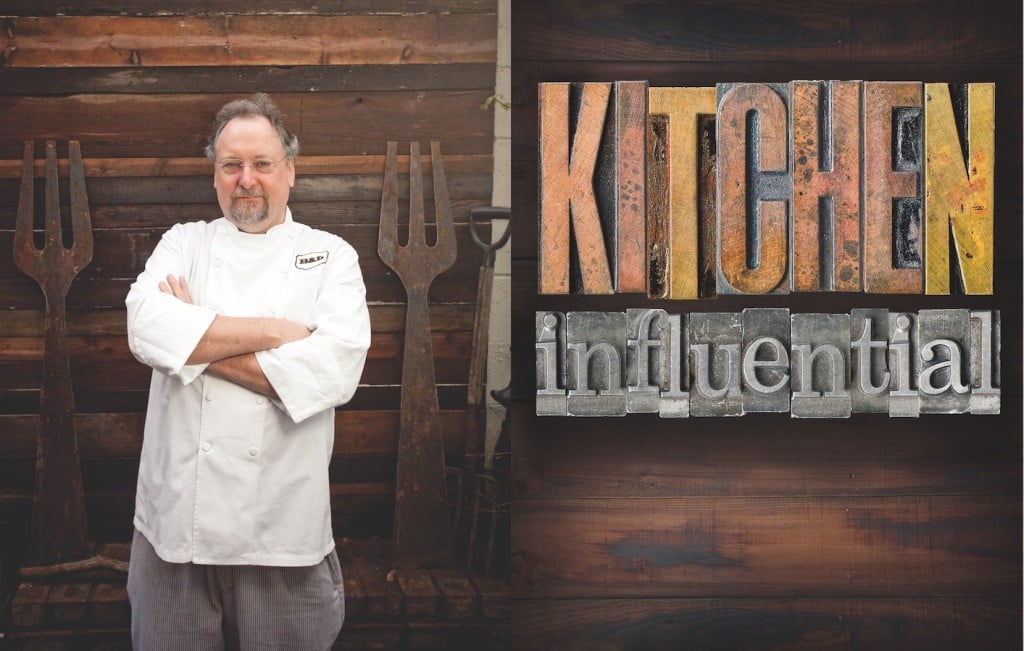 There are things happening inside Patrick Mulvaney's B&L in midtown that you know nothing about.
Big things.
They usually take place in The Snug, a private back room down a worn hallway behind the kitchen.
"That's where conspiracies are made," says Bobbin Mulvaney, Patrick's wife and business partner, only half joking.
Anyone can call to reserve The Snug if they know about it, which most don't. It has its own entrance, away from curious diners, and a single long rectangular table ideal for meetings with friends, enemies, power players, or those who shouldn't be seen together, personally or professionally. Gov. Jerry Brown and former Gov. Arnold Schwarzenegger have been in The Snug, as have dozens of other politicians, business leaders and Mulvaney insiders—of which there are hundreds.
"I can't count the number of times I've eaten in The Snug," says Sacramento Kings president Chris Granger, who first started using the room with his NBA marketing team as far back as 2011, when a move to Anaheim was still a possibility for the team. "It's probably well into the triple digits. To this day I go there, even though the meetings are less clandestine than they were before."
One time, Bobbin tried to take the space for an office. "We made $96,000 off that room last year," Mulvaney told her. "Can you pay me that in rent?" Her office went elsewhere.
But while The Snug has its secrets, not every meal there is off the record.
Councilwoman and mayoral candidate Angelique Ashby says Mulvaney asked her once why she mostly came to the B&L for business, rarely with friends and family. She told him she had a young daughter, nicknamed Peanut, who wasn't ready for restaurant prime time. He offered her The Snug—so Peanut could run free while her parents ate like adults. "Patrick uses that room to solve problems," says Ashby, which really is what Patrick Mulvaney is all about: fixing things.
Maybe it's a salad, maybe it's a lively toddler. Maybe it's something more unexpected, like homelessness for women with kids. Mulvaney loves to cook, but he's 10 years into running the B&L. And the older he gets, the more he's taken to fixing things outside the kitchen, things around town that sometimes have little to do with food, but everything to do with connections.
* * * * *
Gregarious and disheveled, his usual combo of traits, Mulvaney, 54, is entertaining guests inside the main dining room of the B&L.
It's mid-December, and the intimate space with its brick walls and big mirrors is packed with a dozen CEOs and their significant others celebrating the holiday season by learning to cook with Mulvaney—a pricey Christmas party in one of the city's most popular venues. They've helped sous vide a slab of prime rib, candy some cranberries and drink a festive quantity of wine and whiskey. Now they're seated family-style at long tables, while Mulvaney, who once considered himself a bit of a flop at this front-of-the-house schmoozing, garnishes the night with bonhomie, a well-practiced speech about the farm-to-fork bounty that they are about to eat.
He holds up a small silver bowl full of aromatic fennel seeds that he's been passing around all night. "When you are driving over the American River and you see those yellow flowers, those are your fennel, right?" he tells the crowd with his verbal tick of ending on a question mark.
He has a deep growl of a voice that is clearest when loud, which it often is. One-on-one, he speaks so fast and low that he's hard to catch, a freight train of words and ideas rumbling down the tracks, going who knows where. Jump aboard or be left behind.
He's wearing a wrinkled blue button-down work shirt with vaguely western brown piping on the pockets and food stains everywhere. His graying hair is an unruly shock, shooting off in multiple directions, and his feet splay out at opposing angles.
Oh, but the eyes, those Irish eyes that can leak with nostalgia or crinkle with mirth, yet remain firmly shuttered—leaving no glimpse of the man behind them or the desires that rule him. "I'm not comfortable talking about passion or what it is that I do or why I'm driven to do that. That's f–king my business, right?" he says earlier in The Snug, his rescue dog Lily sitting nearby. But his loquacious Emerald Isle heritage is strong, and he can't help but elaborate. "I'm not a runner, I don't play basketball, I don't write, I don't play the guitar. For me, as strange as this might sound, being in a hot, sweaty, steamy, loud environment, cursing and screaming at people, was a place where I could finally center," he says of discovering the Zen of his stoves.
In the decade it's ruled this midtown corner near 19th and L—Mulvaney's marks its 10th anniversary on March 1—both the place and its namesake chef have become touchstones in Sacramento's psyche. He's created one of the top rooms where people come to celebrate and do business. Valley Vision, the local nonprofit dedicated to helping the capital region grow in sustainable and smart ways, recently held a dinner here during its conference on the future of the city when it brought noted urbanist Richard Florida into town. Major League Soccer officials dined here during their Sacramento scouting visit, as did actor George Takei during a recent sojourn back to his mother's hometown. And on any given day, it's likely patrons will include at least a few buying meals to acknowledge a milestone, be it love, birth or employment.
"Nobody ever says no to going to Mulvaney's," says Ashby, who herself is a regular.
There's no doubt that part of the pull is the food. The constantly changing menu chases the seasons with obsessive delight. Everything is local, and was long before the city was labeled America's Farm-to-Fork Capital. Mulvaney's style and pedigree have won him national attention, including being asked to cook at New York's James Beard House—one of the highest honors in the restaurant world.
But it's what Mulvaney makes off the plate that really makes him notable—a boulevardier, as one close friend describes him, using the French term for a man about town—the one that everyone says hello to when he walks down the street. Mulvaney has worked hard to craft a gravitational pull in the community by making his customers' business his business—by knowing what they're doing, what they want and how he can help.
"He's not your average restaurant guy," says Dan Kennedy, one of Mulvaney's mentors and the retired publisher of the Sacramento Business Journal (who also tends the garden on the B&L patio). "He's a more complex and thoughtful and better person than you would suspect, even if you thought he was a great person in the first place. The one overriding characteristic is that he is an inclusive person rather than a competitive person."
For every dish Mulvaney puts out from his kitchen, he seems to have his finger in an equal number of civic pies. The list of his extracurricular involvement is longer than his menu—leading a study mission for the Sacramento Metro Chamber of Commerce to Denver, helping his wife Bobbin open Plates (a restaurant that helps homeless women get back on their feet), helming a new $100,000 grant from the James Beard Foundation to study how West Coast chefs can impact public policy, dabbling in placemaking events like the annual Tower Bridge dinner and the Sacramento Bastille Day Waiters' Race. The list keeps expanding, and much of it starts with his hard-won ability to run his dining room in a way that makes every patron feel welcomed—and listened to.
"I wanted to create a space where people in the region would come to discuss the issues of the day and potentially invite me into those conversations," says Mulvaney. "This really has become that very place for a lot of people."
* * * * *
Down a dead-end street behind a McDonald's in Rockaway Beach on the south shore of Long Island is an old bungalow with, like Mulvaney's B&L, no signage. This was Pier 92 Restaurant, and you just had to know where it was. And back in the day, everyone did. It's where Mulvaney, raised nearby in posher Garden City, got his first taste of the hospitality business.
The area is a hipster neighborhood now, where the denizens of the nearby Williamsburg area of Brooklyn surf on the weekends. But this patch used to be the "Irish Riviera," no compliment intended, a down-and-out suburb on Jamaica Bay overlooking JFK airport where working class people got rowdy.
Pier 92 was run by Dan Tubridy, an East Coaster who sounds like a Sopranos extra. In his prime, when Mulvaney was young enough to be impressionable, Tubridy drank hard, smoked cheap cigars and knew everything about everyone, because everyone came through his doors at some point—often wanting a favor.
"This is a full-service saloon," is how Tubridy says he thought of his place. "What that means is someone needs a meal, they get a meal. They need a lawyer, they get a lawyer. They need advice and counsel, they get it."
Mulvaney's father, Jim, was one of the many that Tubridy pulled into his orbit. A prominent defense attorney (who kept almost as many files in the trunk of his Impala as he did in his office), the elder Mulvaney was a boulevardier in his own right. Everybody in Queens, where he worked, knew him, says Patrick, whether he was just walking down the street or telling legal tales at Poor Nick's across from the courthouse.
Charismatic and commanding, he was the kind of guy that was used to being the center of things. But Tubridy was a force on his own. After splitting with Patrick's mom, Eileen, Jim Mulvaney found a second life inside of Pier 92.
"The next 27, 28 years, we were the best of buddies and had lunch and dinner five to 10 times a week," says Tubridy of their friendship. "We truly loved each other and were among the best ball-breakers that either one of us knew."
It was Jim who asked if his son could have a job, after Patrick graduated from Union College, a well-respected liberal arts school in New York. The elder Mulvaney never thought, or wanted, restaurants to be his son's career—he had expectations for young Paddy. Mulvaney's older brother, James, was already building a successful journalism career (he later won a Pulitzer Prize in 1996 while working at the Orange County Register). Patrick's mother had a doctorate and was a noted educator for disabled kids. Patrick felt the pressure to do something similarly laudable, but he quickly got hooked on life inside Pier 92.
"I remember once Ed Koch came in—he was mayor [of New York] at the time," says Mulvaney. "Someone went out on the deck and said, 'Hey Danny, the mayor is here to see you.' [Danny] said, 'Tell him I'll be in when I'm done with my f–king cigar.' And I thought, 'Wow, that's pretty cool.' "
The work was fun and entertaining, but even back then, it was the serious side of Tubridy that he admired.
"That's really where I saw the idea of a restaurant as a community space—people from the community came in to talk to my boss," he says. "What Danny was doing there was helping to change Rockaway, and working with the community to make it a better place to live."
Enamored of Tubridy's over-the-top life and rebelling against the intellectual destiny his parents foresaw, he started thinking about what it would be like to own his own joint.
"I thought if I learned how to cook a little, I'd be a better restaurateur," says Mulvaney. "At that point, I just wanted to have a Pier 92, steaks and chops and bay scallops sautéed or fried, and create that space."
* * * * *
The King of the Sea, a famous Manhattan seafood house that had been around since the 1940s, was hiring. It seemed like a good place to learn to fry fish. So Mulvaney made the move into the Big Apple and into the kitchen.
But the job only lasted two months. His brother, who was working in Ireland at the time, talked him up to Sean Kinsella, one of the country's most notable chefs, who was opening a restaurant in the Waterville Lake Hotel in County Kerry. Thinking Patrick, then 23, knew what he was doing, Kinsella agreed to give him a job—entry into an elite world of European apprenticing that usually took a lot of talent and luck.
"Sean was expecting a sous chef and got someone who had eight weeks of being at The King of the Sea," says Mulvaney. "So Sean was a little disappointed. A lot disappointed. I got fired, you know, five times in eight months."
But Kinsella kept hiring him back and Mulvaney stuck it out. So along with a thing or two about cooking, Mulvaney learned how to be in a bustling kitchen, doing "the dance" that reality show chefs have introduced to the masses. Maybe it was his first inkling of the difference between a cook and a chef, blending the ambition and intellectualism of his upbringing with the need for creativity that had always made him an outsider.
When he decided to return to the States, he mailed out letters (this was before the days of email) to top chefs in New York looking for work.
"I'm not a runner, I don't play basketball, I don't write, I don't play the guitar. For me, as strange as this might sound, being in a hot, sweaty, steamy, loud environment, cursing and screaming at people, was a place where I could finally center," Patrick Mulvaney says of discovering the Zen of his stoves.
Leslie Revsin, an up-and-comer who was the first female chef at the Waldorf Astoria, granted him an interview at her popular Upper West Side eatery Metropolis. "She said, 'Mr. Mulvaney, what is it that you do in the kitchen?' " he says. "I said, 'I'm not sure, but I know I get yelled at pretty well.' So she was like, 'All right. Well, let's give you a shot.' "
He started with grunt work like taking seeds out of pomegranates, but got a break one night when the salad guy called in sick and he got to take over. From there, "I did every station—the grill, the rotisserie, the cuisinier, saucier. When the baker left, I did baking for a month and a half," he says. He eventually followed Revsin to another endeavor, then to Brooklyn's celebrated River Café under another notable chef—David Burke. It was the kind of place that drew celebrities in droves. One Fourth of July weekend in 1988, he found himself on Donald Trump's yacht, helping the restaurant with a catering gig.
"Ivana was not thrilled to see some guy in army boots in her dining room," he says.
Despite rising up through the kitchen ranks in New York, Mulvaney decamped to Phoenix, Ariz., that fall to follow his girlfriend at the time, Nell, to graduate school. He worked in the kitchen of RoxSand, one of the city's most progressive eateries, but eventually found "Phoenix not as satisfying as New York was," he says.
In 1991, he was invited to Madeleine Kamman's School for American Chefs at Beringer Vineyards in Napa—a hard-to-come-by offer in the culinary world—for an intensive two-week course. Faced with his unrelenting questions about the whys of cooking, Kamman suggested he look into the food science graduate program at UC Davis. Mulvaney was still struggling with his family's expectations that he do more than make dinner. His mother had come around after striking up a friendship with Revsin and realizing that Mulvaney was doing something he loved. But Jim still had hopes his son would change his mind. "I believe that initially they felt Patrick could do something else with his life that was maybe a little more, I don't want to say prestigious, but that was a little higher than what I would classify as a cook," says Tubridy. Adds Kennedy, "[Jim] was unnecessarily critical at times of some of Patrick's business. He didn't quite grasp it, the creative side."
Mulvaney thought moving into academia might be more respectable and enrolled at UCD after getting the necessary undergrad chemistry courses in Arizona. But he quickly found he didn't like it. He took a part-time job in the kitchen of River City Brewing Company "because I was bored and didn't really like graduate school and didn't know what I was going to do."
Kamman invited him back up to help her run her program, through which he met dozens of chefs coming through the prestigious course. It was an experience that made him realize maybe the problem with being a chef was his way of thinking about it. "And at the end they say, 'Well, this is cool.' This is what people do. This is their life, right? They do this and this is serious," he says.
During that period, he "fell in love with Sacramento," he says. "The food and the region and the people. I knew that this was the town that I want to embrace and thought I could have an effect on."
So he moved here when he was 30, sitting in on City Council meetings to get a feel for the place and taking a job at Randy Paragary's then-new eponymous restaurant, where a merry band of misfits was running the kitchen, pulling herbs from the garden across the street.
It was a good fit, but Mulvaney eventually bought a catering company called Culinary Specialists, bringing him one step closer to his own Pier 92.
* * * * *
Mulvaney calls his wife Bobbin "She Who Must Be Obeyed," though he often doesn't. She's a bit of a paper bag princess, the kind of woman who could dress in a sack and would still look dignified and regal.
Before they were married, in the years when the B&L was his private fantasy, Bobbin couldn't even wedge her way into the plans. A "man-child," as she describes him back then, who hadn't yet learned that lasting relationships require being the guardian of someone else's happiness, sometimes at the expense of your own, he didn't want Bobbin's input, even though she came from a family of restaurateurs and had run her own catering company. "Patrick wanted to do this all by himself and I'm like, 'Dude, I know some stuff. I can help you,' " says Bobbin, who had met the chef in 2002 while working for Classique Catering at the Sacramento Convention Center. Tired of being an outsider to his inner world, she broke up with him, more than once.
Just past the entryway inside the B&L is a framed Collier's-style drawing of a pretty young Victorian woman sitting with an older couple as they dine in a restaurant. She's glum, resting her chin on her hands, and the caption reads, "Her heart is in the kitchen." Bobbin carried this picture up four flights of stairs to Mulvaney's doorstep with a breakup note attached (it's still taped to the back). In the letter, she says she told him, "I want to be in a relationship with someone wholehearted. I'm wholehearted. I'm in and you need to be wholehearted."
Mulvaney got the message—step in or step off.
"I thought that I could be like my father and just stay lonely and alone, or I could think about it and get involved and decide how I was going to be. It's a choice," he says.
Not too long afterward in time, but an eon in emotion, during which Mulvaney weathered both the unexpected and quick death of his mother from mad cow disease and Bobbin's diagnosis and treatment for cancer, he asked her to marry him. He came home from a trip back East while Bobbin was still recovering from surgery, and surprised her with his grandmother's Tiffany ring, still in its vintage blue box. It was late, they were in bed. He fell asleep after asking, but Bobbin, drainage tubes still in her chest, couldn't, she says.
"I remember I turned on the dining room light and I'm walking around like this," she says, waving her ring hand above her head. "And in the light, [the ring] is sparkling. Then I realized in the morning—I had gotten up and done that twice—I was naked as a jaybird."
For all Bobbin's joy, friends say it's Patrick who got lucky—or maybe fortunate. Mulvaney separates the two—luck happens, fortune's made.
"Bobbin brought peace," says Tubridy. "I say peace in that he adores her and it gives him more reasons for doing what he is doing."
But life with Bobbin isn't always tranquil. Their temperaments are different—his is "linear" he says, despite being a Deadhead (yes, the kind that still listens to the Grateful Dead, even with the inclusion of John Mayer). She's more New Age. They attend separate churches. He goes to St. Francis in midtown, she goes to a Pentecostal one that, for its services, uses the B&L's event space, where members just pull together chairs to create makeshift pews. Once, Bobbin went to St. Francis. She wanted a latte before they went in. Mulvaney was incredulous. "He's like, 'There is no cappuccino maker in my church lobby,' " she says. "I'm like, 'I can't believe that.' "
And then there's the cancer—she's had breast cancer twice and also colon cancer, though she's healthy now.
"It changes everything," says Mulvaney of those periods of dealing with the disease and its often brutal treatment. "Sh-t goes on outside, but you don't have time to pay attention to it and it's not your focus anymore. Stuff goes on that you may have once thought you were in control of, but you're really not."
* * * * *
In between his mother's passing and Bobbin's recovery, Patrick Mulvaney opened the B&L. He was forced into it, though the plan had been simmering on the back burner. But in a January 2006 article, then-Sacramento Bee food critic Mike Dunne reported that "the most anticipated restaurant opening of 2005 is the most anticipated restaurant opening of 2006, with Patrick Mulvaney sounding pretty confident that the place will open in February." So Mulvaney figured he'd better deliver.
"We were working on it, but [the article] forced us to have a deadline," he says.
They pulled together a dining room—leftover chairs from Starbucks a friend helped get, tables from a secondhand store—and soft-opened for business the last days of February (B&L officially opened on March 1) with Jim Mulvaney as a bartender and Dan Tubridy in the front of the house. Jim had always been jealous of Dan's relationship with Patrick, so they'd kept it at arm's length all those years. But this was too important to Patrick, so he called Dan and broke that unspoken boundary. "I need your help because this is real," Mulvaney told him. "This can't fail."
Tubridy says Mulvaney was fine on the food, but couldn't run the front. So he took over—using Mulvaney as his busboy.
"He had me running around like a donkey for four days," says Mulvaney.
Dunne came in to review the place on the second night. A week later, the night before the article was scheduled to be published, Mulvaney and his crew were smoking cigars and drinking on the patio, wondering what fate Dunne was going to deliver. They couldn't wait for the morning edition to come out—a couple of them rode their bikes to the Bee's loading dock a few blocks away and begged copies off the men loading the trucks.
"Some guy gave them five copies. They rode back and we were all sitting on the patio looking at the thing and reading the review," says Mulvaney. It was good. "That was a great moment."
* * * * *
Recognition for his cooking came that first week, but good food was never what made Pier 92 what it was. Mulvaney didn't lose sight of that. When Tubridy was done running Mulvaney like a beast of burden, Mulvaney ran himself like one—constantly pushing to become that guy, the Danny Tubridy of Sacramento. That was success—nothing else would do. "Money didn't mean anything to Patrick," says Tubridy.
His ambition meant getting beyond the kitchen, a move he's made slowly but purposefully over the past decade. He says that a "small restaurateur maybe isn't the usual person to be involved in that conversation" about political and social issues, but "[Bobbin and I] are part of the community, so that's what we're proudest of. We're part of this fabric that we try and make stronger, and as the fabric becomes stronger, we create a better Sacramento." So he constantly asks himself, "How can I most effectively advocate for or create positive change in Sacramento?"
Wherever the answer takes him, he's willing to go.
"He's an ambassador," says Randy Paragary, who has remained close to his old employee. "He's not just within the four walls of his restaurant, he is out in the community in multiple ways."
For every dish Mulvaney puts out from his kitchen, he seems to have his finger in an equal number of civic pies. "I wanted to create a space where people in the region would come to discuss the issues of the day and potentially invite me into those conversations," he says.
Paragary points to the inaugural Tower Bridge dinner, the now-annual celebration of local culinary talent and resources that takes place on the span, as a Mulvaney endeavor.
"He was one of the energetic guys that [led the dinner] the first year and made it what it is and made it easier for the guys that follow because the template has been set," he says.
Ditto on the Bastille Day waiters' race in midtown, which he hosted during its first year in 2010.
He's also a constant mentor to other restaurateurs—including to his stepdaughter, Sarah Gonzales, who is the general manager of midtown's Localis—and supporter (or silent investor) in eateries, offering help when people are getting started. Kennedy uses Ginger Elizabeth Hahn and her now-successful chocolate shop as an example. "Patrick helped her," he says. "He let her use his kitchen on his off days, then he bought her chocolates." Bobbin adds that recently, Patrick waited to hold a company party until Empress Tavern (the new meat-focused endeavor from chef-owner Mike Thiemann and the team behind Mother) opened, so he could give the new place his business.
Mulvaney doesn't let food be a limit to his involvement, though. "There is no boundary on where [Patrick and Bobbin] are willing to put their energies," says Christine Ault, a close friend and communications consultant for Valley Vision. "If they think they can make a difference, they will try." Recently, that has included helping with FoodStock (an event that fed almost 1,000 for charity) and the Salvation Army's Bells, Belles and Elves red-cauldron collection (the organization's annual holiday fundraiser that solicits change from shoppers).
Ault also points to Mulvaney's participation with the Sacramento Metro Chamber of Commerce. A few years ago, Mulvaney led one of its annual "study missions" where groups of business and civic leaders travel to other cities to learn best and worst practices for growth in areas like education, health care and civic amenities. Mulvaney planned the trip to Denver after helping with the trip the previous year, but put his own outlook in it, incorporating restaurants into the agenda and focusing on the creative side of the city.
"He wanted to tell a story about growth, vitality, prosperity," says Ault. "And nobody had ever done that before. Study missions up to that point had been pretty academic." She says Mulvaney set a new standard for how they are done (and chaired the programs and events division for the Chamber for two years until this past January)—part of the reason he recently received the Volunteer of the Year award from the organization.
Mulvaney says that he sees himself doing even more civic and community work outside the restaurant in coming years—for example, he wants to help teach local youths to cook with farm-fresh ingredients—meaning it's unlikely that we'll see more Mulvaney eateries.
"I've never heard Patrick talk one time about opening another restaurant," says Kennedy. "I don't think he has ever really had interest in doing that. I think he finds his satisfaction in having this one place that is huge and has his personality written all over it."
He's also finding an uneasy fulfillment in the public recognition for his community work. As much as he admired Tubridy, it hasn't been until recently that he realized effecting change means people notice—you can't hide in the kitchen. Unlike Tubridy or his father, he's troubled by that acclaim.
"It doesn't necessarily make me feel super comfortable," he says. "But being embraced by the community is pretty spectacular, you know?" He says Kennedy told him that if his 40s were for making his reputation, his 50s should be about enjoying it. "You are going to be entirely uncomfortable with that recognition and you should try your best to embrace it because it's important and it's not folly," Mulvaney recalls him saying. "It helps you also do more of what you want."
So if 10 years in business has a deeper meaning to Mulvaney, it's likely about who is taking notice of the milestone. The fact that it means something to anyone besides him and Bobbin is rewarding. That it's noticed by the town means more—personally and for the opportunities he hopes it brings. Ashby calls it "the Patrick factor." "[He] is a common denominator between groups that often don't see eye to eye," she says. "It doesn't matter what the issue is, Patrick Mulvaney finds a way to connect us."