Le Dîner en Blanc will return to Sacramento this October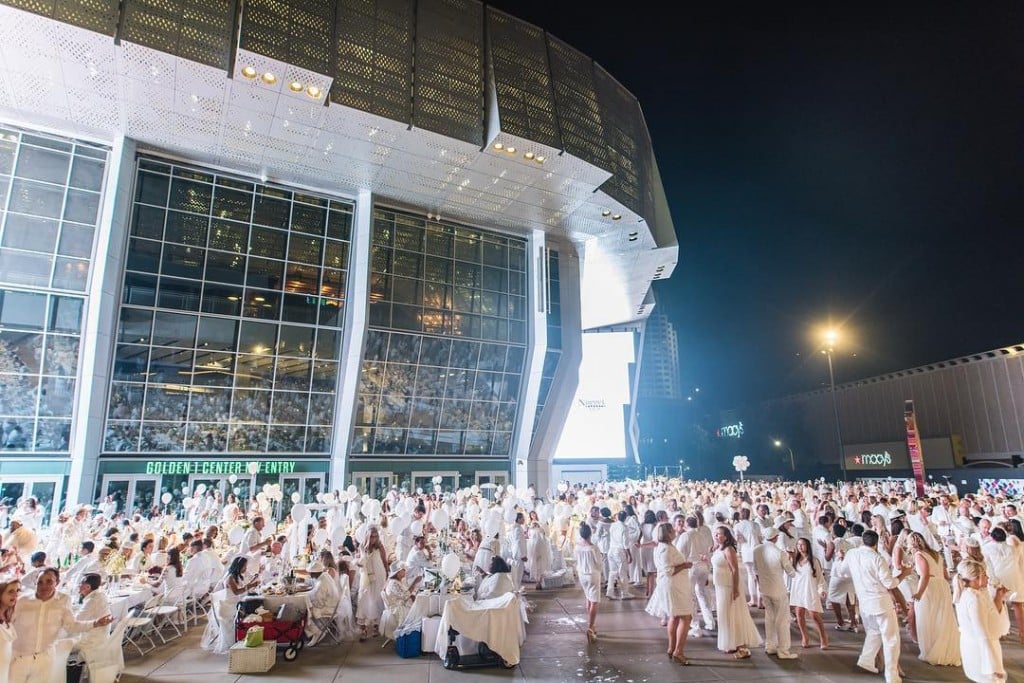 If you weren't one of the lucky 1,000 to score an invite to last fall's Dîner en Blanc, you'll get plenty more chances, as the event's organizers have just secured a bid to host the super-secretive pop-up feast for three more years, making for a new annual tradition.
On Oct. 8, 2016, guests clad all in white ghosted into Downtown Commons in front of Golden 1 Center while a harpist played, and quickly erected an outdoor banquet, complete with white tablecloths and candelabras. They dined, drank, danced and mingled, then disappeared into the night, leaving nary a trace of their passing.
The phenomenon started in 1988, when bon vivant François Pasquier invited his friends to join him for a plein-air feast in Paris' Bois de Boulogne and requested they all wear white so they could easily find each other. At the fete's 25th anniversary in 2013, 15,000 Parisians attended. Flash forward to 2016, when Sacramento became the latest of over 70 cities worldwide (and the first in Northern California) to host Dîner en Blanc, and it was a smashing success, to the delight of local organizers Christine Ault, Bobbin Mulvaney, Tre Borden, Libby Siino, Michelle Odell and Maritza Davis.
"We sent out a notice to the waiting list and people crashed the system," Ault says. "There were only 100 tables available and 3,000 people trying to get them." Dîner en Blanc is invite-only, although Ault is quick to point out that this doesn't mean it's exclusive in an elitist sense. "It's viral," she says. "The spirit of the event is friends hosting friends."
Click here to watch a video of Sacramento's first Dîner En Blanc
Organizers invite a list of people, and each of those invitees in turn get to pass on an invitation to a friend and his/her guest. Finally, people who've signed up for the waiting list get a crack. If you got in last year, you'll get invited back.
Participants, who pay $37 a head to attend, must arrive in pairs—one invitee and a guest of their choosing—bearing a two-top table of exact dimensions, white chairs and white linens. They can bring their own dinner or order a picnic basket in advance to pick up on-site. Most importantly, the location is a closely guarded secret until the day of the event.
Ault and company put their own spin on the event by including a lot of local restaurants. "We were told by Dîner en Blanc [International] that it was highly unusual," she says, "but we wanted to honor our farm-to-fork heritage." Mulvaney's B&L, Empress Tavern, Frank Fat's, Nugget Markets and Karen's Bakery provided the food last year. The menu mix will be different when Dîner en Blanc returns this year on Oct. 7.
Despite the enticing array of prepared offerings, Ault was impressed with the elan with which locals embraced this new ritual and threw themselves into preparing their own food, décor and costumery. "People went all out," she says. "There were hats, tiaras, ballet skirts. Artists handcrafted displays for their table. There were candelabras, lanterns and three-tiered appetizer displays."
For 2017, the capacity will be upped to 1,500. "The organization wants us to grow at 10 to 14 percent annually," says Ault. "But we just don't want to leave people out." With a waiting list that now tops 4,000, the coveted ticket may be a few years away for some. C'est la vie, but all indications are that it will be worth the wait.
To join the waiting list or for more information, visit sacramento.dinerenblanc.com.
You Might Also Like
Video footage of Sacramento's inaugural Dîner en Blanc released
A Food Network-featured pastry chef opens a French bakery in Folsom
Oak Park's popular Gather event will launch in Rocklin this summer