Let's Get Vertical
How do you combine public art with a skyline-defining structure and create an international tourist destination for adventurers? One very careful step at a time.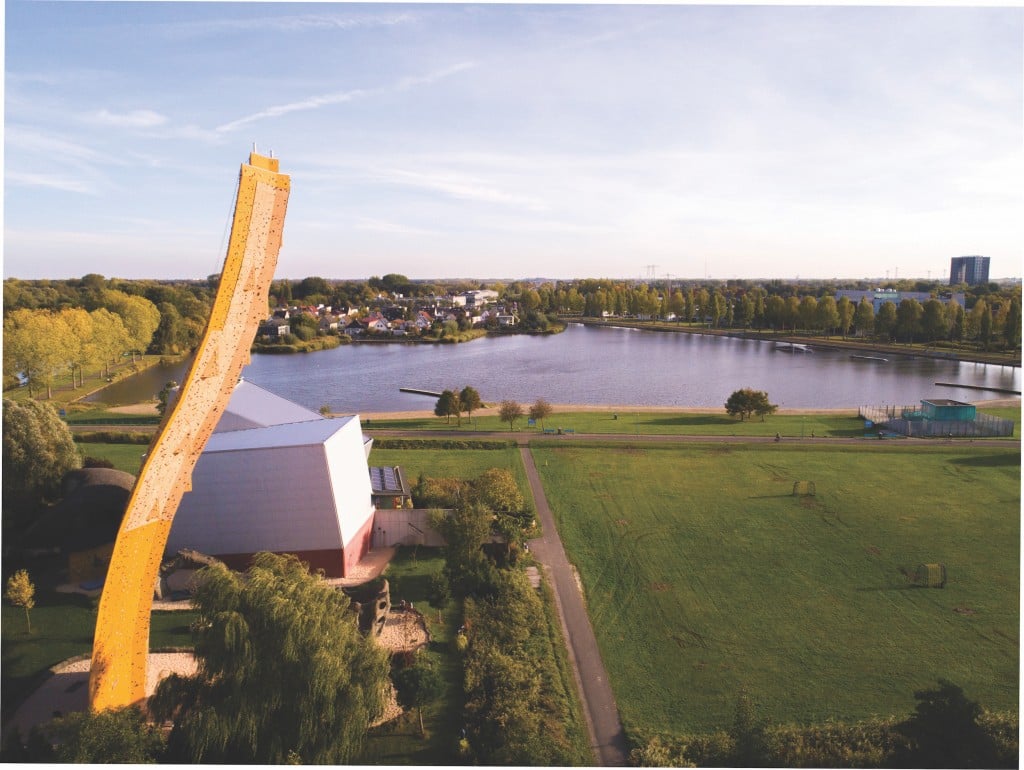 The Idea
Rock climbing walls have been around for a long time, but in 2006, Dutch climbers Gert van der Veen and Alco Pols took the concept to a higher level. The pair, who had opened an indoor climbing center in the Dutch town of Groningen in 1996, wanted to create an experience there that would mimic cliffs, views and all. Surrounded by flat topography, the two designed and built a monumental 121-foot-tall tower. The result was Excalibur, the second tallest freestanding climbing tower in the world.
But more than that, the structure—composed mostly of a steel skeleton with wood cladding—has also served as a form of public art. While thousands of climbers scale the tower annually (with no accidents in its 12 years of operation), the curvilinear design elevates the aesthetics of the landscape for non-climbers as well. It is also painted bright yellow, dotted with jewel-like climbing grips, and is strikingly beautiful when lit up at night.
Imagine what a structure like that could do in an urban landscape.
Like Groningen, Sacramento is flat as a pancake, and our city also boasts a reputation as an outdoor enthusiast's paradise. Why not build our own Excalibur here? Sactown reader Joe Bird tipped us off to the idea, and he's spot on.
For starters, rock climbers have no options here to get seriously vertical. And nearby Yosemite isn't accessible for warm-weather climbs year-round. Done right, people from around the globe would come here to scale this continent's most iconic man-made climbing surface.
The Players
The West Sacramento riverfront would be the perfect spot for this potential landmark. Paired with beautifully biomorphic structures like the Barn and the shimmering Subtile sculpture, a tower like this would cement the young city's ambitious efforts to carve out its own civic identity. Also, with a treetop adventure park scheduled to open there next year, the town could gain a foothold as a global destination for adventurers. Mayor Christopher Cabaldon has a keen eye for art and design and could lead such an effort.
The Bottom Line
Skyline-defining structures typically cost tens or hundreds of millions, but Excalibur was built for about 200,000 euros (or about $290,000 in 2018 dollars). You'd probably have to multiply that a few times for building in California today, but the dividends—tourism, branding—could dwarf that number.
Think of a project like this as a towering work of public art, but with a built-in revenue stream (Excalibur charges $17 per supervised climb). And for its grand opening, someone should invite the world's best free climber (meaning no ropes), Carmichael native Alex Honnold, to make the inaugural trek.
It's time to scale new heights, Sacramento. Let's go climb a tower.