Letter from the editor: Remembering my mom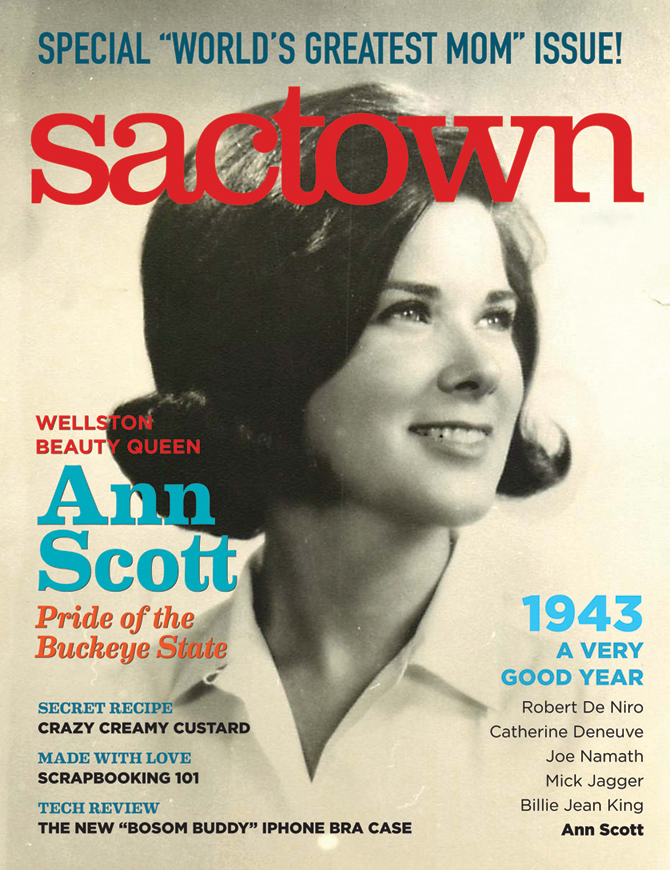 When my wife and co-editor Elyssa Lee and I launched Sactown in 2006, part of our mission was to introduce our readers to extraordinary Sacramentans.
Some of our profile subjects have been household names and others less well known, but with each, our intent has been to illuminate their accomplishments and establish the connection between our region and their work, and always do so with an eye on hopefully inspiring others to make an impact of their own.
Which brings us to my mom, Ann Turner-Scott, who passed away in late February at the age of 76.
Like many others, she contributed to Sacramento in quiet but significant ways. She was a public school nurse for 31 years, she proudly told anyone who asked. She worked at Howe Avenue Elementary, Jonas Salk Junior High, and El Camino and Encina high schools, among others.
But what most people she encountered didn't know was that as a single mother of two (my parents divorced when I was 9), she spent many of her weekends and evenings earning a master's degree in education (she had earned her nursing degree from Ohio State) and applying for grants so that she and a few colleagues could create the first child abuse prevention curriculum for the San Juan Unified School District.
She was so heartbroken by the abuse-related injuries she saw on kids who walked into her office that she devoted thousands of unpaid hours to help teachers and other school staff learn how to identify and report suspected cases, all at a time—the 1980s—when such abuse was not nearly as widely acknowledged or understood as it is today. In doing so, I know that she helped countless Sacramento students escape violent environments at home.
All the while, in our own home, she encouraged my sister Melissa and me to pursue our passions. She indulged my ever-changing pursuits of all things creative—writing, design, art, photography—in every way she could on a school nurse's salary. And she was herself a wildly creative person, a talented artist and interior designer. One of my favorite childhood memories was how each Christmas, she sprinkled flour into the shape of boot prints on our family room carpet, stretching from the fireplace to the Christmas tree—"snowy" evidence of Santa himself.
With regard to my latest creative pursuit, Elyssa and I long ago dubbed her Sactown's "Cheerleader-in-Chief." In fact, we made her business cards with that honorary title and also gifted her a faux cover (pictured above) for her birthday in 2011. She never visited a doctor's office or hair salon without taking the latest issue to put in the waiting area for others to discover; she never went anywhere without talking up the magazine to anyone who would listen. Even in her final days, she asked us to bring copies to share with her nurses at the hospital. She truly beamed with pride.
After we lost her, my sister and I found a will that she had handwritten on yellow-lined paper in 1986 when she was just 42 and we were still teenagers.
I wanted to share part of it here with you:
"In case of my death, I want my children to be allowed to keep or sell our home as they choose. I would like them to each have half of the balance so they could have things I could not give them in life. I want them to spend it as they choose, but I would suggest they spend it on whatever gives them pleasure and makes them smile—a car, a new wardrobe, a very special trip or whatever their dreams are made of. I would like to leave them some sparkle in their lives.
In doing this, I would not want to leave them the legacy that material things are the most important things in life, but that to be happy and enjoy each day while contributing to others by growing ourselves is essential.
I would wish for them the ability to accept and enjoy life and not to expect too much or too little from themselves or others.
Of course, the things I want most for them in life are things I cannot leave them, but things I hope our life together will help them to achieve: health, happiness, compassion, understanding and, most of all, love.
These are my wishes on this 21st day of June, 1986."
I wrestled with whether or not to publicly share her story and her last wishes, but with Mother's Day on the horizon and during this tumultuous time in our city and our world, I feel like we could all benefit from her words, her wisdom and her spirit. I know I certainly have.
I love you, Mom.