Local artist creates stunning patterns using leaves at Sacramento State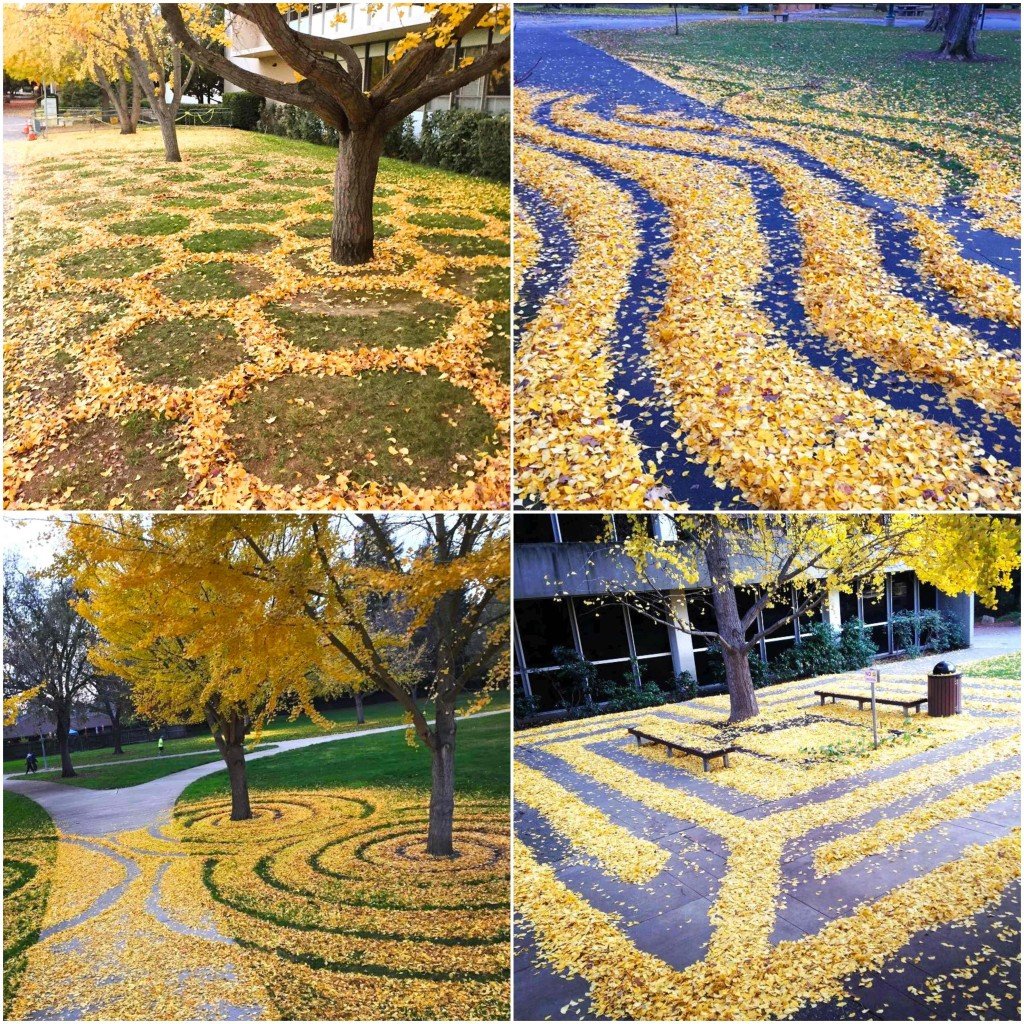 As the fall season ushers in crisp weather, a curious artistic display of canary yellow labyrinths and gold honeycombs pops up below the gingko trees at Sacramento State University.
The intricate leaf art is the handiwork of Sacramento native Joanna Hedrick, a counselor at the university's Student Service Center and a prospective fall 2018 recipient of a Bachelor of Arts degree in philosophy. As the golden leaves fall from the balding trees, Hedrick takes a rake around campus in the late afternoon to "carve" out complex designs—something she's been doing since 2013 as an annual gift to students when final exams loom large.
"[My art] is about taking something that's already beautiful and making something unique—something you don't just pass by," Hedrick says.
The project began when Hedrick wanted to create autumnal backdrops for photos of her two young children, 8-year-old Sagan and 4-year-old Emil, but quickly became a campus-wide phenomenon that attracted hundreds of admirers in person and on social media. With a background in art and landscape design, Hedrick draws inspiration from rock arrangements by famed British environmental artist Andy Goldsworthy, whose sculptures have been featured everywhere from the National Museum of Scotland to Stanford University. Hedrick says that creating her own labyrinthian designs is a self-reflective meditation on mindfulness, and she hopes they bring a smile to students' faces as the fall semester comes to a close.
Her designs include spirals, concentric circles and, appropriately, a hornet hive. Hedrick has also created works from gingko trees at William Land Golf Course in Land Park and Seymour Park in the Pocket-Greenhaven neighborhood. She estimates that each one takes her about two to three hours to complete, and she usually makes about six unique displays within a season.
Visitors to Sacramento State can view Hedrick's labyrinth encircling a tree in front of Sequoia Hall before it is swept up by the grounds' maintenance crew in about three weeks. This weekend, Hedrick says she has new artwork planned for the quad in front of Shasta Hall, located toward the front of campus, and in the coming weeks, she'll make other patterns as more trees shed their leaves.
For updates, follow Hedrick on Instagram at @joanna_hedrick.
You Might Also Like
Mirror Image: the story behind the shiny new artwork in West Sacramento
Coloring Outside the Lines: Jeff Koons makes his stamp on Sacramento
The Artful Lodger: An auto repair shop becomes a colorful home in Mansion Flats