Local designers envision open-air greenhouse dining in the age of COVID
As restaurants try to navigate the changing rules of safe dining, one Sacramento design firm proposes a glass-half-open idea.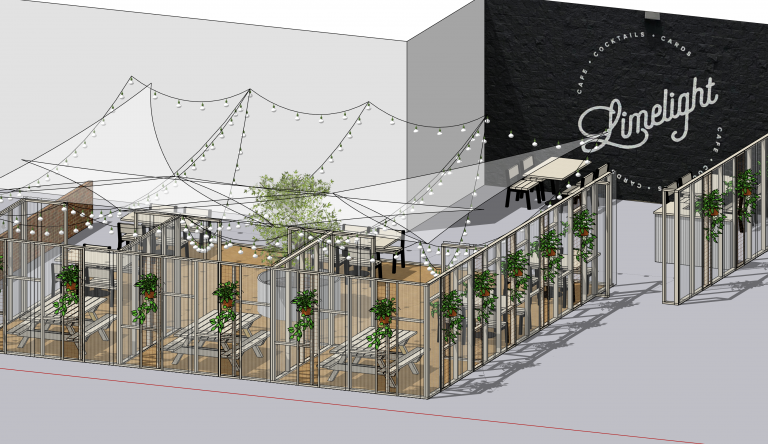 DDining out requires two things: food and somewhere other than home to eat it.
Many restaurants around California cooked up creative ideas to keep the first half of that equation on the menu throughout statewide COVID-19 closures that shuttered their dining rooms starting March 19. Options included carry-out Mother's Day meals, call-in specials, and brunches to go, complete with mimosas and Bloody Marys.
These survival-mode solutions certainly helped to keep some cash coming in, but no matter how tasty a chef's panfried chicken verde with house-made tomatillo sauce, a restaurant can't thrive on takeout alone. And there was simply no alternative because the second half of the "dining out" equation—the "out" itself—was, well, out of the picture.
No surprise, then, that after more than two months of sheltering in place, diners flocked to restaurants over Memorial Day weekend after Sacramento County eateries opened once again to sit-down guests hungry for a true dining out experience.
Then, on July 1, Gov. Gavin Newsom mandated or recommended that 19 counties—including Sacramento—cease dine-in options again, for at least three weeks, due to spiking COVID-19 numbers. The move was a blow to many business owners hoping for an Independence Day weekend-and-beyond boost. But there was a silver lining to ease some of the regulatory whiplash: Restaurants could continue to serve dine-in customers, as long as that dining in happened out of doors.
Amid this chaos of calculated closures and staggered, stuttering reopenings, Kele (pronounced "Kelly") Dobrinski and Christina Valencia of Sacramento-based creative studio Colossus Mfg. began working on a design concept they believe will be a draw for restaurants in the coming months—even as virus-wary and -weary locals debate whether to boil yet another pot of pasta for dinner or brave the world beyond their front doors for a sweet chili bistro steak rice bowl.
Dobrinski and Valencia's approach assumes that the dining out equation requires not only somewhere other than home to eat, but also diners willing to leave home to go there. In other words, it's not enough to merely comply with governmental orders. Technically, an empty parking spot with a flimsy plastic table flanked by milk crates would do, but who's going to pop on a mask and venture out for that experience, even if the braised short ribs are mind-blowing?
Before moving to the Land Park neighborhood at the end of 2016, Dobrinski and Valencia, who are married, lived in San Francisco, where food is serious business and foot traffic is heavy. Before that, they lived in New York, another city with a similar ethos.
Dobrinski grew up in the Grass Valley/Auburn area, and—after working in cities on either coast for about 12 years—Valencia and he began looking for somewhere they could raise their kids as they shifted industries. "We wanted to be somewhere where the cost of living was balanced with a strong community," Dobrinski says.
They knew they loved the Land Park area because Dobrinksi's parents had been living there for a decade or so. After they bought and tackled a "major fixer-upper" in the neighborhood, with help from Dobrinski's general contractor dad, the resulting renovations were featured in Sunset magazine. Their work—and the subsequent national showcase of their thoughtful spatial planning, interior design, and landscape architecture—led to the start of Colossus.
Their current focus on everything from brand development to interior design has its roots in their collective advertising and public relations work in the Bay Area and on the East Coast. Now, they work directly with general contractors or architects for more complex projects, pushing business owners to capitalize on "the incredible weather here" that other cities can only dream of. To Dobrinski's mind, local restaurants on the whole are not doing all they could to latch onto Sacramento's gold mine of a climate and build unique outdoor experiences—though some are.
In April, John Mikacich, co-owner of Limelight Bar & Cafe on Alhambra Boulevard, commissioned the Colossus duo to develop a concept to take advantage of Sacramento's new Farm to Fork Al Fresco program. Intended to help expand social-distancing-friendly options, the grant streamlines the permitting process to help eateries turn adjacent private lots and public sidewalks into usable outdoor dining space.
Dobrinski explained that his first consideration for the Limelight was cost, looking to fit into a target budget of $12,000 to $15,000—which included everything down to the tables, chairs, lighting and plates. A close second in terms of planning was a desire for openness.
"We didn't want it to feel closed off," he says, explaining that he aimed to blend seemingly incompatible needs into one design: being part of the greater community while remaining completely enclosed.
Playing off the two parts of the eatery's name—"lime" and "light"—Dobrinski ultimately envisioned a greenhouse that combined open air with personal space as an extension of the existing patio into the adjacent parking lot. (As it happens, individual greenhouse pods have recently sprouted up in restaurants in Amsterdam and Los Angeles—also because of COVID—though not with the holistic design approach that Colossus envisions).
The result was The Greenhouse at the Limelight, consisting of a large outdoor "room" with several subdivisions separated by sturdy, transparent corrugated polycarbonate. The wood-framed structure is simple (Dobrinski described it as "bare-bones"), incorporating ventilation and lattices populated with live plants from Propagate Plants & Gatherings on nearby I Street.
"The idea was to create a beautiful art installation, to fill it with greenery and lighting," Dobrinski says. "When you pass by at night, it looks lively."
From a practical standpoint, he aimed to make the space as dense as possible—"knowing that density is a driver for getting restaurants to work" financially—while still following the current COVID-19 distancing guidelines. An open space allows for flexibility if, say, a larger party wants to push two tabletops together. Smaller, partitioned dining spaces are 11-by-11, seating up to eight people each.
The idea is that each of the individual greenhouses could come pre-stocked with utensils and drinks in a cooler. Diners could order ahead (may we recommend the bread pudding with Woodford Reserve bourbon sauce?) and reserve their private space, enjoying an hour and a half or so outside of their own familiar four walls and engaging—at least visually—with their similarly freed neighbors.
"You're kind of dining right out in the open there, which is, I think, part of the fun of it: to sit amongst other people and feel like you're all in a space together, but also uniquely in your own little pods," Dobrinski says.
Though Colossus is only about two years old, the Limelight concept is not Dobrinski and Valencia's first foray into local outdoor spaces. The two recently partnered with East Sacramento's Canon to develop the restaurant's underutilized patio area—followed by a full brand refresh.
Timing wise, the upcoming autumn months may be when the Limelight concept would take physical form, assuming the greenhouse gets the green light. Dobrinski estimated build-out would take only two to three weeks, but lack of clarity about the future of restaurants as a whole is a bit of a holdup at the moment. Still, that uncertainty is also the genesis of what could be a positive path forward, not just for the Limelight, but for everyone trying to survive in a society operating under new rules.
"A lot of businesses are so tied up in trying to figure out how to make their numbers work—for clear reasons—but I think really looking at the long-term COVID world," Dobrinski says, "this is something that we can create: experiences that are really rich and unique, that give people a reason to want to dine out."
You Might Also Like
Pods Save America: An Amsterdam restaurant uses greenhouse pods to lure diners during COVID
Send in the Cones: How "slow streets" and protected bike lanes are sweeping the world, except for here
Get pantry cooking with local artisanal shelf stockers