Local distilleries working to put elusive hand sanitizer into the palm of your hand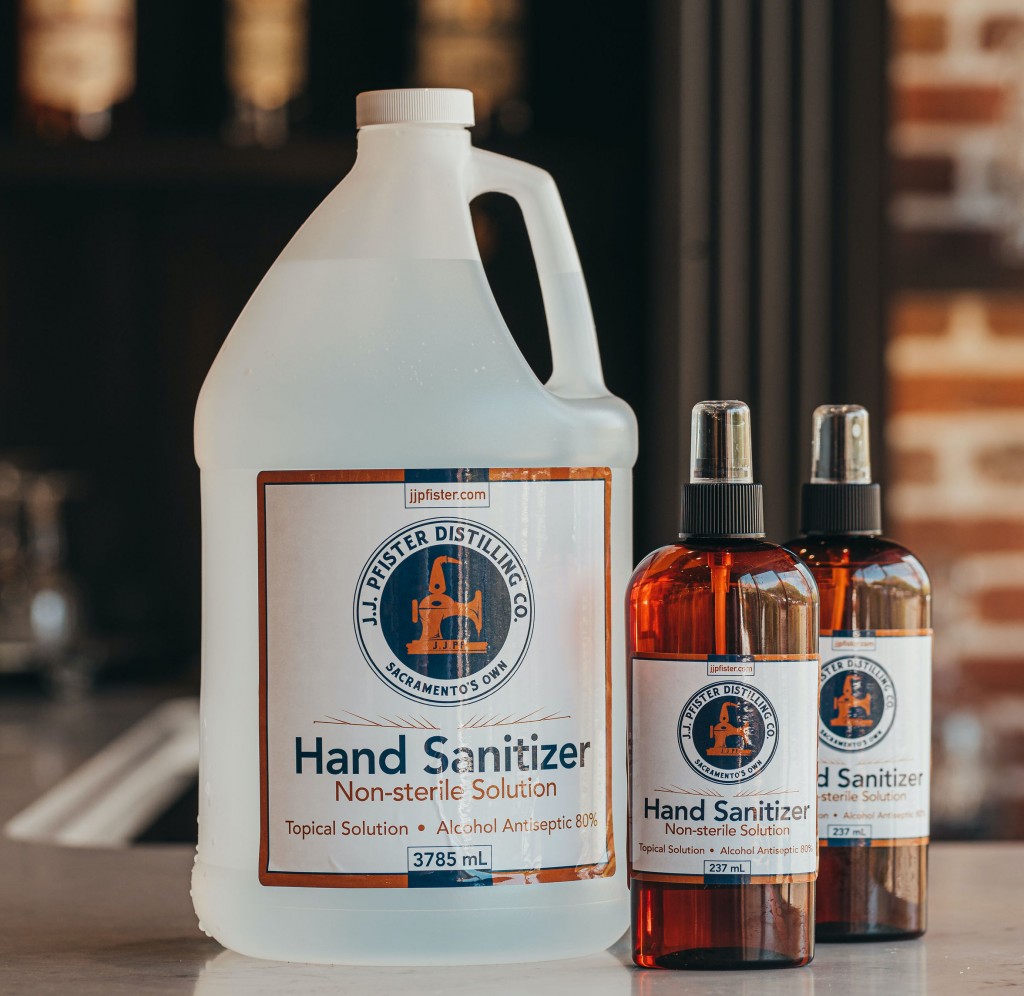 While we're all doing our best to wash our hands while humming "Happy Birthday" (twice!), there are times when soap and water are out of reach. Enter hand sanitizer, the convenient alcohol-based, no-wash solution that used to live in a palm-size bottle at the bottom of your purse. Though the CDC advises that it's not a perfect substitute for thorough handwashing, it gets the job done in a pinch. In light of pandemic-buying trends, many drugstore shelves are bereft of the handy gel disinfectant, making the curve-flattening provision difficult to find for regular citizens and essential workers alike.
A recent New York Times report cautioned against DIY hand-sanitizer recipes (the most popular of which mixes rubbing alcohol with aloe vera gel, both also in short supply), citing inevitable shortcuts that make the homemade solutions weak against fighting viruses. That's where the pros come in: grain distilleries, which have the ability (and permits) to either buy or make ethyl alcohol, the key ingredient in hand sanitizer that kills germs, are equipped with a recipe from the World Health Organization that makes a potent and effective disinfectant for your mitts. So even if the makers of Purell can't keep up with demand, we know a few local boutique whiskey and gin distilleries who are taking a shot, so to speak, at solving the hand-sanitizer scarcity.
Patio 29 Spirits
This 8-month-old Winters distillery switched from crafting high-end rum and flavored whiskey to making sanitizer in mid-March, and has since distributed the virus-eradicating solution to Yolo County residents. Four-ounce bottles are available at Pacific Ace Hardware in Winters and Davis' Westlake Market, but essential businesses, first responders and healthcare workers are encouraged to get in touch with the distillery directly to make bulk orders. "Those are our heroes right now," says owner Jeff Boone. "We don't want them to be without the tools to do their jobs." Prices vary by location. patio29.com
J.J. Pfister Distilling Co.
In addition to stocking up on J.J. Pfister's apple brandy and Capitol Gin at the distillery's tasting room, conveniently located near the recently re-opened West Wind Drive-In, you can also grab its hand sanitizer, which is made from the house 80-proof vodka and comes in 8-ounce and 1-gallon containers ($5.79 and $58, respectively). The most recent yield is sold out, but check J.J. Pfister's social media for future release dates as early as next week. Co-owner Gail Keck says the J.J. Pfister team will continue to make sanitizer as long as the need is there, and for her, it's personal. "My husband is a physician seeing patients in a nursing home, and my daughter is a physician at Kaiser, so they are on the frontlines." 9819 Business Park Dr. jjpfister.com
South Fork Vodka
Double-check the label when reaching for the South Fork vodka at Taylor's Market or the Sacramento Natural Foods Co-Op—these days, it may not be for drinking. The Grass Valley operation is bottling its house-made sanitizer in 750-milliliter and 1.75-liter vodka bottles (they recommend transferring the solution into a spray or pump-top bottle for everyday use). Co-owner Jonathan Dorfman says the company has already donated 600 gallons of the disinfectant to Sierra Memorial Hospital, Kaiser Permanente, the California Highway Patrol and the sheriffs' departments for Nevada and Placer counties, among others, since it started making the stuff in late March. Other local groceries carrying the South Fork sanitizer: Corti Brothers and Compton's Market in Sacramento, but it's best to call ahead to see if they still have it in stock. Bonus: the sanitizer also reportedly leaves hands super soft thanks to WHO-specified glycerin. "The nurses in the hospital have told us, 'This is so much nicer than what we usually get,' " says Dorfman. Prices vary by location. southforkvodka.com
Gold River Distillery
Based in Rancho Cordova, Gold River Distillery made two batches of its Wheel House hand sanitizer (named after its signature spirits line) out of its remaining 40 gallons of alcohol, and sold out of all 1,300 of the 4-ounce bottles ($7). Founder Greg Baughman, who has been approached by everyone from law enforcement to hospitals to construction companies who want to get their hands (literally) on Gold River's sanitizer spray, is awaiting another shipment of the ethyl alcohol to make another batch, which will be available in four to five weeks. Pick some up along with bottles of their gins, bourbons, vodkas and more at its tasting room.
11460 Sunrise Gold Circle. Rancho Cordova. 916-476-3868. goldriverdistillery.com
You Might Also Like
Stay healthy at home with virtual workouts from local fitness studios and gyms
Keep calm and cover up with these locally made fabric face masks
Take out on your own timetable with meal kits from regional restaurants