Local engineers debut one-of-a-kind cart-less rollercoaster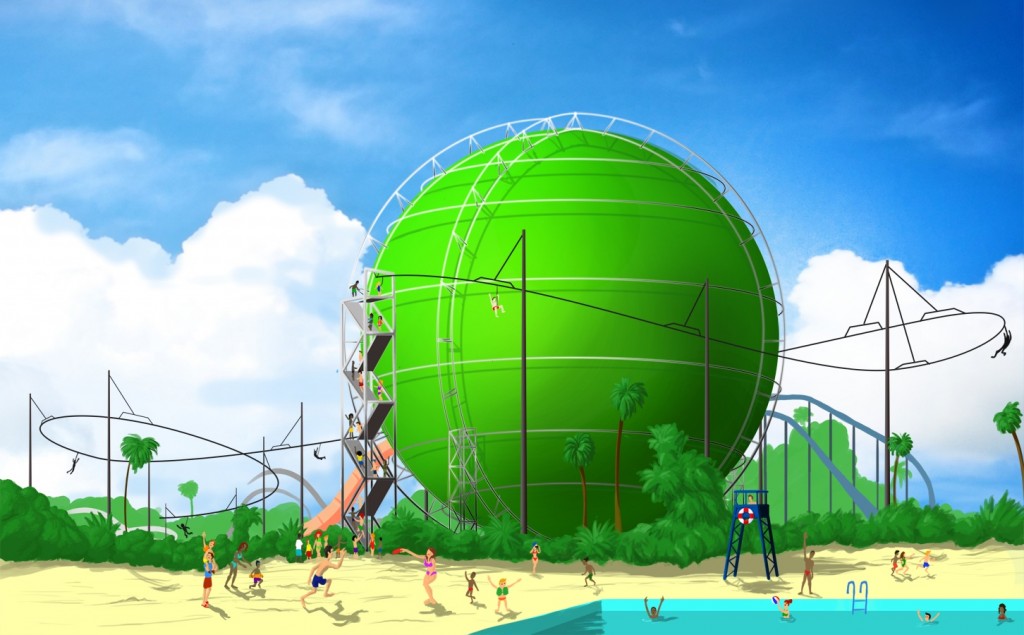 What do you get when you combine the thrilling drops and turns of a roller coaster with the open-air flight of a zip line? The adrenaline junkies at the Placer County company Extreme Engineering have answered that question with their latest invention called the Cloud Coaster, which debuted this November in Orlando at the International Association of Amusement Parks and Attractions (IAAPA) trade show after nearly five years on the drawing board.
"It's unlike any traditional rollercoaster out there," says Philip Wilson, vice president of marketing at Extreme Engineering and son of CEO and founder Jeff Wilson. "It is so smooth and fast, with unexpected turns, controlled speeds and lifts that raise you up the track. These are all things that you would expect on a large coaster but on a more scaled, unique experience. It truly feels like you are a superhero flying."
The Cloud Coaster is the first cart-less rollercoaster, an invention fitting for a company known for crafting portable zip lines and mobile climbing walls for clients like NASA, Disneyland and Cirque du Soleil. Riders are strapped into a suspended harness that is attached to a track, and then launched in the air via a system of motors and brakes. They'll experience the loops, heights and drops of a roller coaster without the uncomfortable lap bars or sticky seats.
Wilson said the Extreme Engineering team wanted to create a thrill ride that was larger in scale than a traditional zip line, but more budget-friendly than a standard roller coaster. The Cloud Coaster was inspired in-part by the popular first-person video game BioShock Infinite, which features a transportation system that is similar to the fast-paced, unconstrained feel of the Cloud Coaster.
"The game is what pushed us forward to release it sooner than later," Wilson says. "I personally was a fan of all BioShock games and from playing [them], I was able to show people from a gaming perspective what our Cloud Coaster should look like."
The Cloud Coaster is already being lauded as the future of thrill rides. It was highlighted in USA Today's round-up of future rides and won Best in Show at the IAAPA show, marking the company's ninth industry award.
Among its unique features, the Cloud Coaster is entirely customizable, allowing for use in a multitude of spaces (attached to ceilings or the tops of tall buildings) and places from amusement parks to zoos and resorts. According to Wilson, the first complete Cloud Coaster will be unveiled in March of 2016 in Mississippi. Although Penryn-based Extreme Engineering is not disclosing specific locations, Wilson said the company is in talks with a renowned zoo about designing a Cloud Coaster for visitors to soar over animal exhibits.
For more information and updates, check out extremeengineering.com.
You Might Also Like
We Got Game: Capital Games releases Star Wars video game
A local engineer's mini levitating hoverboard goes back to the future
Meet George Jetson: a local man's quest to build the first flying car