Local graphic designer puts Sacramento neighborhoods on the map—literally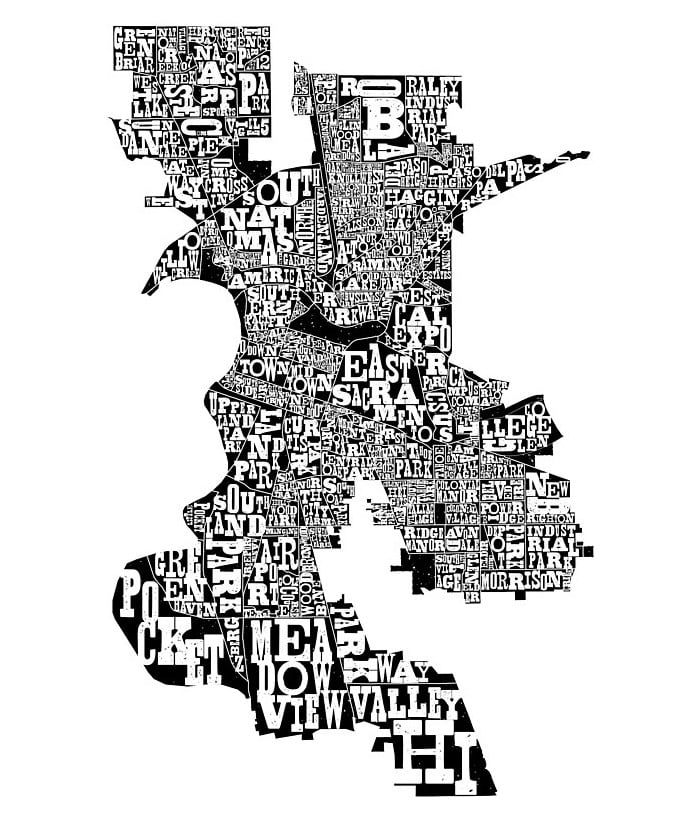 Oak Park. Gardenland. Colonial Heights. Strawberry Manor.
"Sacramento has some pretty awesomely named neighborhoods," says local graphic designer Amber Witzke, who debuted a new artistic map of the city in early December. "And I didn't realize how many [neighborhoods] there were until I really got into this project."
There are 130 to be exact. And Witzke—who herself lives in midtown and is a senior art director at Un/common advertising agency—became familiar with each of their borders over the past few weeks as she created the black-and-white map that pays homage to her hometown. Click here to zoom in on the map.
"I have seen other cities—New York, Paris, San Francisco—with these types of maps calling out different boroughs," she says. "I love our city and I felt it was time we had the same kind of level of artwork."
The project took Witzke about a week to complete, and she worked on it at night and on trips with her mom to the Bay Area to shop for her wedding dress (Witzke is engaged to fellow graphic designer Jason Malmberg, Sactown's longtime art director). She designed each neighborhood's name with a woodcut typeface, fitting—and often squeezing—letters within the boundaries of the neighborhood maps provided on the City of Sacramento's website, a process that she says felt somewhat like cross-stitching.
And while the artwork looks thoroughly modern, Witzke's use of an antique-looking font was intentional. "The printing press is what would have been used during our city's inception in 1850, and I wanted something to reflect Sacramento's rich, unique history," she says.
A limited run of signed, 18-by-24-inch screen-printed posters of Witzke's map is available for purchase for $25 each at amber-witzke.myshopify.com, as well as at the ShopCuffs boutique in midtown and Kicksville Vinyl & Vintage in the WAL Public Market. [Update: ShopCuffs and Kicksville have sold out of the posters, but will have more in stock on Dec. 29]. The map can also be ordered printed on items like throw pillows, tote bags and sweatshirts on redbubble.com.
You Might Also Like
Behind the scenes: The making of Sactown's Apple Hill cover
Street Art: Let's turn Sacramento's crosswalks into works of art
Eyes in the Sky: views from above Sacramento landmarks and landscapes