Local group launching campaign to relight the Tower Bridge with LEDs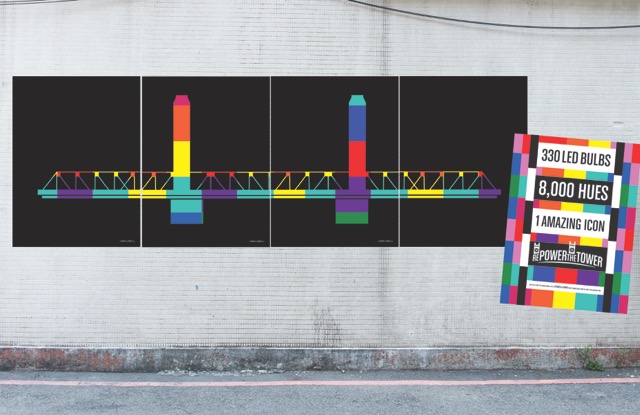 Sandy Smoley, the indomitable doyenne of all things Sacramento, is at it again. The former County Supervisor, Health and Welfare Secretary under Governor Pete Wilson, and current "Queen of Midtown" (for the coveted who's-who soirees she holds on her porch) is on a crusade to "Repower the Tower" by relighting the Tower Bridge in brighter, more energy-efficient and endlessly programmable LED lights.
The idea came to the 80 year-old Smoley, who resembles a fairy godmother with her splashy outfits and outgoing persona (easy to imagine her keeping a wand in her handbag), while she was dining on the bridge during the 2015 Farm-to-Fork Gala Dinner. She thought the bridge looked "tired," she says. So she put together a small, informal action committee, enlisted the help of Un/common (formerly the Glass Agency) and set about raising the $900,000 in private funds it will take to retrofit the bridge's current lighting system with a programmable LED system fit for the city's signature monument.
"It's a cool, artistic, iconic thing we can do for Sacramento," says Daniel Ramos, Vice President of Ramco Enterprises, Inc. in West Sacramento, who volunteered to help right then and there at the dinner on the bridge. "It's the next wow factor, after the arena."
Un/common president Amber Williams felt much the same way when she volunteered the agency's services to help design the fundraising campaign. "St. Louis has its arch, and we have our bridge," she says. "It's our thing, our Big Apple."
What you might not know is that Smoley is already the very reason the bridge has been illuminated nightly since 1989. She recalls the moment when inspiration first struck her, back in 1989, as she was leaving a fashion show hosted at the Capitol. She'd recently returned from a visit to Toledo, Ohio, where her sister had succeeded in getting a local bridge illuminated. "I walked out and looked down the Capitol Mall," Smoley says, "And it was a dark hole that went nowhere."
And just like that, the proverbial light bulb went on. Smoley spearheaded a campaign, raising the $250,000 budget to light up the bridge using entirely private funds, including some raised by encouraging locals to sponsor individual light bulbs at $150 a pop.
Back then, citizens who wanted to purchase a bulb did so by visiting Smoley in person, in her office at the Board of Supervisors. "I had a mock up of the bridge," Smoley says, "and they picked out a specific light, so I got to hear the stories of why people purchased them." They bought them for the granddaughter with cystic fibrosis; for a son and his significant other who died of AIDS; for a wife's 40th birthday; for a 50th wedding anniversary. "All of these marvelous stories," Smoley says, still moved by how the effort brought the community together.
The group, who call themselves RePower the Tower, hopes to encourage a similar spirit of ownership and personal engagement among donors to the new campaign. This time, the reward for chipping in won't be a bulb, but an invitation to a launch party to be held on the bridge in early fall, where they hope to unveil a structure newly capable of putting on a light show every bit as colorful as the city it serves.
The possibilities for programming from there on out are numerous: purple for a Kings' home game; red for the River Cats; green for St. Patrick's Day; pink for breast cancer awareness; rainbow hues for Sacramento Pride. There might also be light shows programmed by artists, like The Bay Lights—Leo Villareal's installation that illuminated the new Bay Bridge when it opened.
"We want to generate mass excitement," Smoley says.
To read the stories of this generation of bridge illuminati, or to add yours to the collection by contributing to the fund, visit repowerthetower.com.
Tower Bridge Project "RePower the Tower" from un/common on Vimeo.
You Might Also Like
Bridge Party: Sactown's idea from 2012 for a local bridge dinner
Made in the Shade: new MIT study affirms Sacramento as the City of Trees
Art Hotel creators release coffee-table book (plus, an update on ArtStreet)