Local landscape designer aims to turn Sacramento riverfront into urban beachfront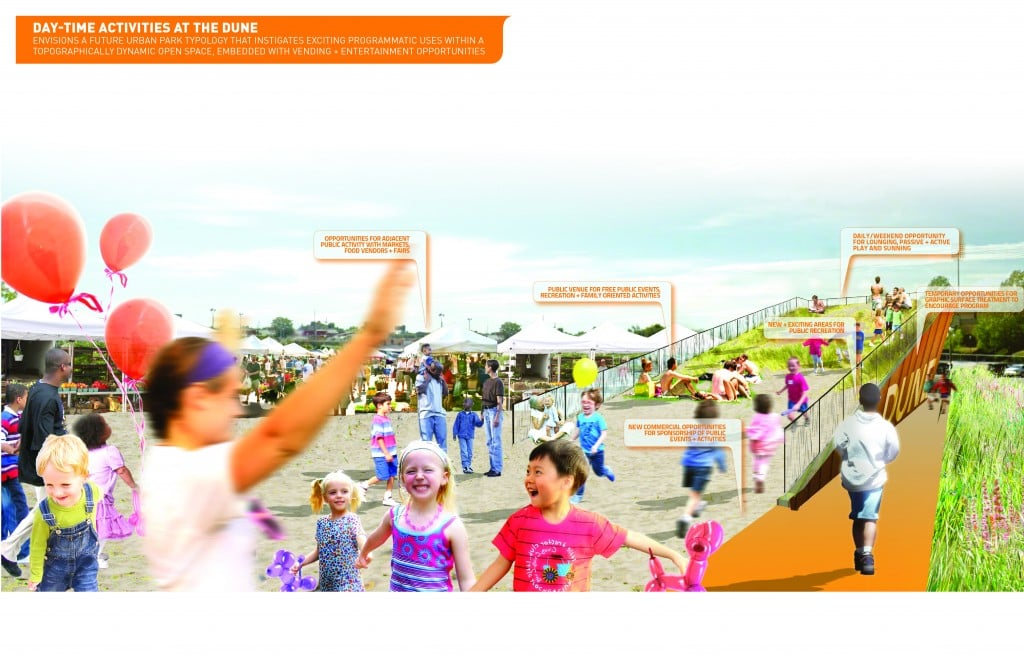 A local landscape designer is setting her sights on the riverfront as a new hotspot for urban development.
At this year's Emerge Summit for young professionals on March 18, Sacramento native Kimberly Garza debuted her proposal to create a semi-permanent urban beach installation along the West Sacramento side of the riverfront. She won first prize in the Pitch for Change competition at the summit, which called for creative ideas to improve Sacramento, and was awarded $4,500 worth of mentorship, marketing and advising from East Sacramento marketing firm Uptown Studios.
Her goal with the project, which she calls The Dune, is to engage the community with the city's natural resource—the Sacramento River.
"A river is like a front door to our city," says Garza, who works with Quadriga Landscape Architecture and Planning when she isn't funneling energy into Atlas Lab, where she focuses on ways to incorporate art and environment into urban landscape designs, and she co-founded and runs with friend Andrew tenBrink.
Since returning to Sacramento over a year ago after pursuing degrees in landscape architecture, Garza has designed last summer's Portal art installation that appeared on R Street and at TBD Fest. In 2011, Garza and tenBrink also won the Catalyst Capitol Mall Design Competition—a city-sponsored call for new design concepts to invigorate the grassy stretch that runs from the Capitol building to the Tower Bridge into an inviting public space.
Acting mainly as a recreational area, The Dune would comprise a sandy, grassy natural surface perched atop a shipping container that is sloped for ample seating and sunning, and would provide views of the river. A platform at its base would function as a space for activities like workouts, sports, movie nights and live music performances. To Garza, the sandy surface hearkens to the natural beaches and dunes that once edged the Delta waters.
"I wanted to create a structure where people could have fun and play," Garza says. "The Dune starts to create a cultural landmark along the river."
Garza's focus on the riverfront is inspired by other cities' efforts to develop riverfronts in ways that respond to environmental concerns and capitalizes on potential economic and cultural growth. Such cities include Seattle, Austin and, notably, Chicago—its downtown Riverwalk consists of an installed platform along the water for pedestrian access as well as business development.
"Seeing all these different examples happening and popping up across the country, [I thought] well, why isn't Sacramento doing any of this?" she says. "Why aren't we thinking about how the riverfront could be a great asset?"
Garza's next step to making The Dune a reality is approaching potential key players like the city of West Sacramento for more funding and help.
"I know this seems like a daunting task ahead of me, but it's so easy to get connected with people here," says Garza. "That's what makes Sacramento so great—anything is possible."
For more information and images of The Dune, visit atlaslab.net
You Might Also Like:
E. Claire Raley Studios opens in midtown
A look at the lineup for Concerts in the Park 2016
Our recent article about hosting a sculpture festival in the capital city.