Local UFC champ T.J. Dillashaw set to defend his title on Saturday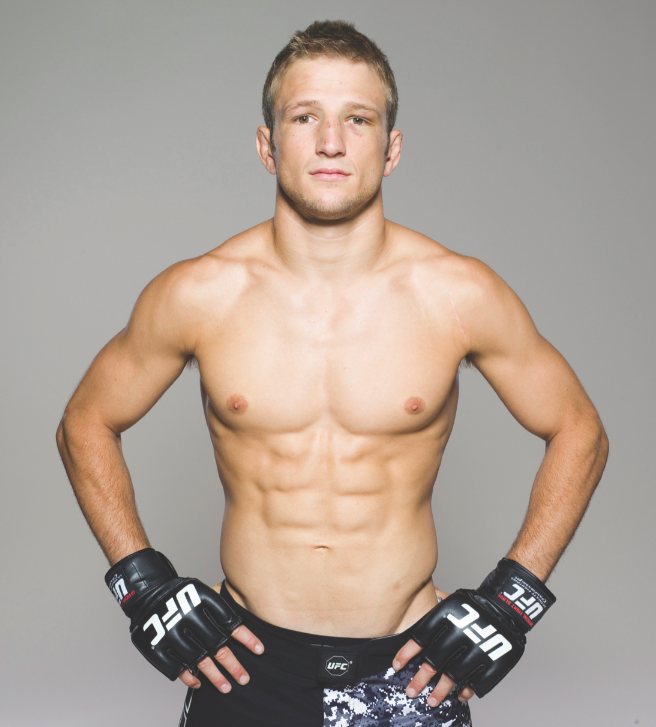 In what's been called one of the biggest upsets in mixed martial arts history, Sacramento-based UFC fighter T.J. Dillashaw defeated the heavily favored Renan Barao with a fifth-round TKO in May for the bantamweight title. With Dillashaw hoping to defend his belt against challenger Joe Soto this Saturday at Sleep Train Arena in Natomas, we look back at our conversation with the hometown MMA champ when he was costarring on the reality show The Ultimate Fighter in 2011. Here's an excerpt from that interview.
First things first: For the uninitiated, can you explain what mixed martial arts—or MMA—is?
It combines all forms of martial arts, so not only is it boxing, but it's also kickboxing, jujitsu, Muay Thai—[the list] is endless. And wrestling, so we also take the fight to the ground.
How did you get into it?
I've been wrestling most of my life, since I was 8 years old [growing up in Angels Camp]. I got a full ride to Cal State Fullerton [on a wrestling scholarship], and my fourth year there, [UFC fighter] Mark Muñoz started coaching us. [After graduation] I felt like I wasn't done competing yet. I started following Mark around and getting involved in the MMA world and started going to some of the gyms in Southern California. I realized I was pretty decent at it and caught on quick.
So you were based in Southern California. What brought you up to Sacramento?
Mark knew Urijah Faber, and I did too, because [when I was in high school] Urijah was an assistant [wrestling] coach at UC Davis and tried to recruit me. Mark said, "You should move up there [to Sacramento, where Faber has a gym for MMA fighters]. I think it's the best camp in the world for lightweights." So as soon as Urijah gave me the invitation to start training at his gym, I made the move. That was October of 2009. So I've been doing MMA for two years.
Has it been a smooth transition from wrestling?
It has been. I owe a lot of my MMA skills to our gym. I just feel like the talent, the trainers and the camaraderie we have at our gym has pushed me to be world-class faster than I could've imagined. You know, Urijah [just had] a title fight. We have a 145-pounder, Chad Mendes, who is ranked No. 2 in the world right now [in his weight class], who will probably get a title shot soon. And we have a lot of good 155-pounders, like [UFC fighter] Danny Castillo. So we have a very stacked room. When you're training against people who can beat you, that's when you get better.
What's it like working with Urijah?
It's very cool. He's a superstar, but he's got no chip on his shoulder. He's a down-to-earth guy who will talk to anybody on the street, which has made the transition from wrestling to MMA for me even easier because I've been able to watch the way that he trains and lives his life. He's so loved in MMA because of how nice he is. So I don't know if I can achieve the exact same endorsements and stuff like that, but I [hope] I can be the people person that he is.
What about your family? Are Mom and Dad excited about your career?
Oh yeah, they're so excited. They're probably even more excited than myself. They have always been very supportive of everything I do, from my wrestling, my schooling, and now my professional fighting career. My dad is a competitive person and was a wrestler himself. And my mom, it's funny. Back when I was wrestling in college, she told me that I was going to be fighting. She just always knew that after wrestling, I was going to be fighting. She would watch The Ultimate Fighter and say, "Oh, I could see you on this show." So when I told her [I was going to be on it], she was like, "I told you!" She's very excited. My entire family is, actually—my brothers, my grandparents. My grandma, Gladys, is where we all get our toughness from. She's ornery.
Dillashaw's title fight will take place at 7 p.m. on Saturday, Aug. 30, at Sleep Train Arena. Visit ufc.com for information on tickets to the event or viewing options at home.