Made in the Shade
In Portugal, a fanciful art project that used little more than everyday umbrellas unfolded into a global tourist attraction. Sacramento should take this idea to the streets and go under cover, too.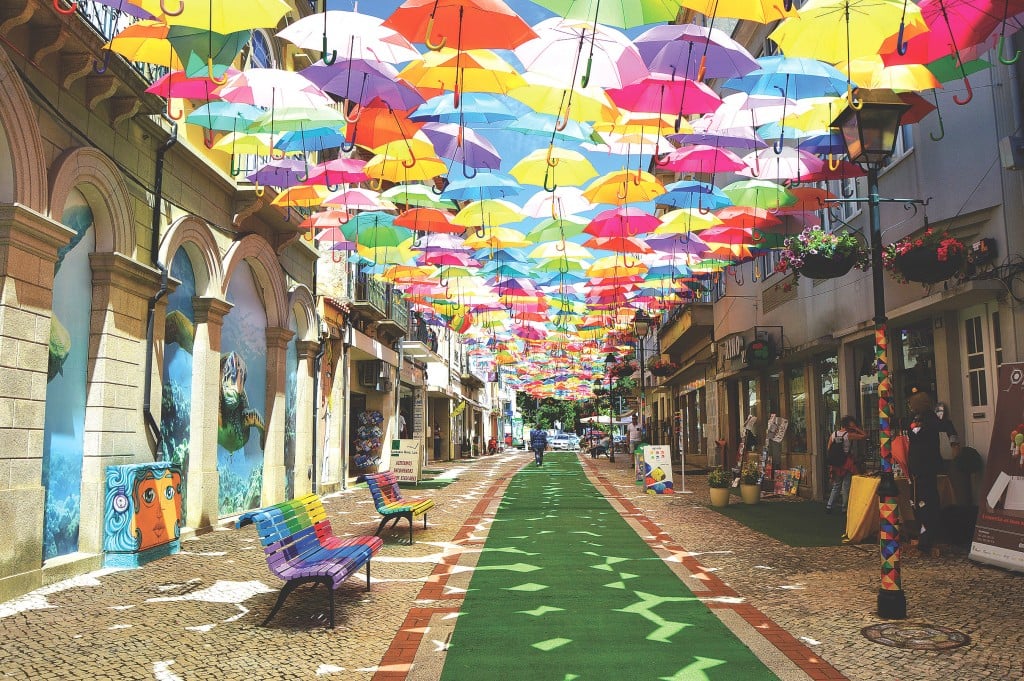 The Idea
It was a deceptively simple idea. In the summer of 2012, an art group called Sextafeira Produções launched the Umbrella Sky Project in Águeda, Portugal. Since then, every year during July, August and September, the streets of the small town, whose population is similar to that of Auburn, turn into a kaleidoscope of 6,000 colorful umbrellas that are strung with carefully lined cables and seemingly float in the air, all while providing shade for those below. The display has now blossomed into an annual international attraction, drawing tourists from around the globe, and Sextafeira Produções has taken its concept to 15 other cities like Lisbon and Saint-Chamond, France. Similar umbrella installations by other entities have appeared in places like China, Australia and Serbia. Most recently, the project made its way to an art festival in Pittsburgh, PA in early June.
Imagine such a presentation in Sacramento, where summer temperatures soar and shade, ironically, becomes the hottest commodity in town. But this isn't just any shade, mind you; it's shelter from the sun formed by seemingly magical forces—an experiential burst of color that is as practical as it is deliriously whimsical.
The Players
The Sacramento Metropolitan Arts Commission would be a natural facilitator, but so would any number of neighborhood improvement groups, such as the Midtown Association or the Downtown Sacramento Partnership. The key would be to locate areas that have fairly dense urban environments where buildings are close enough to each other to fill the space between them with a sea of umbrellas.
The Bottom Line
A standard umbrella on Amazon costs as little as $20. One way to finance our own parasol project would be to create a Kickstarter campaign where people could contribute $20 for each umbrella that would be used in the art installation in the summer and then donated to homeless shelters in time for the rainy season. Tell us we couldn't find 100—or 1,000—takers for such a cause. We think it's an open-and-shut case.