Making It All Popp
Call him an an interior designer, a home designer, a furniture maker, a graphic artist, a chef or a classic car collector—or all of the above. Whether he's crafting the look and feel for a hot new restaurant, a neighborhood taproom, a high-end chocolaterie or someone's home, Curtis Popp has carved out an eclectic career as one of the city's most sought-after visual thinkers. Sacramento, meet the modernist Renaissance man.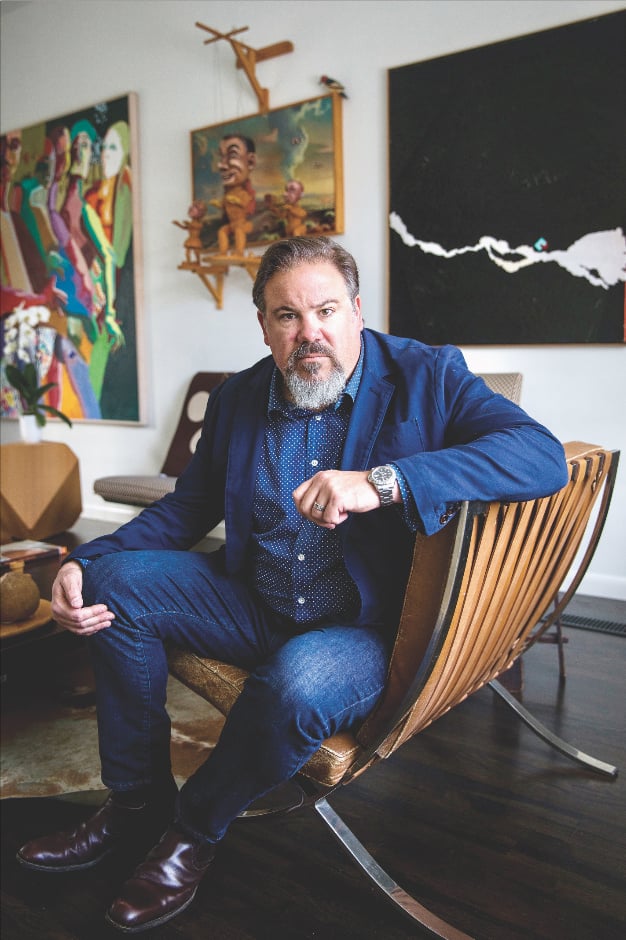 PPop goes the green and blue plaid sofa on an Astroturf-hued rug; pop goes the yellow and white table next to a translucent rainbow of Philippe Starck chairs; pop go the robin's egg blue legs on a wooden side table, and the bowl of fruit artfully displayed against the black backsplash in the kitchen, all set aglow against a gleaming white oak floor. Welcome to designer Curtis Popp's world, a vividly imagined, candy-colored place where your delighted eye alights briefly on an object before flitting on to the next surprise, like a drunken butterfly let loose in a verdant flower garden.
The family room, which constitutes the lower floor of his split-level 1937 Art Moderne home in Land Park, was recently redone after the designer's departure from Popp Littrell, the firm he had successfully co-piloted for seven years. The creative now works from home, except that he has nothing resembling a home office—there is no desk, no credenza, no file cabinet, and when Popp needs to spread out a blueprint, well, that's what the dining room table just beyond a floating wall is for. And that's exactly how he wants it. As an exemplar of his signature brand of bold, eclectic modernism, the family den sometimes serves as a perfect showcase to demonstrate his eye for prospective clients—but it's more likely to be used for watching movies on a pull-down screen with his nurse wife Susan, son Fletcher, 15, and daughter Olivia, 17. That's work-life balance, Popp style.
The interior designer, residential designer, furniture maker and graphic artist is entering into the auteur phase of a career that has seen him create some of Sacramento's coolest public and private spaces while working with and for some of the city's most notable visual thinkers, and he's made space—in his house and his life—to be less of an entrepreneur and more of a creator. He designs buildings, interiors, furniture and logos, but he resists being labeled as a multi-hyphenate. "I am a designer," he insists. "Not an interior designer, not an architect, not a graphic designer and not a furniture designer. Just a designer."
And although Popp's sensibility is modern, he blithely mixes genres and eras. Iconic pieces ranged around the den include a glass and chrome Mies van der Rohe coffee table circa the 1920s, a tubular chrome Eileen Gray side table from the '30s, an Eero Saarinen tulip table from the '50s and a vertically stacked Ptolomeo bookcase from the aughts. It all works because the designer pays such close attention to pattern, line and texture that the resulting roomscape hews to the same intricate laws of beauty that govern a natural landscape—hence the butterfly effect.
Popp shares some aesthetic DNA with another Sacramento modernist who defied categorization, Ray Eames, who created anything and everything, from furniture to buildings to short films, in collaboration with her husband Charles. Popp's eclecticism echoes that of the Eames House near Santa Monica, notable not just for its clean, rectangular lines, but also for the joyful abandon with which the couple filled it with Oriental rugs, plants, throw cushions, animal skins, crammed bookshelves and a flurry of other items not normally associated with the severe aesthetics of the Bauhaus movement that influenced them. It's easy to draw a line from the Eameses to Curtis Popp and call it Sacramento Modern, a formally rigorous yet lived-in modernism with plenty of room to accommodate the past, the present and the future.
••••
Popp's house has been featured in Dwell, as has the 800-square-foot home in South Land Park that the designer renovated for his dad in 2010, but it's his furniture, which is a sideline under the brand CPopp Workshop, that has probably garnered him the most national press. That egg-shaped birdhouse, which he made for a group show at the Kondos Gallery at Sacramento City College in 2011, was spotlighted alongside pieces by prominent avant-garde architects like Japan's Sou Fujimoto, and China's MAD Architects in Pet-tecture: Design for Pets, published in 2018 by the prestigious London publisher Phaidon. His Phillips table has been featured on the popular blog Design Milk, and his three-legged Soft Side Table made an appearance in Sunset magazine.
Locally, Popp's greatest impact comes from the work he's done designing restaurants, boutiques and private homes since 2002. "Curtis is one of the most talented interior designers I know, and he's evolved a style that's unique to himself," says developer Michael Heller, who looked Popp up and introduced himself when he saw the young designer's very first project—a kitchen and bath remodel he completed for the owner of Stewart's Automotive, where he'd worked detailing cars after high school—in Interior Design magazine. "You can identify a Curtis Popp design."
That style is modern, lively, colorful and whimsical—if you're a fan of Wes Anderson, you'll likely also be drawn to Popp's aesthetic. As a teenager, Popp dreamed of becoming a filmmaker, and that knack for visual storytelling comes across in how thoroughly he imagines the worlds he creates for his clients.
Walk into midtown's Ginger Elizabeth Chocolates, whose look he created in 2008 when he was the interior designer for cutting-edge home furnishings company Blankblank, and you feel like you're instantly immersed in Popp's theatricality. Loopy foil wallpaper is paired with futuristic half-moon shelves and a white candelabra chandelier—think 2001: A Space Odyssey with baroque touches. You can tell the same sensibility lies behind Popp's last design with Popp Littrell, the newest Bike Dog taproom that launched on Broadway in September 2017, where tables tucked under faux shop awnings look like a set where beery cyclists might burst into a song-and-dance number.
Even when Popp designed a marijuana dispensary eight years ago, he took his inspiration from jewelry store displays, showcasing the buds as precious objects. "It doesn't matter if it's beer or jewelry or chocolate or whatever," he says. "The product is almost irrelevant."
What he enjoys is the ability to create an immersive experience, and that is evident even when he tones it down to design highly livable homes.
Popp's version of residential modernism is clean and muscular and unafraid of a bold line, but he brings an unforced levity to his designs through little "aha" moments here and there. In a sleek and sophisticated Folsom home he completed from the ground up in 2017, the concrete floors and walls of glass would be almost forbiddingly cool were it not for a series of delightful shocks to the system. Popp isn't afraid to put not one, but four pieces of lime green furniture in the living room, for instance. Or cartoonishly large honeycomb tiles in the master bath. He gets away with these graffiti-like bold strokes because the subtle textures he uses everywhere else are so lush: gradated shades of stone and gravel glimpsed out a window, the sinuous linearity of wood cabinets, the dappled chiaroscuro sheen of that polished concrete floor.
But Popp does some of his best work when he's challenged by constraints, even ones that might dumbfound a lesser design mind—like when a client hired him to modernize a colonial from 1928. Nothing could've been less contemporary than this formal, traditional white rectangular house with black shutters, yet Popp coaxed it into cracking a smile. He painted walls and wainscoting gallery white, stained the floors deep brown, and filled the rooms with bits of clever chinoiserie, cow skin rugs and a space-station-worthy chandelier. But he really let loose in the home's bathrooms, each of which he slathered with a different wallpaper—the tinier the room, the more outrageous the pattern: In the downstairs powder room, for example, a scatter print of zebras leap across a gold background. The gleefulness of that powder room underscores why Popp is happiest when he's buried in the details.
Popp's passion for small, all-encompassing projects is one he's eager to indulge after the amicable dissolution of Popp Littrell Architecture & Interiors last summer. Dustin Littrell, who had been Popp's draftsperson before they became partners, primarily handled the business and production sides of the company, and was ready to take the creative lead on projects, while Popp was ready to be more capricious in the kinds of projects he said yes to, approaching his work less as a business entity and more as an artist, like the designers he most admired.
His eyes light up when he tells a story about how Frank Lloyd Wright, after he finished a house and all the furniture in it, designed a dress for the hostess to wear to her housewarming party. One of his longtime clients, the developer Mark Friedman, laughs when he hears this. "Well, I draw the line at letting him pick out the art," he says, smiling. Friedman is a noted art collector, which is why the notion of Popp picking out the paintings and sculptures gets a chuckle. Heller introduced the two in 2008, and they hired Popp to design the interiors of their joint Sutter Brownstones venture that year.
"He helped us craft a sensibility that was different for the Sacramento market, but that was very well received," Friedman says. At a time when most developers commonly specced decidedly lower-level finishes, the more stylish fixtures, tile and flooring Popp brought to the table—literally, and within budget no less—helped the project sell out in a down market.
Since then, Friedman has twice hired Popp to inject some contemporary flair into his English country-style home in Arden Oaks—the first included a reworking of the living room and an upstairs bath attached to a home gym. "That remains the nicest bath I've ever done," Popp says of the concept that cleverly uses a mirrored wall to visually multiply lava stone tiles so that they almost appear to float. They're currently in the design phase of a second renovation, turning Friedman's pool house into guest quarters, remodeling the kitchen and updating now-grown kids' rooms.
"Whatever style he's working in, there is this consistent aesthetic where he simplifies and tries to reduce the vision to three, maybe four moves, and I think that adds a real clarity and power to what he produces," Friedman says. "Part of it is eclecticism, that ability to appreciate that sometimes old things look best when set in opposition to something new, that rough edges look great when contrasted with something smooth. He's really good at playing with contrasts. I admire his ability to make those quirky moves that give originality to a space. I probably wouldn't be brave enough to do them on my own, but when somebody like Curtis presents it, it's like, 'Wow, that works,' " Friedman says. "But what I really admire is that he's got a positive personality. He's a lot of fun. He's got a reputation in town not only for the work, but for the experience of working with him. I wouldn't say that's true of every designer."
His empathetic approach helped persuade Edward Roehr and Janel Inouye, owners of Magpie, to let go of a beloved style motif when the restaurant moved out of a tiny cafe space on R Street and into an expansive corner space in the new 16 Powerhouse building across from Fremont Park in 2015. The transformed Magpie was a revelation and became an instant hot spot. "We were coming from a 100-year-old brick warehouse, and the culture around restaurant design at the time had a lot to do with repurposed style," Roehr says. "Curtis was influential in waking us up to the idea that we should embrace change." Popp nixed any notion the couple had of recreating the reclaimed wood and exposed brick of the original cafe. He sensed that it was a trend in restaurant design that had run its course. Instead, he gave Magpie 2.0 brick painted black, honeycomb tile—a texture that has become a bit of a signature in Popp's designs—and a sleek, polished bar. "When we did it, it was new," Roehr says. "Now it just feels contemporary."
••••
When you first meet Popp, design snob is about the last label you'd think of. The burly, friendly 48-year-old is physically more like a dude who should be hanging out in a sports bar (he helped his daughter Olivia start a rugby team). While he is a worldly maven who moves in sophisticated circles on the creative scene, he's also a happy, grounded family man who loves hanging out with friends he's kept since high school. It's as if his perfect pitch for design extends to the art of living well.
His design education started almost at birth, when his father, Ronald, painted a mural depicting the family's history on his infant son's bedroom walls. His dad won an award for animation at the Cannes Film Festival in the '60s, and worked for PBS' Children's Television Workshop in Los Angeles before moving back home in the late '60s to marry Sue, also a native Sacramentan. The family took up residence in Land Park and Ronald became art director for KCRA before briefly helming his own design shop. "He could do anything," Popp says. "He was my example, even more than Mies or Corbu."
While Popp got his artistic side from his dad, his energy and elan came from Sue, who died in 2011. "She was a consummate volunteer, connected in the community, galvanizing for causes," he says. There was a cautionary lesson to be had too when Ronald gave up art to take a job at the meatpacking company Sue's family owned, which Curtis thinks planted the seeds for the couple's eventual divorce. "He went to work for his father-in-law," he observes. "It had to kill him."
Seeing how unhappy his father was as a nine-to-fiver, Curtis Popp made deliberate choices to ensure that he would never have to go down that path himself. As college loomed, he took a long, hard look at his pipe dreams—becoming a filmmaker or, alternatively, "going to work for Pininfarina designing cars"—and decided they weren't actionable. Instead, he decided to become a generalist.
"I looked at people like the Eameses and Philippe Starck, and I thought, you know, they're not limited by anything. They can design a macaroni noodle, a door handle or a house. That's when I found CCA." The collaborative environment in the design department at the Bay Area-based California College of the Arts was just what he needed. "You'd be next to a jewelry designer next to an architect next to a fashion designer, and they'd give you a problem to solve and everybody could have a different point of view. That's the kind of thing I've always been attracted to."
Fast-forward 20 years, and Popp's newfound freedom has made room for passion projects and hobbies, like cooking and car collecting, that have taken him to unexpected places. A conversation with an old high school buddy led to a growing side venture, Hilltop Motorcars, in which they buy and sell sports cars together. "Basically, the idea is to treat these cars like wine, wait until they hit their prime and then sell them," he says. "And in the meantime to enjoy them."
The practical side to Popp's automotive idyll is that the extra revenue stream from the car project will hopefully get him to that sweet spot as a designer where he can say no to projects that don't feel right. But really, he's already there. Popp recently passed on a boutique hotel he very much wanted to work on—up until that point where the project's proposal phase began to feel ominously bureaucratic. And whether it's because or in spite of his willingness to turn away work that doesn't speak to him, Popp is finding himself knee-deep in cool new gigs—and digs.
"I've got nine or 10 jobs going right now, in various stages," he says. There is a new home and guesthouse for the owners of Sutter Creek's design-forward bed and breakfast Hanford House Inn, where Popp is taking advantage of the rural Gold Country setting to explore the idea of what he calls "agrarian architecture, a modern farmhouse." He's also remodeling a Japanese-influenced 1970s home in Carmichael, and a 1960s "atomic" ranch in Land Park.
And he is just finishing an addition and whole-house remodel of a home in the Fab 40s for Mike and Michelle Casagrande, a dentist and an ex-model whom Popp describes as "a real-life Barbie and Ken. But I say that in the best way: They're good-looking and very stylish. They like Italian contemporary—and they have a Federalist-style house. It's a fun project where there's been architecture, interior design, furniture selection, everything," he rhapsodizes. And don't tell Mark Friedman—but this time, the clients are letting him pick out the art.