Marquee Façade
Downtown is about to get a serious shot of economic adrenaline. The Cosmopolitan opens in October, the swanky Citizen Hotel in November and, in February, downtown hosts America's biggest bike race. But with all the progress, there are still some buildings that aren't ready for their close-up. Let's take some cues from Beijing, Detroit and even Gary, Indiana and put on a happy façade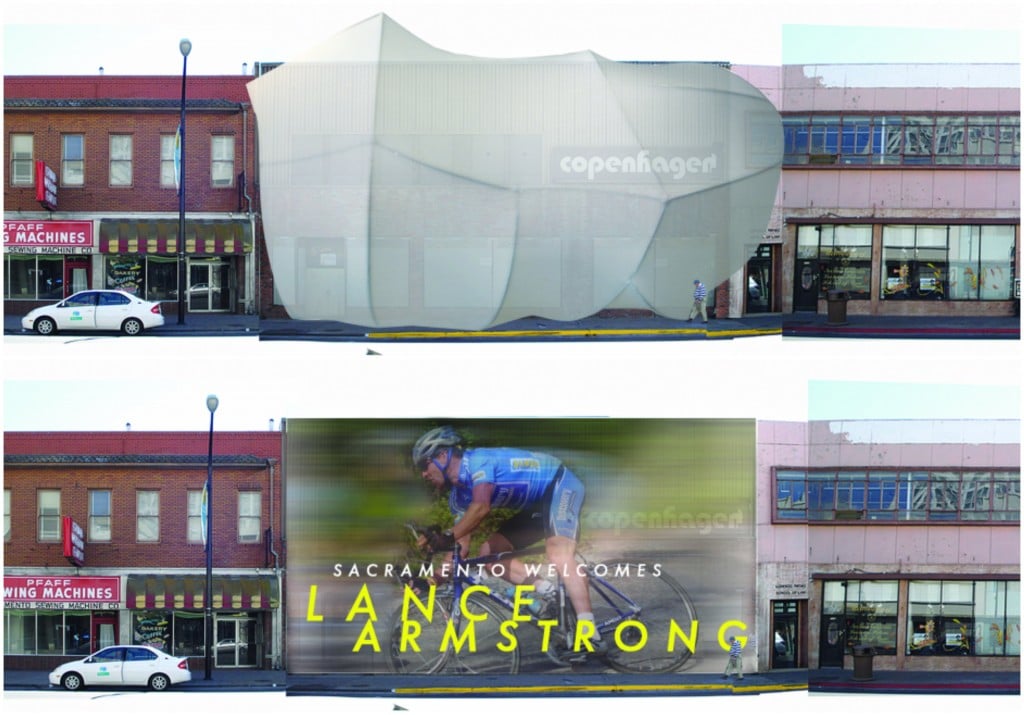 The Idea
When the Citizen opens in November, the four-star hotel will be a stunning addition to downtown. And it will bring with it scores of influential visitors—business leaders, entertainers, investors—from around the country. Cities, like people, only have one shot at a first impression, and downtown still needs to make a better one. For all the recent progress, there are still vacant buildings—even whole blocks—along J, K and L streets whose façades are civic dead spots. They're not dangerous, but they're ugly and, worse, they suggest urban stagnation. Some are waiting to be demolished in the next building boom (2009? 2010?) to make way for glittering condo towers. But that doesn't help us today. It's time to get creative and cover, paint or wrap these eyesores before the tourists, TV cameras and (hopefully) Lance Armstrong arrive for the Feb. 14 Amgen Tour of California that kicks off downtown. The eyes of the sporting world will be on Sacramento. For all of Beijing's faults, when it came to the Olympic bike races through the city, it erected well-designed temporary screens that blocked dilapidated structures from the riders'—and TV audience's—view. In preparation for the 2006 Super Bowl, Detroit draped vacant buildings in flags. Even little Gary, Indiana painted abandoned storefront windows with bright colors before the 2001 Miss USA contest came to town. So what can we do? There's no dearth of options. There are several public artists who would love to get their hands on a building façade canvas. Or how about attaching a massive mesh scrim to a vacant building that promotes local arts organizations, or even the Tour of California itself?
The Players
The Sacramento Metropolitan Arts Commission is a good place to start a search for local artists. One artist, Stephanie Taylor—known for her fanciful public art at Raley Field, the Railroad Museum and the San Francisco Hilton—says she would jump at the chance to design a temporary façade, or an "urban Band-Aid," as she calls it. The Downtown Sacramento Partnership could coordinate with landlords. As for the city, Sacramento economic development project manager Melissa Anguiano is exploring a program to share temporary façade improvement costs with private landlords whose buildings show no sign of life on J, K and L streets. The City Council should accelerate this program to get it in place in time for the Amgen Tour, if not sooner. And major arts donors might even dig deep if the arts are promoted in the process.
The Bottom Line
The costs will depend entirely on the scale of each project, but print shop Ferrari Color, which does banners for the Crocker and has wrapped entire buildings, could create a 30 x 40-foot vinyl banner for about $3,600. A bio-degradable version would run $5,500. Installation costs vary, but a range for a building would be $8,000 to $15,000. Just remember that a guest at the Citizen might be a visiting venture capitalist from San Francisco, a Washington, D.C. restaurateur scouting new locations, or an East Coast university president considering a West Coast campus. Now what's that worth?