Massive Appeal
We have a lot of great public art in Sacramento, but we're woefully short on the kinds of large-scale works that help create a sense of place. It's time to think big.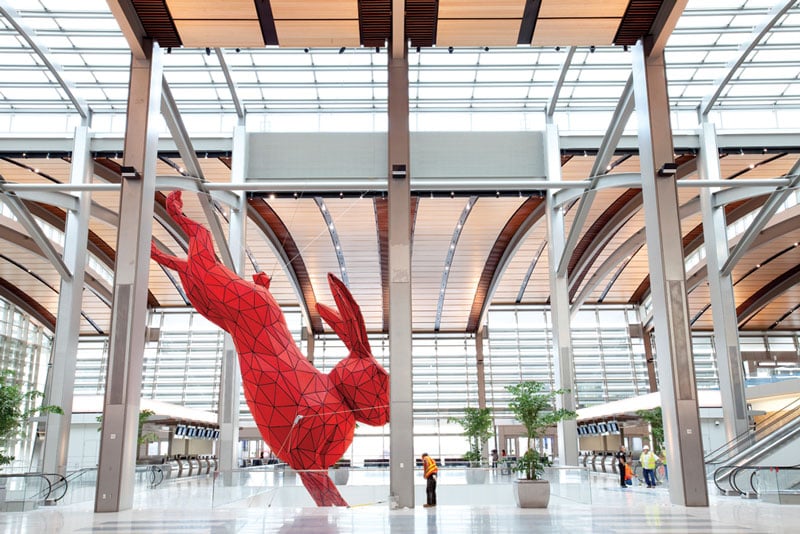 WWhen the Sacramento International Airport's new billion-dollar terminal opened in late 2011, its cultural pièce de résistance was the 56-foot-long aluminum red hare that appears to leap into the building from the outside. Since then, the massive artwork has drawn national attention and even inspired the naming of a popular midtown restaurant. This gargantuan piece of public art has, in just over a year, become a bona fide star and an unlikely visual symbol for the city.
Of course, not everyone was thrilled about it.
Long before said hare sprang from the studio of its creator, Denver-based artist Lawrence Argent, one of the Sacramento County Supervisors expressed concern in a 2008 public hearing about the message the piece would send to the community and visitors to our fair city because of the species', well, "proclivity for reproduction." Was it, she appeared to wonder aloud, an indecent proposal?
Thanks to the efforts of the Sacramento Metropolitan Arts Commission, clearer (and cleaner) heads prevailed, and Sacramento landed a prominent example of truly large-scale sculpture that has been a staple in other major cities for decades. It was, in fact, one giant leap for Sacramento.
But we still have a lot of catching up to do.
In some ways, Sacramento has been a pioneer when it comes to public art. In 1977, the city implemented a program stipulating that developers contribute two percent of a project's total budget to public art. There are many such programs in cities around the country but Sacramento, along with a dozen or so other cities, has the highest such requirement in America. Bravo, us!
And much good has come of it. Celebrated international artists like Dale Chihuly, Tom Otterness and Deborah Butterfield have created beautiful pieces here as a result. But where we have excelled in high-quality projects, the city of Sacramento has largely faltered in terms of scale; outside of the airport, we haven't created the kind of public art that tourists pose in front of for pictures. There are a few large works elsewhere in the region, such as Roseville's 80-foot-tall red steel sculpture Cosmos by Aristides Demetrios, visible from I-80. But when it comes to public art in Sacramento, we tend to think small in the most literal sense of the word.
At the risk of sounding indecent once again, size does matter when it comes to public art. While small-scale pieces are important, large-scale artworks, by definition, make bigger impressions. And in a city like Sacramento, that's a critical component in our continuing effort to brand ourselves to the outside world.
Most cities our size or larger possess a visual vocabulary that is largely determined by their skyline or geography. San Francisco, for example, in addition to some iconic skyscrapers, has a largely unrivaled geographic identity marked by the mountains, the ocean, the bay and the fog. In other less geographically endowed cities, distinctive structures (like the St. Louis Gateway Arch or New York's Empire State Building, etc.) frequently double as massive works of public art, giving their respective skylines an instantly recognizable civic brand.
As physically beautiful as the Sacramento region is, with its abundant trees, majestic rivers and colorful patchwork of richly textured agricultural fields, its geographical grandeur is best appreciated from the air. And while our downtown plays home to some fine buildings, our skyline still lacks the distinctive iconography that can lend us the sense of place that we need to compete against other cities for people, companies, conventions and tourists.
Quite simply, we need some visual panache for our urban landscape, and large-scale public art is just the ticket.
The red hare and the recent Blue Trees projects (in which Australian artist Konstantin Dimopoulos painted 20 sycamores ultramarine blue in downtown Sacramento with an eco-friendly pigment) are a great start, but even as we slog our way through this recession, we need to find ways to build on our recent momentum. In fact, the recession should be less of an excuse and more of a reason to make our city as distinctive as possible.
Just look to almost any other big city to see how they've used large-scale public art to enhance their image and provide a permanent cultural experience for their citizens and visitors.
In 1967, Chicago commissioned a controversial 50-foot-tall sculpture by no less than Pablo Picasso. "The name-brand quality of the sculpture inspired other commissions—from Alexander Calder, Marc Chagall, Joan Miró, Claes Oldenburg, Henry Moore—that found easier acceptance among Chicagoans," penned the Chicago Tribune. "As much as the Water Tower, the Picasso became a symbol of the city."
In fact, one of those artists, Claes Oldenburg, has become arguably the most prolific and celebrated civic sculptor in the world—the Pablo Picasso of public art, if you will—with his supersized designs of everyday objects (created with his late wife Coosje van Bruggen) enhancing public spaces across the country, in cities such as Cleveland, Des Moines, Kansas City, Las Vegas, Los Angeles, Philadelphia and New York. One of his more recent works is Cupid's Span—a 60-foot-high and 140-foot-wide bow and arrow that was installed in 2002 along the San Francisco Embarcadero.
And yes, at 83, he's still working. What could he do here? In the '80s, he created a 51-foot-long and 29-foot-high sculpture of a spoon topped with a cherry in Minneapolis. Perhaps he could fashion a giant fork concept here for our newly self-designated "Farm-to-Fork Capital" moniker.
From a pragmatic standpoint, while Oldenburg's pieces can easily top $1 million, it's a far cheaper form of civic branding than a $100 million skyscraper or a $50 million bridge.
Or let's pay homage to some of our city's greatest creative minds. How about a 30-foot-high gumball machine, sucker or slice of pie based on Wayne Thiebaud's luscious food paintings?
We could also honor the work of Sacramento native Ray Eames who, with her husband Charles, dominated mid-century modern furniture design with their iconic molded plywood chairs. There's actually a curious history of massive public artworks around the world fashioned in the forms of chairs. Geneva, Switzerland is home to a 39-foot-high three-legged chair, and Manzano, Italy boasts a 60-foot chair.
Imagine a massive Eames chair—the rocker, perhaps, or the lounge chair and ottoman—welcoming visitors to the city. It would be written about in every design publication in the world.
But in addition to creating permanent public artworks here, Sacramento would also be wise to follow San Francisco's lead by emulating our Northern California cousin's practice of transforming the public plaza in front of its civic center into a rotating sculpture gallery, with large-scale works by international artists taking residence there for six to 12 months at a time.
One possible spot for such a venue might be on Capitol Mall, a woefully underused urban space in desperate need of an extreme artistic makeover. Using it as a temporary public space for monumental artworks can make an immediate impact while the city looks for a permanent design solution.
Another urban canvas could be the spot where the sad, perpetually waterless fountain sits across the street from the front of the Capitol, wedged between the historic State Treasurer's building and the State Library and Courts buildings. It's ideally situated to frame a piece of public art with pedestrian access and to take advantage of its proximity to the Capitol with all of its tourists.
We also have the $450 million dollar Sacramento Criminal Courthouse set to break ground in the railyards in 2016. The Administrative Office of the Courts, which is overseeing the project, says there's currently no budget for public art and, since the state will be constructing it, they don't need to adhere to local public art guidelines. The city and county should challenge that and fight for a major piece of art for what will be the most expensive building ever constructed in Sacramento.
But it's also critical that private donors and foundations step forward to support great public art, too, like Gap founders Donald and Doris Fisher did with Oldenburg's Cupid's Span in San Francisco.
Wherever we decide to place our monumental public artworks, there's no time to waste. Now, while artist and construction fees are lower, is the time to lay the groundwork for multiple international design competitions. That process alone can take years from the planning to implementation stages. Let's not use the Great Recession as an excuse for not getting started. After all, dreaming big is free.
With a little luck, large-scale sculptures in Sacramento will start multiplying like rabbits.