Massive Garibaldi Octopus Painting at the Center of Mikuni Midtown's Makeover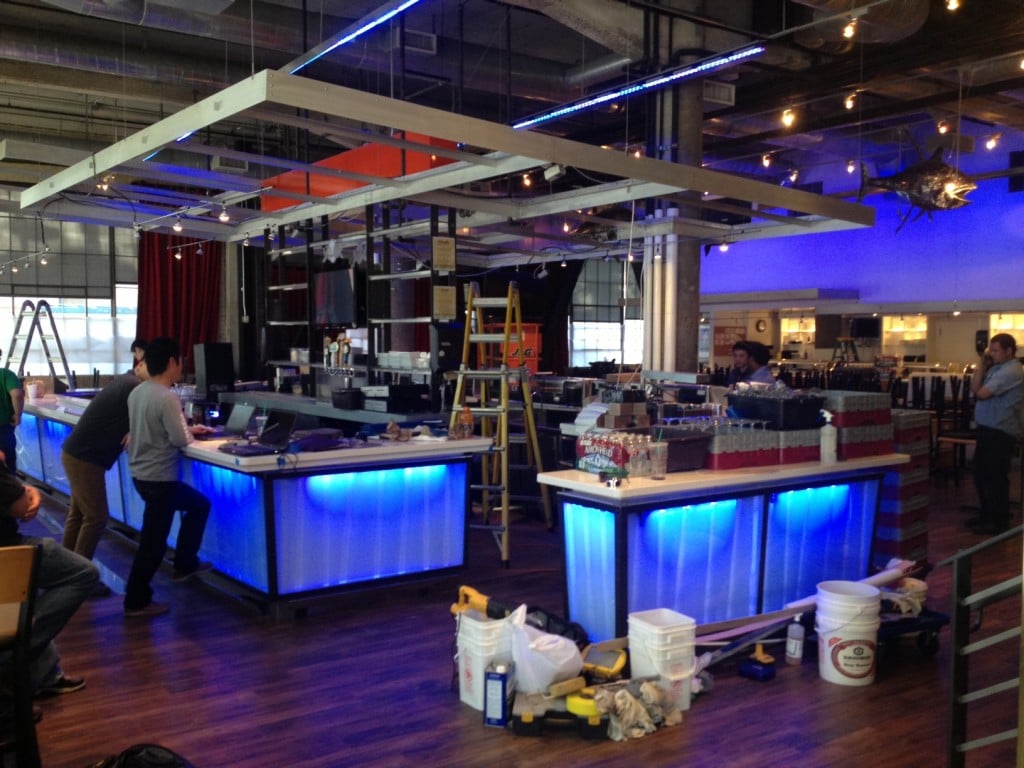 Ten years after opening its midtown location, Mikuni co-owner and "chief dreaming officer" Taro Arai decided it was time for a "facelift."
So after closing for a week, Mikuni Midtown will reopen tomorrow with new colors, floors and artwork.
When the restaurant launched in 2003, the interior featured an industrial vibe that included a concrete floor. For the 2013 update, Arai "wanted to warm it up a little bit," so the concrete floor has been replaced by wood laminate flooring and LED lights will now illuminate the bar and back wall, allowing the option for the colors to change every few minutes if desired. The bathrooms were also renovated and a new A/C system installed.
But the crown jewel of the new décor will be a new outsized painting by David Garibaldi, which will anchor a wall above the back sushi bar. "It's almost like a Pop Art octopus, if that makes any sense," says Garibaldi. "This is just one of Taro's crazy ideas and I'm bringing it to life." Inspired by Japanese artist Takashi Murakami, who is known for his bold use of color, the Sacramento artist will incorporate both pastels like light blue and bright hues like infrared and lime green in the octopus. The artwork, which Garibaldi has yet to paint, will be about 23 feet wide and 4 feet tall and debut this Wednesday or Thursday. (A second smaller piece, which will hang from the ceiling, will incorporate neon lights and cutout wood.)
This will be the third collaboration between Garibaldi and a Mikuni eatery. The artist's paintings, including a portrait of Albert Einstein as a sushi chef, can be seen at Mikuni Kaizen in Roseville, which opened in 2010 at the Fountains, as well as at the chain's Fair Oaks location, which reopened in March after a fire and displays a Garibaldi painting of Arai, Michael Jackson and Elvis drinking sake.
The new Mikuni Midtown will reopen tomorrow for lunch and dinner. 1530 J St. 447-2112. mikunisushi.com