Massive new mural promotes big-time health in Sacramento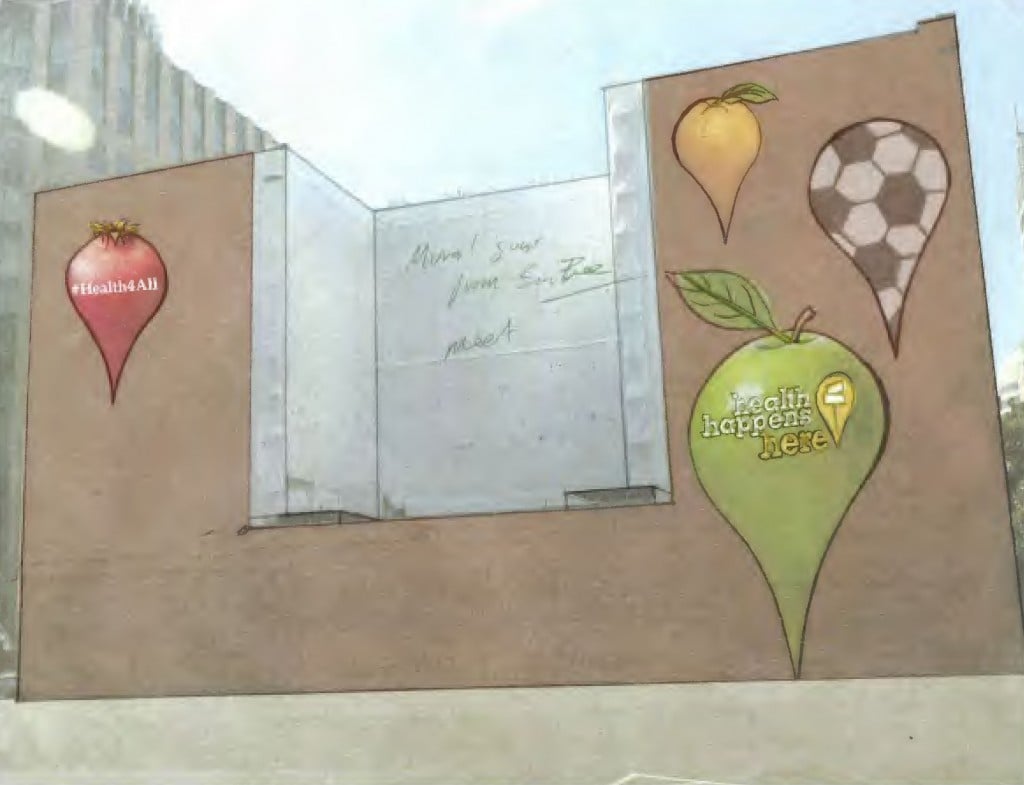 If you've strolled along 15th Street near Cafeteria 15L recently, paintings of a giant—and unusually pointy—apple and soccer ball might have caught your eye.
The artwork is part of a massive new mural on the side of the historic 1414 K Street building, a piece undertaken last week by local artist Demetris "B.A.M.R." Washington and backed by The California Endowment, a Sacramento-based health foundation.
The 175-sq. ft. apple and 62.5-sq. ft. soccer ball will join a similarly oversized orange and pomegranate on the six-story brick edifice, where the objects' round undersides take the shape of map pins. Upon completion, the Endowment's "Health happens here" slogan will be emblazoned on the apple, while the hashtag "#Health4All" will be stamped upon the pomegranate.
"We're challenging typical conventions of health," says Daniel Zingale, the Endowment's senior vice president. "People typically think of health as in a doctor's office, but we believe that health is determined by our surroundings, by opportunities for activity and healthy food."
The mural's concept arose a few years back, finally attaining reality alongside the region's booming farm-to-fork movement and this spring's debut of the Sacramento Republic FC soccer team.
To execute the giant public painting, The California Endowment enlisted Washington, a South Sacramento-based artist who has been commissioned for murals and other artwork since his days attending high school in Stockton. Locally, he has painted a mural on J Street near 10th that pays homage to the Sacramento Kings and another, entitled "Roze Gold," on 8th and K streets that was part of the Downtown Mural Project.
"I'm really excited about this project," Washington says. "The scale of the building is larger than anything I've ever worked on, and I'm definitely conquering my fear of heights."
Painting the 80-foot-high walls from his perch inside a cherry picker, Washington says he hopes to complete the California Endowment mural by the end of the month.
"Part of the [Endowment's] core mission is to amplify the voices in underserved communities, and one way to do that is through public art," Zingale says.
Zingale adds that the piece will be a permanent installation, noting that the Endowment intends to sponsor other large-scale works of art around town in the future.
To read more about the eye-popping potential for murals around Sacramento, check out "Painting the Town," published in Sactown Magazine's Feb/Mar issue.