Massive new tower proposed for Capitol Mall could end up as city's tallest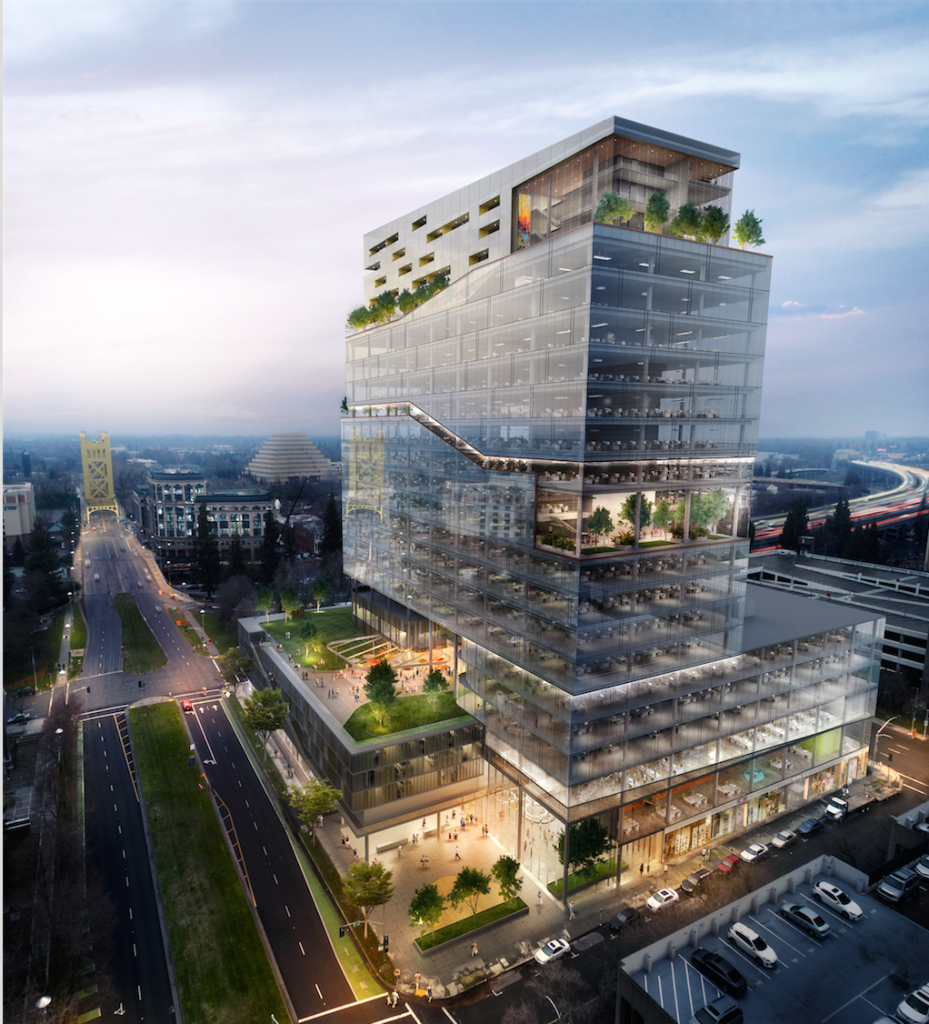 Today, the California Public Employees Retirement System (CalPERS) and the Los Angeles-based developer CIM Group announced that they are proposing a massive and strikingly modern, 1.1-million-square-foot tower at 3rd and Capitol in downtown Sacramento. Among other features, the tower will include a public garden on its seventh floor and 100 residential units at the top with amenities like an infinity pool and concierge service.
Construction could begin by early 2018 and be completed two to three years after that.
The block is best known as the site where developer John Saca proposed two 53-story towers in 2006. CalPERS was Saca's partner on the deal until it fell apart in 2007. The new tower will rise only about a block away from the new Golden 1 Center.
The proposed tower would be a mixed-use building that will include ground-floor retail, office space and apartments at the top of the 30-story structure. The renderings show a 420-foot-tall building, with the potential to rise higher depending on demand. Currently, the city's tallest building is the Wells Fargo Center, at 429 feet high. The second tallest is the U.S. Bank Tower at 402 feet.
CIM Group cofounder and principal Avi Shemesh says the company hopes to create a tower that will help define Sacramento's skyline and take advantage of downtown's new momentum. "The building has been designed from the inside out," says Shemesh, "with a focus on sustainability including ample natural light, solar energy, water conservation elements, and native landscaping." The building was designed by the San Francisco-based architecture firm Gensler, which has also designed high-profile projects like Facebook's headquarters in Menlo Park, the 54-story Ritz-Carlton at L.A. Live, and the Shanghai Tower, currently the second tallest building in the world.
Shemesh also notes that the design of the building may change somewhat based on feedback from the city, potential tenants and other stakeholders. "We want to get as much feedback as possible and listen to everyone. And if we believe we need to modify the design, we will."
And even though the building will sit on CalPERS-owned property and be cofinanced by CalPERS, and may even house state agencies, Shemesh says this is strictly a private development. That means the project will be subject to design review by the city, unlike state-built projects.
The building's ground floor will take up the entire block, with retail planned for all four sides of the ground floor, even though Shemesh says those space may be used for offices at first if retail tenants don't fill those spaces immediately. There will also be approximately 1,200 parking spaces at the base. From the third to ninth floors, Shemesh says there will be "creative office space" designed to be attractive for tech companies that may be relocating from the Bay Area, or for other creative firms like ad agencies.
Shemesh says there will be about 550,000 square feet of total office space, of which anchor office space will take up about 410,000 square feet on the 10th to 25th floors, and 140,000 square feet of creative office space will be located on the third to ninth floors. The top floors will contain approximately 100 apartments units—for rental only—ranging from micro-apartments to two-bedroom units.
"We think it will be a building that gives a sense of pride both for people using the building and for those looking at it," says Shemesh. "We want it to be friendly and tasteful both from a distance and from street level so it becomes an integral part of the urban fabric. You'll be curious from a distance. You'll want to go there, and when you get there you'll be able to experience it."