Fire and Spice
A next-gen Persian restaurant opens in midtown, serving up classics like saffron-seasoned, flame-grilled kebabs alongside newfangled Old Fashioneds infused with smoked tea leaves.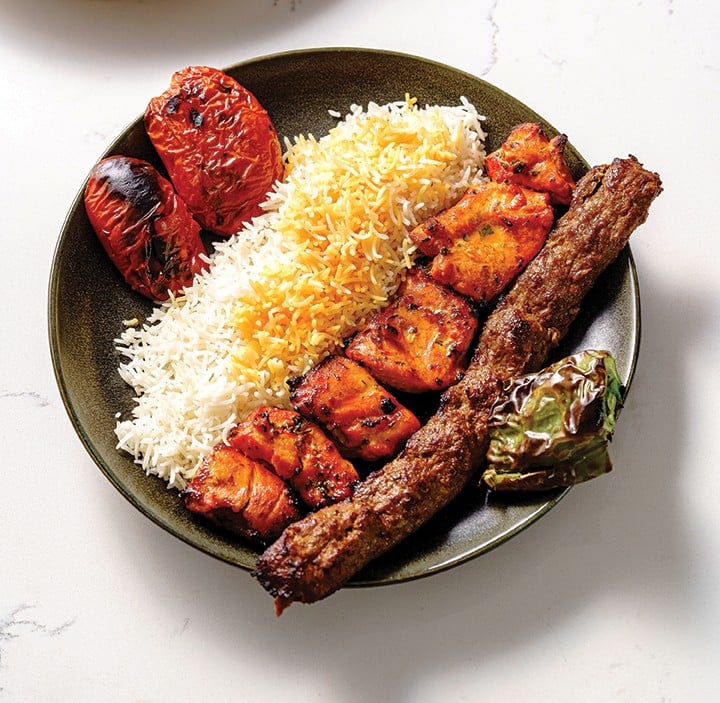 For Idean Farid, as the saying goes, the way to his future wife's heart was through her stomach. To hear him tell it, his version of baghali polo was the chef's kiss that sealed the deal with his then-date Jen Tkach back in 2009 while they were both students at San Francisco State. "I remember bragging to her about Persian food and my cooking skills," says Idean, 31. "And she called me out on it." He invited her to his apartment to try the traditional Persian rice dish: long, buttery grains of steamed basmati flecked with fresh dill, studded with big, meaty fava beans and finished with an anointment of bloomed saffron.
"I don't know if that's when I fell in love, but I was definitely into it," teases Jen, also 31, whose family hails from Czechoslovakia. "It was one of my first tastes of Persian cuisine and I loved it." The trappings may have been different, but at its heart, the baghali polo was as familiar to her as rice pilaf.
Such surprising recognition is the secret sauce behind Maydoon, the new Persian restaurant in midtown that Idean and Jen Farid—who wed two years ago and now live in El Dorado Hills with their 5-month-old son, Mo— opened in June for outdoor dining and takeout. Taking into consideration any misconceptions that may tinge some Americans' perception of Iran due to the country's long history of political conflict with the U.S., the ancient gastronomy of Idean's heritage—in 1984 his family left Iran, landing in Gold River and opening M. Shahrzad Fine Persian Cuisine in Rancho Cordova 20 years later—may seem doubly unapproachable.
But sizzling among the cuisine's rich stews and long braises, not to mention its unabashed flaunt of verdant herbs (parsley, cilantro, mint and dill) and warm, aromatic spices (turmeric, sumac, cumin, cardamom), is one of the world's oldest barbecue traditions: the kebab. In episode six of Padma Lakshmi's Hulu series Taste the Nation, an exploration of global culture and food traditions in America, the kebab is not only pegged as "the king of the foods for Persians," but also as "an olive branch to Americans." After all, fire-roasted meat on a stick is bound to tug at the carnivorous heart of anyone who grew up with a backyard grill.
At Maydoon, koobideh has emerged as the most popular kebab, which mirrors its standing in the Persian community, although a close second goes to joojeh—large pieces of chicken breast marinated overnight in olive oil, lemon, salt, pepper, saffron powder and turmeric. "In my country, everybody loves kebab," says Mohammad Farid, Idean's father, a co-owner of the restaurant. To prepare koobideh, the cooks at Maydoon, working off an old family recipe, robustly season ground sirloin with onion, turmeric, salt and pepper. When the mixture is molded onto a length of skewer, small indentations are made along the way to help the meat cook more quickly and evenly on a flaming grill. The signature koobideh emerges from the fire after about eight minutes, slightly singed on the outside and tender and juicy inside, not unlike the hamburger of your dreams. Stuffed inside pita bread with fresh herbs, pieces of fire-roasted tomato and perhaps a slather of mast-o-khiar (thick yogurt mixed with cucumber and mint), it could be.
Other highlights include the Maydoon Bowl, featuring layers of saffron-scented rice, chopped cucumber-and-tomato shirazi salad and koobideh, joojeh or tomato-braised shredded lamb, and a signature wrap that tightly bundles shirazi salad, the kebab of your choice, and a zesty green sauce of garlic, cilantro and parsley inside rolled-up lavash. The latter, in snack-size form, also appears on the happy hour menu, alongside apps like dolma (stuffed grape leaves) and kashke bademjan (grilled eggplant dip), two authentic carryovers from Idean's family's previous restaurant.
Earlier this year, the Farids sold the popular Shahrzad, leaving behind its heavy faux stone finishes and photographic murals of Tehran to open Maydoon. The new setting—Idean and Jen renovated the spot near 16th and P streets that formerly housed Nishiki Sushi—features recessed arches, intricate tilework and gold metal light fixtures, elements from classic Persian architecture and design. Crisp white walls and blue-green accents on the entryway floor tiles nod to the nearby Mediterranean Sea and a welcome mural—a flowy, floral monogram by local painter Anton Kagounkin—depicts Iranian botanicals like the pomegranate and the crocus flower, the stigmas of which are the prized saffron threads. It's a modern look for a new generation of Persian restaurant diners who are poised to help Maydoon live up to its name, which loosely translates to "gathering place" in Farsi.
Meanwhile, socially distanced patrons can toast to Maydoon's creative cocktail menu, which includes a riff on an Old Fashioned called Baba Jafar, named after Idean's late grandfather and made with Four Roses bourbon infused with smoked Persian tea leaves, plus a dash of walnut bitters. "He was a laid-back guy who liked cigars," says Idean. "When he visited family in the U.S., he loved to drink bourbon. This is the drink I would have made for him—it's influenced by the things he enjoyed."
Other crafted libations like the Maydoon Mule, made in the traditional way save for a swirl of sour-cherry syrup, and the gin-based Cucumber Cooler with mint syrup, cucumber shavings and seltzer, hold a distant vision of childhood. "As kids, playing in the summer heat, Idean and I drank different [nonalcoholic] elixirs mixed with either sour cherry or mint syrup. It was a great way to cool down and keep ourselves hydrated," says Shahriar Nejad, a family friend. "Idean and Jen took that memory and added booze—so I guess we're still staying hydrated."Tastes of Idean's youth can also be found in Maydoon's khoresh, or slow-cooked stews. Word on the street is that every Iranian family has a treasured recipe for ghormeh sabzi (a beef-and-kidney-bean stew) and gheymeh (a beef-and-split-pea stew spiced with saffron and turmeric, scented with dried Persian limes called limu omani, and finished with fried potatoes).
The former ranks among the "10 Essential Persian Recipes," according to Samin Nosrat, an Oakland-based chef and host of the Netflix series Salt Fat Acid Heat that was based on her best-selling culinary reference book of the same name. The latter is a favorite of chef Andy Baraghani, who as a senior food editor at Bon Appétit demonstrated making the dish in 2018 for the magazine's popular YouTube channel after getting reader requests for more Iranian recipes in the wake of his story on Nowruz, or Persian New Year. That two high-profile, next-generation Iranian-American food stars proudly rest their reputations on the dishes they grew up eating (both admit to childhoods spent trying to assimilate into this country's culture by throwing away, or at the very least attempting to conceal, their school lunches packed with kuku, an herb frittata), speaks to the deepening stake of Persian gastronomy in America's melting-pot society.
The ghormeh sabzi offered at Maydoon uses Idean's grandmother's recipe. It's one of Jen's favorite foods, Persian or not. Richly flavored with slow-simmered beef and beans, plus fragrant nuances from limu omani, cilantro, scallions and fenugreek leaves, the stew—often served over tahdig, the famously finicky Persian crispy rice, a bottom-of-the-pot miracle that's on Maydoon's secret menu—epitomizes warmth, making it a perfect dish not just for winter, but also for welcoming diners to this new gathering place.
1501 16th St. 916-382-4309. maydoonrestaurant.com