Meet the Marvel stunt star swinging into Sacramento as your 'neighborhood Spider-Man'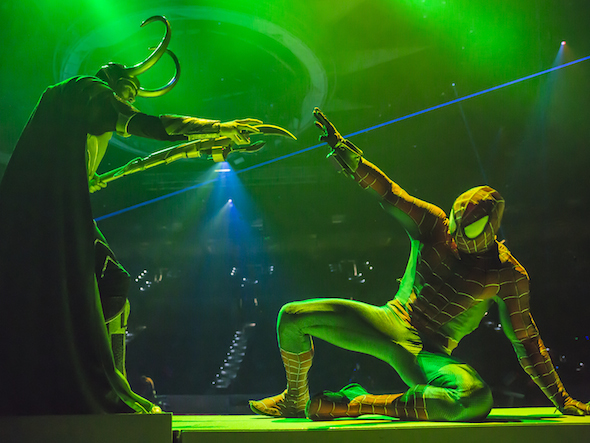 Spider-Man is coming to town—along with 25 other Marvel icons—for the action-packed Marvel Universe Live show swinging to Sleep Train Arena from March 12-15. Moe Alafrangy, the face behind the iconic webbed mask, talks about going head-to-head with villains like the Green Goblin, slinging webs over audiences, and what it's like to don the legendary red suit.
How did you get involved with stunt work?
I started taekwondo when I was 9. Then I transitioned into martial arts tricking at the age of 13. I received my first-degree black belt when I was 14. "Tricking" is a combination of tricks, twists and flips that happen in the air. It's something I've been consistently training at since I was a kid [growing up in Virginia]. My instructor at the time moved to Los Angeles and became a stuntman, so I looked up to him as somebody who has always led the way. Eventually I moved out to LA [as well] and became an actor/stunt man, but also a dancer—just someone who's always performing in front of the camera or on stage. I definitely acquired a love for it.
Is Marvel Universe Live your first time working with Marvel? Have you done any stunt work for the movies or television shows before?
This is the first time I've gotten the chance to work with Marvel, and it's been a blast. I'm hearing that they're actually going to incorporate Spider-Man into another Marvel production that's coming out. That's something that sparks my interest and I would love to get a chance to work on that as well.
Can you talk about what Spider-Man does in the live show? What can people expect from him in terms of stunts?
This show, first of all, is able to portray movie-quality stunts live. That includes pyros, car chases with soldiers hanging onto the cars and flying off of them, and big fight scenes. As far as Spider-Man goes, he does a 26-foot-high fall onto an airbag, and you can see him web-slinging over the audience. You can see him doing all the acrobatic movements that you grew up watching Spider-Man do in the comics and the cartoons. On the other end, his teenage years come out in the dialogue in the show. He'll throw out a joke here and there or make fun of Goblin. It's a combination of all those things put together live.
How does the web-slinging work? What exactly is the web?
It's actually a white laser and it's the first of its kind because it has a red laser, a green one and a blue one all merged in this device, and together it shoots out a piercing white laser. It's triggered when my middle finger and my ring finger touch the palm of my hand, as you can imagine Spider-Man [doing when he] shoots the web.
In terms of web-swinging across the audience, how does that work?
It's a hand-loop mechanism. You see it a lot in the circus. Basically, it's a loop [attached to an aerial rope] that goes around my hand and so when I'm swinging over the audience—that's the only thing holding me up. I'm hanging on just like a web.
Is there a favorite part in the show for you?
I would say my favorite part in the show is when Goblin thinks he took me out. He pushes me off this platform, and I fall down and the lights go out on me, but I find my way back underneath his glider that is flying about 25-30 feet in the air. He's celebrating, and all of a sudden, I pop up out of nowhere and start suspending underneath the glider upside down. That's a crowd pleaser because it's unexpected, and it's a fun part in the show for me.
What would you say is the most challenging or scariest part in the show for you?
Definitely the web-slinging can be challenging because if you doze off or start thinking about other things and are not engaged as far as your muscles go, by the time you land and probably after the show, you start to feel a little bit of pain within the shoulders or wherever places you strained. If I'm not 100 percent [warmed up] and stretched out and ready for show, that could potentially be dangerous—especially because we could have up to three shows a day.
How do you get into character? Do you have to mentally prepare yourself, or is it once you put on the suit you begin to feel like Spider-Man?
I think it has a lot to do with putting on the suit, because they've spent so much money putting together this suit and making it so authentic and original to the point that when I look in the mirror I see nothing but Spider-Man. It's an amazing piece of artwork. Once I put on the suit, it's instant. I get into the sharp and agile movements. It happens naturally at this point. I always get feedback from my friends in the cast who notice my personality changing instantly. I begin walking like Spider-Man, It's actually portraying the character and portraying that he's a teenager who can relate to people. He's a people's person. "The neighborhood Spider-Man"—that's what goes on in my head when I put the suit on.
Because you're not speaking, how do you communicate to the audience through your stunts and movement?
The last thing I'd want the audience to see is a human being or Moe just walking around in a Spidey suit. I want them to always feel like they're watching Spider-Man. Even if I'm squatted down in a Spidey pose, I never lose touch of that. I'm making sure that I'm very agile and my head is turning the way Spider-Man's head would turn. I'm not walking like I would walk in a mall. I'm walking like I'm full-on portraying the character.
How much of a fan of Marvel or Spider-Man were you got this gig?
I was a huge, huge Marvel fan growing up and I still am today. Spider-Man was a character I could relate to the most as far as him being up in the air, doing a flip to dodge bullets—just him swinging or being so quick to jump on a wall. The idea of this character being the one they wanted me to play, I think it kind of went full circle because I've always been a fan. Not everyone gets to say that they get to play Spider-Man in a Marvel production. This is a huge dream come true for me.
What's something about you that might surprise the audience at Marvel Universe Live?
On Christmas 2010, I was in a huge snowboarding accident. I went on this big jump on this ramp and I was 30 feet in the air, and I ended up landing on my head, which put me in a coma for almost a week. It definitely pressed pause on my life. I was in a wheelchair and the doctors were very adamant in making it a fact that I wouldn't be the same ever again or trick again.
Throughout 2011, I worked as hard as I could to peak a cartwheel here and there and just get back to the gym. It was a very hard road, but I eventually flew out to LA for my first audition, which was another world tour [for the How to Train Your Dragon arena show]. They were looking for an acrobat, and I flew across the country to audition. [Alafrangy landed the job.] It was the first step that I took based on the instinct in my gut, which all of a sudden I was very in tune with because I realized how short life was. To me, [the accident] has been the biggest blessing in disguise. I'm able to enter onto the stage and perform in front of crowds of thousands of people, [playing] a character that everyone—even my mom—can relate to: Spider-Man.
What has been your favorite part of this experience?
[Marvel has] been able to set up meet and greets, without costume, with kids who are fighting cancers and who are struggling to make it another day. I teach a workshop and get them flipping and rolling around, stretch them out and work them out, but at the end I'm blessed to be able to share with them my story and be able to give them words of inspiration as far as waking up, leaving their bed, making a difference in other people's lives and becoming strong again. I want them to know that they are the real superheroes. I'm able to inspire them that I was in a coma at one point, and now I'm Spider-Man. That could be you, too.
Marvel Universe Live will take place March 12-15. $15-$115.50. Show times vary by day. Sleep Train Arena. 1 Sports Pkwy. 928-0000. ticketmaster.com
Related Links
–Cirque comes to town as Crocker Art Museum hosts French-themed circus
–Meals and reels served up at 4th Sacramento Food Film Festival
-How Sacramento can get its long-delayed Zoo Train back on track