Menu announced for Sacramento's Farm-to-Fork gala dinner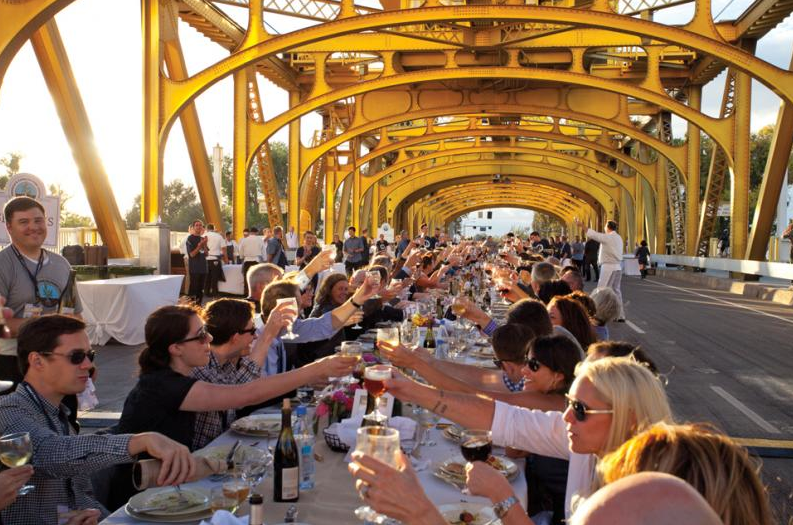 The chefs are chosen, the site is set, and now the menu is unveiled for the second annual gala dinner celebrating Sacramento's status as the Farm-to-Fork Capital of America.
Chefs Brian Mizner (of Hook & Ladder) and Jason Poole (of Dawson's steakhouse) today revealed a three-course menu featuring ingredients from farms, dairies, breweries and other providers around the region, from an heirloom bean salad compiled from sources in four counties to a lamb entrée prepared with Sacramento's own Track 7 beer.
Mizner and Poole will lead a team of kitchen pros from top Sacramento-area restaurants at the Sept. 28 dinner, which will host more than 700 diners at tables lining the Tower Bridge. The group convened this morning for a run-through of the menu's first three courses at the Dawson's kitchen at the Hyatt.
"Today we did kind of a mock setup of everything to see how everything would work out, plating- and table-wise and everything—it was great," says Mizner, who cited a mesquite-grilled quail dish prepared by chefs Poole and Adam Pechal (of Pour House) among the day's highlights.
"It has pork belly in it, and then these grilled grapes that just came out beautiful," Mizner adds. "They had what are called cotton candy grapes. And when you eat them, they're nice and juicy and they actually taste like cotton candy. And when you grill them, they get even sweeter and more plump. So that was fun."
After arriving on the bridge to an array of hors d'oeuvres, diners will sit down to a pre-set course of charcuterie and cheese prepared by chefs at Hawks, Block Butcher and the Cultured and the Cured. The heirloom bean salad (by Mizner and chef Ian MacBride of Lucca) follows as the first course, with the quail dish next.
The meal's third course will offer a pair of options: smoked trout with fingerling potatoes, fennel, arugula and herb vinaigrette (by Scott Ostrander of Esquire Grill and John Bays of Red Rabbit); and a braised lamb shanks dish (with Track 7 Hoppy Palm Pale Ale) concocted by Ten22 chef Jay Veregge and Broderick Roadhouse chef Chris Jarosz.
Farms and other suppliers contributing ingredients include Del Rio Botanical, Passmore Ranch, Rancho Llano Seco, and more than a dozen others.
"There's such a bounty," Mizner says. "We can't use everything we have available to us, or else there'd be 20 dishes on the table. But it's pretty easy this time of year. People come out of the woodwork. More places offer their services to you. They contact you and then you handpick them."
The sold-out dinner is planned as the culmination of Sacramento's two-week Farm-to-Fork Celebration, which also includes such highlights as the Legends of Wine tasting event (Sept. 18 at the west steps of the State Capitol) and the Farm-to-Fork Festival, which will bring food, wine, beer and cooking demonstrations to Capitol Mall on Sept. 27.
Visit farmtofork.com for more events and other details regarding Sacramento's Farm-to-Fork Celebration.
Related Links
· Tower Bridge dinner to once again cap Sacramento's Farm-to-Fork Celebration