Menu details unveiled for this year's Farm-to-Fork Gala Dinner on the Tower Bridge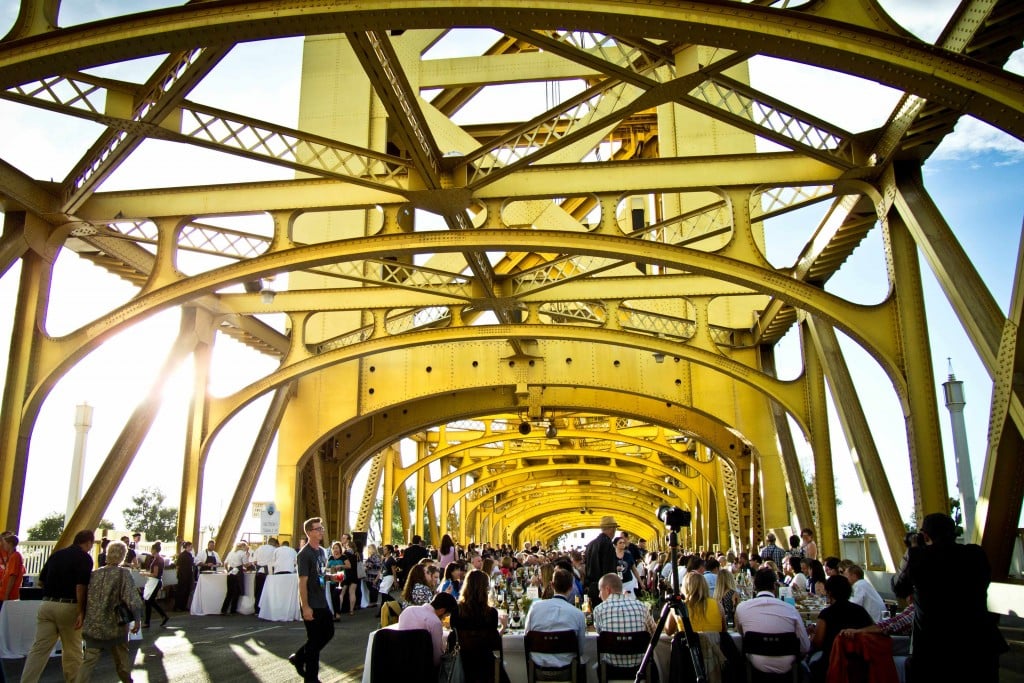 For those lucky enough to have nabbed a ticket to this year's dinner on Sept. 25 at the Tower Bridge, brace yourself for a locally grown, five-course smorgasbord.
During the Sacramento Convention & Visitors Bureau's fourth annual event, which sold out in July, participating farmers and chefs will both be on hand to serve 782 guests under the canopy of one of Sacramento's most iconic landmarks.
"Sacramento has a unique [food] industry that to me is really about camaraderie and collaboration, so to be able to spend an evening doing what we love as chefs and have the farmers with us will speak volumes," says Allyson Harvie, executive chef of The Patriot, which opens soon at Carmichael's Milagro Centre.
Harvie will prepare the first course of chilled and smoked Terra Firma Farms green beans with R Kelley Farms tomatoes, Di Stefano burrata and fried, pickled shiitake mushrooms. For the second course, Rick Moonen, executive chef of RM Seafood in Las Vegas, is offering lightly smoked Passmore Ranch catfish with German potato salad and horseradish-caviar cream. This year marks the first time that female chefs and an out-of-town chef will appear on the gala dinner stage.
Kru's Billy Ngo will prepare the third course: an oyakodon (a Japanese chicken, egg and rice dish) with Riverdog Farms chicken and rice from Rue & Forsman Ranch. Michael Fagnoni and Molly Hawks—executive chefs and owners of Hawks restaurants—are creating the fourth course: grilled zabuton-cut steak from Van Vleck Ranch with charred peppers from Azolla Farm. For the fifth course, The Kitchen's Kelly McCown will plate braised free-range lamb from Dixon's Emigh Lamb alongside Watanabe Farms summer tomato jam with field legumes, Merguez spices and candied garlic.
To conclude the dinner, Del Rio Botanical's Suzanne Ashworth is collaborating with pastry chef Ramon Perez of Puur Chocolat to craft the dessert course.
"What's really wonderful about this year's bridge dinner is that the farmers are the showcase, and that's how it should be," Harvie says. "We as chefs are really trying to do little to the original state of the produce that they bring us and present it in a really beautiful manner."
Proceeds from the gala dinner will fund the Farm-to-Fork Celebration's free festival that takes place on Capitol Mall the day before on Sept. 24.
For more information about the event and to view the complete gala dinner menu, visit farmtofork.com.
To read about last year's bridge dinner, click here.
You Might Also Like
Bridge Party: photos from the 2014 Farm-to-Fork gala dinner
Chef Michael Tuohy offers a sneak peek of the food at Golden 1 Center
Q&A with star chef Cat Cora