Mex Appeal
Midtown hot spot Zocalo is exporting its high-end Mexican menu and artful style into a Roseville space where another south-of-the-border restaurant bit the dust. Will the second time be the charm? It sure looks—and tastes—like it.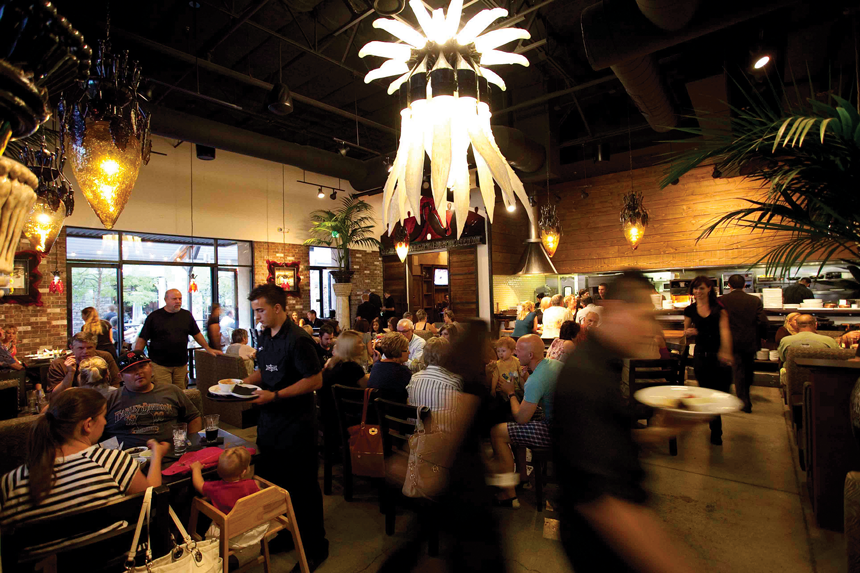 Zocalo
Fountains at Roseville
1182 Roseville Pkwy, Roseville
788-0303
zocalosacramento.com
R
T
There is an old Mexican dicho—or proverb—that goes something like this: "No hay que buscarle mangas al chaleco." The literal translation? "Don't search the vest for sleeves." But what it really means is "don't complicate things unnecessarily."
It's a sound philosophy, one that the team from the midtown standout Zocalo likely had in mind when they decided to take over a 4,500-square-foot restaurant space in the Fountains at Roseville, previously occupied by Tres Tequila Lounge & Mexican Kitchen (formerly named Tres Agaves), which sadly sucked its last lime last December.
The plan from Zocalo owners Jimmy Johnson, Ernesto Jimenez and Scott Kim was pure K-I-S-S (for those who don't know, that's American for "Keep It Simple, Stupid"): Take the polished and poised menu of regional Mexican fare—think buttery carnitas coupled with pickled red onions or succulent tiger shrimp tamales served in a roasted garlic cream sauce—created by executive chef Ryan Rose for their midtown establishment and offer it up at a second Zocalo in the suburbs. Same with an inventive cocktail program that includes top-shelf margaritas, mojitos and other creatively mixed fare, as well as beer and wine.
And if they were following their previous playbook, why not rehire Ernesto Cruz, the inspired Mexican artist-architect-interior designer who transformed the original Zocalo—in the former Arnold Brothers Inc., Motor Cars building on 18th and Capitol—into one of the best rooms in Sacramento? He could deck the Roseville joint out with his pre-Columbian-meets-modern-Iberian vibe, creating a kind of dark-wood-and-palm-tree-accented salon that would be irresistible to a time-traveling Frida Kahlo.
What could possibly go wrong?
With this plan, actually not that much. Yes, the opening date had to be moved from March to May to June before the eatery finally opened in mid-August.
But that, the owners say, had much to do with dialing in the myriad details of transforming the former space—which had good bones to begin with, including soaring, sliding glass doors that lead to a sizable, shaded patio—into something truly exceptional.
The eight-month renovation highlighted the team's unerring devotion to Cruz's artistry, and its desire to avoid the homogenous aesthetic that has come to define so many suburban restaurants. Art, however, rarely conforms to schedules.
"He's a genius," Johnson says of Cruz. "He does these crazy things we love. The challenge was it took him a long time to do it. This isn't like a store where you go in and say, 'I'll take two of those and one of those.' It's all custom-made stuff."
While the look of the midtown establishment was largely defined by the classic beauty of the building itself (originally designed by Leonard Starks, the architect behind the Alhambra Theatre and the Elks Tower), the Roseville location was "a blank canvas because you're going into a mall," Johnson says.
The first order of business was to knock down the walls that compartmentalized the place. He, Jimenez and Kim then looked to Cruz to give it a unique and memorable identity.
And that he did. Walking into the airy and inviting space, which certainly pays homage to its moniker (Zocalo is named after Mexico City's famous public square that's been a gathering spot since the age of the Aztecs), patrons will instantly recognize that the décor wasn't sourced from Costco. Dangling majestically above the main dining room is a paean to fermented cactus in the form of a sprawling chandelier shaped like a reaching agave plant. Translucent stalks jut out at unlikely angles, each arm lovingly crafted and bound together with dark, aged metal.
But its luxe tropical surrealism is not alone in the space. The open-sided bar features a giant cylindrical tower crowned with what appears to be iridescent insect wings. Spanish poems carved in flowing script circle the glossy, ebony surface, interrupted by open shelves that showcase the bottles of liquor.
Jimenez first found Cruz before the original Zocalo opened in 2004. On mission in Mexico to find pieces for the restaurant, he ended up visiting the town of Morelia. There, Jimenez saw an incredible lamp and went in search of the artist. A false tip first took him to Mexico City, but he eventually found Cruz's store in Tlaquepaque, a village not far from Guadalajara that's known for its pottery and blown glass.
Even back then, Jimenez knew he wanted a fantastical, one-of-a-kind feeling for Zocalo, and was willing to accommodate the talented, albeit eccentric, artisan. For the Roseville location, Cruz, who was unable to travel to California this time around and ended up designing remotely, first created a drawing of each piece—including ornate ceramic columns and ceremonial urns—with a poem written next to it.
"That's what we would see and approve and buy," Johnson says. "When he did a light fixture, he would write a poem about it. Seriously. He's a very special guy."
So special that the team ended up buying enough pieces to fill two 53-foot trailers, which were driven up from Guadalajara through Texas. "We ordered some garden features," says Johnson. "One of them is a big carved sphere of stone. That thing has to weigh 800 pounds."
Even after all of those pieces made their cross-border journey, challenges remained. "After we got the stuff, it took us another month to get it dialed in because it doesn't fit perfectly," says Johnson. "There's a lot of craftsmanship that goes into installing a table, for instance."
However, when it came to the food, the owners knew they had a fit, already having a firm grasp of the area's eating habits (they also run the casual Tex-Mex eatery Más in east Roseville), and believed that Zocalo's unique translation of high-end, map-spanning Mexican would fast find regulars.
A perennial midtown favorite, the arrachera los altos—a tender, zesty skirt steak served with portabella mushroom and accompanied by Zocalo's signature cilantro-lime rice and subtly spicy black beans—has already made a name with the Roseville crowd. The tacos—especially the Dos Equis Ambar beer-battered fish served on handmade mini tortillas—have also been receiving full-mouthed nods of satisfied approbation.
But while the menu is the same (minus the "chef's table" specials which will be added in the near future), Roseville visitors will notice some slight differences in the flavor of certain proteins. That can largely be credited to equipment they inherited from the previous tenant—namely a wood-fire grill and a rotisserie, cooking devices they don't currently have in the midtown location.
"It's that extra flavor that the smoke gives it," says Rose, who now works from an open kitchen—another difference from the midtown locale. "That's one of the showstoppers for me. We'll dim the lights down a little so you're getting that glow from the grill and the rotisserie. It's pretty cool."
Surprisingly, dishes that can fly under the radar in midtown are making the hit list in the new restaurant, including the chile relleno (battered poblano chile filled with rich queso and red chile pork, resting on a black bean purée and spicy tomato sauce), a development that Rose credits to the dish's familiarity, which seems to matter to a Roseville clientele, that skews a little older—and more traditional—than its central city cousins.
But it's the cochinita pibil—or pork shoulder—that Rose says shows the kitchen firing on all burners. "It has a little bit of achiote, which is one of the main basic spices that you'll find in any cochinita dish," Rose explains. "We glaze it and we're using agave nectar. We cook it down with orange juice, cinnamon and clove and a lot of garlic and bay leaf and just let it simmer down. We smoke the meat. When we get an order, we'll sauté it with a little bit of butter and then we'll finish it off with a glaze. It takes a long time to prep the dish, but once it comes to order, it's pretty good."
The same can be said for the 26-ingredient, savory-sweet mole—which combines chocolate, nuts, fruits and chil-es, as well as other indigenous spices—that Rose learned to prepare on multiple trips down to both Oaxaca and Puebla. "In Sacramento, your No. 1 comparison is someone else's grandmother or mother," he says. "If you make mole, it better be better than Mom's, or you don't know how to make mole."
That adherence to elevated authenticity can also be found in the drinks, including the house margarita (pure blue agave tequila, hand-squeezed lime and a splash of agave nectar for sweetness) and the desserts, including the cinnamon-and-sugar churros oozing vanilla cream.
"Mexican food—it's culture," says Rose. "Sometimes when you first get into cooking, you want to change things up, put twists on things. You can do it, but you still have to hit the flavors. You don't want to think too far outside of the box because then you're not really cooking Mexican food."
It doesn't get any simpler than that.