Midtown's Der BierGarten to open next month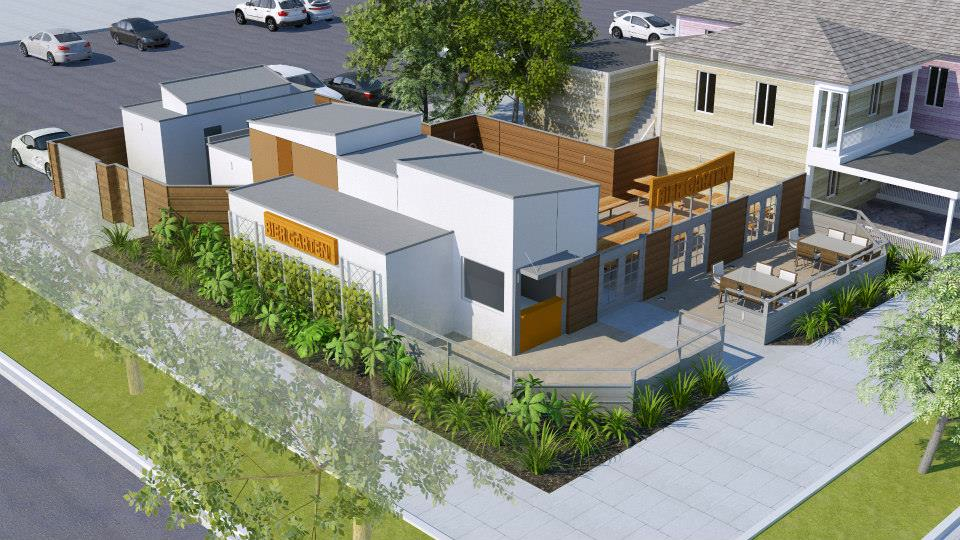 After weeks of delay from permit issues and other complications, Sacramentans can finally say "willkommen" to Der BierGarten, a Bavarian-style venture set to open in mid-November in midtown. Tomorrow afternoon, two reclaimed shipping containers—which will house Der BierGarten's kitchen, bar and other facilities—will be installed in the once-vacant lot next to The Golden Bear on the corner of 24th and K streets.
Headed up by Sean Derfield, the owner of River City Saloon in Old Sacramento, Der BierGarten was inspired by similar projects utilizing recycled shipping containers like Proxy, a collection of stylish pop-up restaurants and retail shops in San Francisco. At Der BierGarten, the cladded cargo containers will frame a central 2,500-square-foot courtyard area, which will be filled with 15 communal tables imported from Germany, which Derfield envisions will soon be flooded by midtowners gathering to enjoy Sacramento's cool autumnal evenings. (Don't worry if you get chilly easily: there will be plentiful heaters available, as well as blankets, which are often provided at German beer gardens.)
The menu here will focus on authentic Germanic fare, ranging from well-known dishes like apple strudel, schnitzel and potato pancakes to other less common items such as flammkuchen, a German flatbread, and a platter with onions, pickles and slices of leberkäse, a baked loaf made of ground meats. Another signature will be sausages like bratwurst and weisswurst custom-made by Dirk Müller of Morant's Old Fashioned Sausage Kitchen near South Sacramento.
The centerpiece feature of this beer garden will, of course, be an expansive list of brews on tap that is purposely absent of any corporate American options. There will be 25 total, predominantly a rotating array of seasonal German and Belgian imports; a handful of local brewers will also be represented, including favorites like New Helvetia and Roseville Brewing Company, plus a few others from Northern California like Russian River Brewing Company.
Located at 2332 K St. Weather permitting, Der Biergarten will be open on weekdays from 3 to 9 p.m., and on weekends from 11 a.m. to 10 p.m. Visit dbmidtown.com for more information.