Midtown's "pop-up" dog park makes final crowdfunding push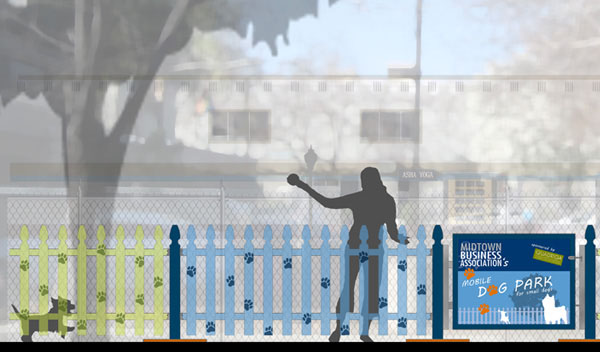 Attendees of the Midtown Farmers Market enjoy fresh, regional fare—and, soon, the market's monthly cooking demonstrations and "edible garden"—on Saturdays at 20th and J streets. And if an ongoing crowdfunding campaign comes through in the weeks ahead, the customers' four-legged friends will have something to bark about as well.
The Midtown Business Association has until April 13 to meet its fundraising goal for Midtown Bark, a pop-up dog park at 20th and J on the second Saturday of every month. The park—featuring a wooden fence, a double-gate system, grass, water bowls, waste bags and tennis balls—will be anywhere from 300 to 1,000 square feet, depending on the amount of funding received.
To date, the project at the civic crowdfunding site neighbor.ly has drawn $1,290 of its $3,000 goal for the temporary facility, whose prime location by the farmers' market serves a community of canines and owners whose nearest off-leash outlet at the moment is at Sutter's Landing—a mile and a half from central midtown near 28th and B streets.
"This is our way of showing that you can use a tiny area to meet a need," says Emily Baime Michaels, the association's executive director. "The dogs don't know the difference between having several acres or having a couple hundred square feet. What they're looking for is just to have a little off-leash time to socialize and enjoy each other's company."
Backers can expect more than a free-to-use dog park and a tail-wag of gratitude for their support. The effort offers rewards corresponding to seven different donation levels. For a $15 pledge, donors can have their dogs professionally microchipped at Front Street Animal Shelter. For $30, supporters receive limited edition Midtown Bark dog tags (in addition to the microchips). Individuals or businesses willing to kick in a larger sum can get their companies' banners on the fence for $300 or have the pop-up park brought to their own midtown events for $500.
For now, the park is limited to dogs weighing 30 lbs. or less. But if all goes well with Second Saturday's pop-up plan, there may be a bigger, permanent dog park in midtown's future.
"The project is 100 percent funded through donations, and it is 100 percent set up to benefit the dogs that come," Baime Michaels says. "And it provides a needed amenity in the heart of one of the most vibrant parts of our community."
Learn more about Midtown Bark in the video below, and visit its neighbor.ly campaign page to contribute. If you build it, they will bark.