Mikuni's 2nd Annual Street Festival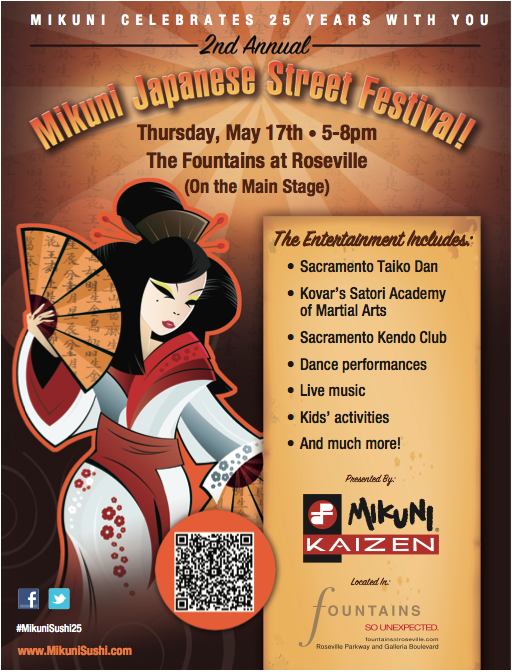 Celebrate Mikuni's 25th anniversary at the second annual Japanese Street Festival at the Fountains at Roseville tonight, May 17, from 5 to 8 p.m. The action-packed evening includes live music and dance performances from the likes of Sacramento's Taiko Dan drumming ensemble, expert martial arts demonstrations by Kovar's Satori Academy and the samuri-style, sword-wielding Sacramento Kendo Club, and a full lineup of games and activities for kids like origami, tattooing and fan coloring. Plus, get your fill of Japanese fare from Mikuni's popular Sushi Bus, which will be dishing out sushi hand rolls and green tea smoothies.
Hungry for more? Mikuni Kaizen will be serving until 9:30 p.m. Once inside, don't miss the orginal artwork from Sacramento artist David Garibaldi, who made a big splash on NBC's "America's Got Talent" on Tuesday night. You can even nosh on the Triple P Garibaldi Roll (Triple P stands for "Paint with Passion and Purpose") made with Panko shrimp, kanikama, blanched asparagus, spicy tuna and more.
For more information on the festivities, click here.