Mmm, Bacon!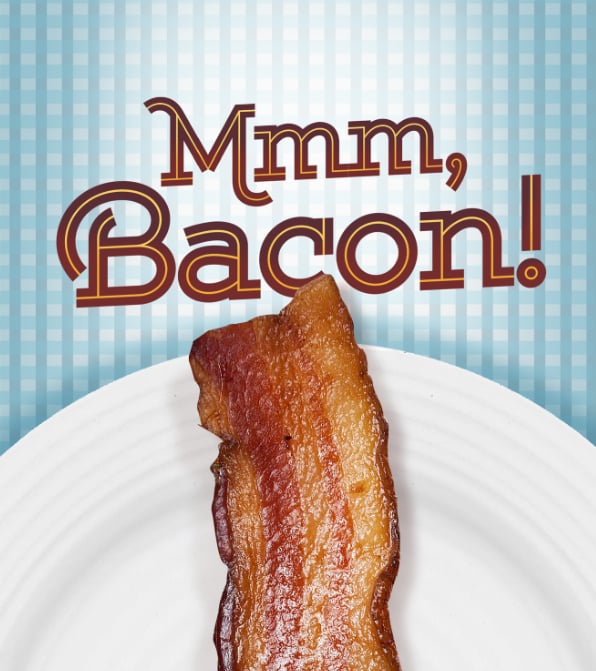 With our region's restaurants dishing out everything from bacon-stuffed waffles to bacon-wrapped pineapple and even flights of bacon, it's easier than ever for Sacramentans to live high on the hog. So whether you're in the mood for something sweet (think bacon gelato) or savory (burger with a bacon-encrusted patty) or drinkable (bacon vermouth cocktail, anyone?), we've got the low-down on all things porcine around town.
Get ready to pig out!
Morning Stars
With these four pork-centric dishes, bacon finally rises from breakfast sidekick to sunrise superhero
Bacon Pancakes
We're hog wild about the pigs in a blanket of pancake batter at The Farm Table in Placerville, where large strips of bacon are nestled inside each delicious disc, punctuating each bite with a sweet and savory taste (the restaurant cures its bacon with thyme and maple syrup) and crunchy texture. For a stronger contrast between sugary and saline, coat the pancakes—which are available during Sunday brunch—with house-made jelly. Or order the bacon ginger cookies, which are made with bacon fat rather than butter. Says executive chef Kara Taylor, who opened the eatery in October 2014 with her husband Zach, "We're big advocates of using bacon in all different ways." We'll eat to that. 311 Main St. Placerville. 530-295-8140. ourfarmtable.com
Bacon Jam Benedict
We love a good surprise, and Cafeteria 15L head chef Christian Palmos' twist on a brunch favorite, his Bacon Jam Benedict, is no exception. Spread over English muffins, the bacon jam provides a refined and hearty counterpoint to the creaminess of the eggs and hollandaise. Far from a smooth jelly, the house-made jam is packed with bacon bits bathed in a scrumptious emulsion of brown sugar, onions and vinegar. And further porking up the Benedict are two slices of bacon on top. Bacon on bacon? That's definitely our jam. 1116 15th St. 492-1960. cafeteria15l.com
Bacon-Stuffed Hash Browns
If you've ever dreamt of favorite breakfast sides turning into the main affair, enter Café Lumiére into your GPS right away. One look at a full plate of bacon-stuffed hash browns at this unfussy Elmhurst bakery and bistro, and you'll know that your wish came true. Sort of like a breakfast layer cake, the dish features a sheet of hash browns on the top and bottom, with a thick heap of bacon and eggs in the middle. A drizzle of Sriracha brings the heat and a big dollop of sour cream dispenses a dose of lushness. One bite, and it will be clear why Café Lumiére is named for the French word for "light." You'll be aglow with bacon bliss. 5701 Broadway. 456-2679. mycafelumiere.com
Bacon Waffles
Doling out classic American breakfast, as well as Indian fare, Rosie's Country Kitchen in Rancho Cordova refuses to adhere to strict griddle guidelines. Case in point: its hearty Belgian-style bacon waffles. The cake's deep grooves allow for bounteous pools of butter and syrup to form, but the sizable slivers of bacon (and pecans) hold up to the accompaniments—waffles don't get much meatier than this. In the hands of Ravi Cheema and his family, who opened Rosie's in 2002, the restaurant has come far since its former iteration as a Denny's. To us, this bacon dish is the real grand slam. 10273 Folsom Blvd. Rancho Cordova. 361-1647. rosiescountrykitchen.com  —Rachel Brown
---
When Pigs Fly
For the ultimate connoisseur of all things porcine, Awful Annie's presents a flight of bacon. Good Lord, does this goodness never end?
Inspired by the concept of tasting lineups offered at wine bars and tap houses, Awful Annie's has been tempting meat lovers with bacon flights to the tune of about 50 orders a day since introducing the dish last summer. This Gold Country breakfast mecca offers five or six flavors that rotate regularly and range from earthy smoked cherrywood to honey chipotle at both its Auburn and Lincoln locations. Our favorites include the classic applewood and the fiery jalapeño, which has a heat so slow you'll mostly feel it after you stop chewing. (The two pair particularly well with a Bloody Mary featuring the restaurant's signature seasoning mix.) Sweet tooths will cotton to the candied variety, which boasts a dose of sugar sufficient to hug the deep pockets of the baked bacon treat. There's also a delightfully sweet Thai chili strip that sounds a teriyaki note before revealing a more complex chili flavor. The bad news: You only get one slice of each flavor. Talk about a "strip" tease. Auburn: 13460 Lincoln Way. 530-888-9857. Lincoln: 490 Lincoln Blvd. 645-9766. awfulannies.com  —Jennifer Resnicke
---
Dad's Knows Best
Bacon and blue cheese team up for a nationally renowned burger in Land Park and Fair Oaks
In a city where seemingly every restaurant, bistro, cafe, lunch stand or food truck has a burger worth at least a few ecstatic moans, the comfort food institution Dad's Kitchen nudges carnivores into a more sustained nirvana with its legendary Dad's Burger. The winning formula starts with the fundamentally delicious concept of a bacon cheeseburger, elevated by a half-pound of beef from the esteemed Five Dot Ranch in Napa that's conjoined on the griddle with a "crust" of bacon and blue cheese crumbles. The resulting flavors and textures alight like a crispy, salty rocket exploding from the savory, juicy launching pad of the beef—and that's just the patty. There's more heat to be found on the bun, which the kitchen slathers with a spread derived from Aleppo peppers. Their pungent, faintly fruity spice tumbles in and around the light, fresh crunch of the accompanying lettuce, tomato and red onion.
The Dad's Burger achieved national attention in 2011, when Food Network star Guy Fieri rhapsodized about it on his show Diners, Drive-Ins and Dives. It's also a fun meal to try replicating at home by tucking half-inch bacon slices inside a large burger mold, topping the bacon liberally with crumbled blue cheese, and covering both with a half-pound of ground beef. Drop it bacon-side down on a cast-iron skillet or griddle, and you're set. Of course, with such close proximity to the real thing—and with the eye-popping array of craft beers on constant rotation at Dad's (at both its Land Park flagship and Fair Oaks annex)—there's no substitute for indulging in the moan-worthy original. Land Park: 2968 Freeport Blvd. 447-3237. Fair Oaks: 8928 Sunset Ave. 241-9365. ilovedadskitchen.com  —S.T. VanAirsdale
---
Think Inside the Bun
Bacon delivery vehicles come in all delicious shapes and sizes, and a modern spin on the classic hot dog is one of our favorites. Behold the Baco Maco
K-pop isn't exactly what you expect to hear as you walk into a hot dog joint, but most of the incredibly delicious Asian-fusion menu items at Umai Savory Hot Dogs are just as amusingly unexpected. One example of their offbeat offerings popular with pork lovers is the Baco Maco: juicy pineapple chicken sausage, rich cheddar and gouda mac 'n' cheese, crispy smoked applewood bacon bits dressed in a light maple glaze, and bacon maple kettle chips broken into crunchy chunks, all nestled inside a fluffy, classic white bun. This forkable sausage sandwich is a compelling combination of salty and sweet that tastes surprisingly fit for breakfast (we'll credit the maple-glazed bacon for that). Regardless of when you choose to indulge, however, this is one hot diggity dog. Locations in Roseville, Natomas and Arden-Arcade. umaihotdog.com —Jennifer Resnicke
---
Mary's Quite Extraordinary
The classic Bloody Mary has taken a new twist in recent years—it's now bigger, better and, yes, baconier. Drink (and eat) up!
Field House American Sports Pub
Bring your Shaq-sized appetite to this sports-centric Arden-Arcade outpost from the owners of Shady Lady: Field House's 32-ounce Full Court Bloody Mary (made with Preservation & Co.'s hearty, spice-forward Bloody Mary mix and four ounces of New Amsterdam vodka) includes a smorgasbord of bar snacks, including house-pickled seasonal vegetables, a pickled egg, a prawn, a bacon-wrapped sausage link, and a Baconator slider (made with a bacon-and-beef patty and cheddar cheese). "It's ridiculous," admits executive chef Kevin Ritchie, of the $20 beverage, available on Saturdays and Sundays until 2 p.m. "[We thought,] 'How much can we put on this Bloody Mary—how much can we get away with and have it still make sense?' " We don't know if it makes sense, but one thing we do know for sure is that the Full Court drink is a slam dunk. 1310 Fulton Ave. 487-1045. fieldhousesac.com
Firestone Public House
Rough night? Jump-start your day with this peppery blend of Big Daddy's Bloody Mary mix and house-made bacon-infused vodka (made with Absolut Peppar) at this midtown pub. "The flavor, the fattiness that we love in bacon gets into the vodka itself, and that adds that extra level of complexity," says Firestone general manager Marc Nuevo. But that's not all—the FPH Bacon Bloody Mary is then rimmed with chef Daniel Parra's secret-recipe "bacon dust" and garnished with a celery stalk, pickled green bean, pepperoncini, olive, lime and pickled onion, and a quarter-inch-thick piece of bacon. How's that for an eye-opener? 1132 16th St. 446-0888. firestonepublichouse.com
Grange Restaurant & Bar
For a protein-enriched recovery beverage, the Bacon Bloody Mary at this downtown farm-to-fork destination is hard to beat. Grange's head bartender Ryan Seng started adding meat to his Bloody Marys about three years ago—everything from shrimp to house-made Slim Jim and, now, an extra-thick piece of savory bacon. "Usually when you're having a Bloody Mary, it's kind of hard to get food down," says Seng. "Having that little bit of protein in there helps your body." To pack in even more protein—as well as add a spicy, smoked-bacon flavor—the drink is mixed with house-infused chili-bacon vodka, which is made by submerging cooked-to-a-crisp strips of bacon in a mixture of Green Mark vodka and St. George's Green Chile vodka (made with California-grown jalapeño, Serrano and habanero peppers) for a few days. We'll take this Mary over a protein shake any day. 926 J St. 492-4450. grangesacramento.com  —Jessica Rine
---
Road Hog
It was only a matter of time before a bacon-themed food truck hit the streets of Sacramento. Thankfully, that time has come
Two hundred pounds of bacon may seem like a lot to most of us, but it's merely a busy day's supply for the Bacon Mania food truck, which roams the region with its colorful pink facade (emblazoned with flying steam-punk pigs) luring hungry pork lovers at every stop.
Owner James Wheeler lauched the bacon-mobile in 2013 after feeling like there was a dearth of four-wheeled options in Sacramento for the porcine inclined. Besides, he reasoned, "Who doesn't like bacon?"
Indeed.
Bacon Mania's menu includes inventive dishes like the Jack Back Sammie (an inside-out grilled cheese sandwich stuffed with hickory-smoked bacon and a shell of melted cheddar and jack cheeses), a jaw-stretching Boss Hog Bacon Cheeseburger (with a beef-and-bacon patty, house-made barbecue sauce and slices of bacon layered inside), creative apps like bacon-wrapped deep-fried mac and cheese balls, and even dessert—bacon caramel popcorn, anyone?
But regulars know to also order from the truck's secret menu, which boasts outrageous concoctions like the Tri-Fry (three separate scoops of pulled pork, chili, and mac 'n' cheese over shoestring fries) and—gasp—veggie options like sliders with avocado instead of beef patties. With two vehicles now cruising Northern California (including, since last year, the Bay Area) and a third one hitting the road in May, we're glad that wherever the Bacon Mania truck goes, this little piggy mobile always comes home. 934-2674. baconmaniatruck.com —Tori Masucci Cummins
---
Letter Perfect
The BLT is an American classic, but while each ingredient gets its own letter, we all know which one is the real star. Here are four local versions of the sandwich that deserve an A-plus
The Candied BLTA
The quality of an Irish pub is often measured in fingers of whiskey and pints of Guinness. While The Boxing Donkey in Roseville has plenty of top-tier libations to choose from, it also boasts a surprisingly stellar lineup of novel twists on classic comfort foods. A prime example is its popular Candied BLTA (the "A" is for avocado) on thick honey wheat bread (buttered and grilled on the flat top), with crisp lettuce, creamy avocado, juicy tomato and, last but not least, candied bacon that's glazed to order. But the real showstopper is the sandwich's bacon marmalade, made with finely chopped bacon bits, onion, garlic, orange juice and freshly cracked pepper, all simmered to sweet and savory perfection on the stovetop for hours on end. If you really want to transport yourself to the Emerald Isle, the Candied BLTA plays quite nicely with a glass of Guinness (the smooth avocado mirrors the brew's signature richness). After a nip and a sip, your Irish pub eyes will be smiling. 300 Lincoln St. Roseville. 797-3665. theboxingdonkey.com
The BLFGT
The name of this sandwich at Fahrenheit 250 is almost as much of a mouthful as the dish itself, which features a sweet roll loaded with thick-cut applewood-smoked bacon, lettuce and the namesake FGT (fried green tomato)—the vegetable hails from Sloughhouse's Red Tower Farms and is piled on in tender-yet-hefty slices after being breaded and deep-fried in true Dixieland fashion. Jalapeño aioli adds a modest heat to the mix, while the vibrant house-made piccalilli relish provides a pleasant acidity that complements the tartness in the tomato and contrasts the fatty qualities of the pork. This well-balanced sandwich, which oozes with Southern charm, earns each letter in its name with every bite. 7042 Folsom Blvd. 476-4508. fahrenheitbbq.com
The B.L.B.
Counterintuitively, The Red Rabbit's inventive B.L.B. (bacon, lettuce and beets) sprang from a desire to have more vegetarian options on the menu—or in this case, dishes that could easily be made vegetarian with a simple tweak. The star of this sando—which includes ciabatta from Sacramento's own Grateful Bread—is Beeler's smoked bacon, which is baked until it's crispy enough to provide a textural counterpoint to the thickly sliced beets. (The root vegetable is often sourced from Riverdog Farm in Guinda and roasted whole with champagne vinegar and aromatics like thyme, orange rind and garlic before being peeled and cut into generous rounds.) The unusual combination is best described as quirky-cool, and it's certainly our new favorite nearly vegetarian sandwich. 2718 J St. 706-2275. theredrabbit.net
The Classic Bacon, Lettuce & Tomato
BLT purists overwhelmed by the addition of letters to the simple moniker will find safe harbor at Burgers and Brew without sacrificing flavor. By using top-notch ingredients like all-natural, applewood-smoked Niman Ranch bacon, fresh lettuce, tangy mayo and grilled-to-order sourdough bread, the lunchtime standard has cemented itself as an enduring favorite at this popular local pub. Unlike many of its counterparts that skimp on the most expensive part of the sandwich—opting to pad the bread with more L and T—this version's generous portion of ultra-crispy bacon is what takes this comfortable classic from the kind of sandwich you make at home to the kind you write home about. Sacramento: 1409 R St. 442-0900. Davis: 403 3rd St. 530-750-3600. burgersbrew.com  —Jennifer Resnicke
---
Makin' Bacon
Achin' to produce your own bacon? Wild foods expert and cookbook author Hank Shaw has just the cure
For those even mildly interested in working with meat and salt and time, bacon is their gateway drug.
Making sausages isn't as easy as one might think. There are questions of casings and temperature and how to grind and stuff. And dry-curing those sausages is even more fraught, with its mysterious bacterial starter cultures and fermentation. And then there is the need for a curing chamber, which sounds mildly medieval. And ham? The notion of curing a leg in your house—for six months or a year or even more—is, for many, tantamount to asking someone to construct a ziggurat in his backyard.
But bacon is easy. Bacon is a security blanket in the scary world of charcuterie. No chamber, no fermentation, no bacterial starters—you can even make it without special curing salt. Hell, you can make bacon in your fridge.
I've been making bacon, off and on, for more than a decade. I've played with everything from a salt-only "green" bacon to baroque-yet-memorable Sichuan- and German-style bacons. The holy pork belly is eternally malleable, and for that we are thankful.
Yes, to make bacon—at least American bacon—you need pork belly. So where to obtain this mystical meat? You need to go to a butcher. Corti Brothers, Taylors Market, Roseville Meat Company and the Orangevale Meat Shoppe all sell it, or can get a belly for you if you ask them. Better yet, find a hog farmer at the farmers' market, like Yolo County's John Bledsoe, who is usually at the Sacramento Central Farmers' Market. And here is your first bacon rule: Good bacon comes from good pork.
Once you have your belly, you must make your first decision. Skin on or off? (Skin-on is typically the norm for making French ventrèche and Italian pancetta, not American bacon.) If you are a beginner, my advice is to skin the belly, or have someone do it for you. It will be easier to cure and easier to slice and eat later.
You will want to square off your bacon before you start. Doing this will let you slice it more evenly later. But don't toss the trimmings! This is where the best pork belly comes from. It's almost better than the bacon itself. Almost.
Now you need salt. How much and what kind? Kosher or sea salt is best because neither contains iodide or anti-caking agents. You want pure salt. You want it to be medium-to-fine grain, and you want between 2.5 and 3 percent of it by weight of the belly. Yes, you must weigh your pork. Don't have a kitchen scale? Get one. Failing to do this can result in bacon that's a salt lick. And no one wants that.
My advice is to go with 2.5 percent regular salt and then add 0.25 percent—that's one-quarter of 1 percent—pink salt, also known as Instacure or Prague Powder No. 1. This is a salt with a very precise amount of sodium nitrite, and it is this nitrite that protects you from botulism and other bacterial nasties when you smoke your bacon.
I hear some of you. But I don't want nitrites in my bacon! I get uncured bacon from Whole Foods, after all! Sorry, folks, that stuff is most definitely not "uncured." It has just as much nitrite in it as regular bacon. Yep, you've been lied to. The only difference is that nitrite in the so-called "uncured" bacon is derived from celery, a vegetable loaded with nitrites. Used in these small amounts, there is zero risk of ill effects from nitrites, regardless of origin. I could go on and on about this, but suffice to say that every proper American bacon you've ever eaten has had nitrites in it, and if you don't use them in a smoked bacon you will risk your health and not create a product you will recognize as bacon.
Massage your salts into the pork belly so it is evenly coated. If you have a vacuum sealer, seal the pork belly into a bag and pop it in the fridge. If you don't, put the bacon in a freezer bag instead.
Now, every day, you will need to flip over the pork belly. This is called overhauling and it ensures that the pork belly cures evenly. How long to cure? A general rule is two days per pound of meat. If you are worried, err on an extra day, not one fewer. When it feels firm throughout, take the belly out and rinse it off. Pat it dry and you now have basic bacon. It's ready to eat, but it won't taste right to you yet because it isn't smoked.
So you must smoke your bacon. Yes, you will need a smoker, or a reasonable facsimile thereof. If you don't have an actual smoker, you will want to set up your grill so there is a hot side and a cool side, either by heaping coals only on one side, or by turning off several burners in a gas grill. You will set the bacon over the cool side and very gently smoke it until the center is about 160 degrees Fahrenheit. You want this to take several hours.
What wood to use? Applewood and hickory are the most commonly used in America, but it's your choice. If you don't have a smoker, you will want wood shavings, pellets or sawdust set into a heavy-duty foil basket you put directly on the coals or burner. You need smoke to smoke, folks, and this is how you do it with gas or charcoal.
When the bacon is fully cooked inside, you're good to go. Let it cool completely, then wrap it tightly and keep it in the fridge. How long? No more than 10 days, or the bacon will get slimy and nasty. But it freezes well, too, so I cut the belly into several pieces and freeze those I don't plan on using right away.
That's it. That's bacon, in a nutshell. Yes, there are scores of variables to play with, but this is the core of what you need to know to slip down the rabbit hole of curing meats.
Get this technique down pat, and who knows? You might find yourself hanging that ham after all.  —Hank Shaw
---
Small Wonders
From bacon-wrapped pineapple to braised brown sugar pork belly, here are five small dishes that pack very big flavor
Bacon-Wrapped Pineapple
What do you get when you combine Hawaiian flavor with country western flair? The answer might just lie with Goldfield Trading Post's flagship appetizer: the bacon-wrapped pineapple. These tropical morsels feature juicy chunks of fresh pineapple that are wrapped in applewood-smoked bacon, then fried to crispy-chewy perfection and served piping hot with a sweet, sticky side of maple syrup aioli. When head chef Andrew Overton joined the midtown country bar's kitchen in October after a stint at Iron Horse Tavern, this was the one item Goldfield's staff told him he couldn't pull from the previous menu. Mahalo, Chef Andrew. Much obliged. 1630 J St. 476-5076. goldfieldtradingpost.com
Bourbon Bacon Collard Greens
It's not always easy eating greens, but The Porch Restaurant and Bar in midtown makes it a whole lot more fun. Chef-owner Jon Clemons says it took a year to try and perfect the recipe for his Bourbon Bacon Collard Greens, and we think he succeeded in creating a superstar side. The tart and smoky greens are sautéed in bacon fat, butter and house-made ham stock and simmered for two hours in Kentucky Gentleman bourbon, dark beer and apple cider vinegar with myriad spices, including red pepper flakes and brown sugar. "We tried to hit on spicy, smoky and salty," says Clemons. "It's a labor of love to do it right." 1815 K Street. 444-2423. theporchrestaurantandbar.com
Bowl of Bacon
The menu at Morgan's on Main in Woodland boasts your classic comfort foods: your garlic mashed potatoes, your deviled eggs, and your mac and cheese. Chef de cuisine Benjy Head already had us at "comfort," but then he went and created this: the Bowl of Bacon. Not a bacon topping, or a bacon-infused something or other, mind you. A whole bowl of just bacon. "My roots are in the South," says Head, whose family hails from Mississippi. "Bacon and pigs are always on my mind." Clearly. For his stellar side dish, the chef deep-fries thick-cut pork belly lardons and tosses them in a blend of paprika, chili, onion and garlic powders, and then adds braised pork belly that has been smothered in brown sugar and roasted for a candy coating before serving the pieces in a porcelain bowl. Its only flaw: It's listed under the "Share" portion of the menu. Um, no. 614 Main St. Woodland. 530-402-1275. morgans-on-main.com
Griddled Bacon with Banana Mustard
At the downtown meat palace Empress Tavern, chef-owner Michael Thiemann gets seriously creative when it comes to fashioning the perfect smoky flavor and toothsome texture for his griddled bacon with banana mustard dish featured on the restaurant's snack menu. He starts with a premium cut of pork belly cured in-house under a spread of salt, brown sugar, cumin and cinnamon for three days, then smokes the meat low and slow for about four hours before letting it air-dry for two days. Afterward, the bacon gets cut into bite-sized squares and paired with a surprising dipping sauce that combines house-made Dijon mustard and roasted mashed bananas. Thiemann originally created the dish for January's Bacon Fest Sacramento, but now plans to keep it on the menu long-term. "Bacon never goes out of season," he says. 1013 K St. 662-7694. empresstavern.com
Bacon-Wrapped Meatballs
How does bacon-wrapped bacon with bacon on top sound? Well, the bacon-wrapped meatballs at Formaggio in Rancho Cordova come pretty darn close to that triple threat. The dish starts with a mixture of bacon, Italian sausage and beef to form the dense, garlicky meatballs; then crispy strips of bacon are hand-wrapped around each meaty morsel; lastly, even more bacon is finely chopped and infused into a savory marinara sauce that is spread over the dish with white corn polenta and Manchego cheese. The bacon-bursting appetizer is the brainchild of executive chef Patrick Prager, who spiced up the menu when he joined the Italian restaurant in 2014, having previously cut his teeth at restaurant dynasties owned by the likes of Michael Mina, Traci Des Jardins and Wolfgang Puck. We're grateful he brought home this bacon. 11211 Point E Dr. Rancho Cordova. 638-1100. formaggiorestaurant.com  —Tori Masucci Cummins, Jessica Rine
---
Hog Heaven
From breakfast to brunch, perfect pork keeps Sacramento coming back to Bacon & Butter
On the one hand, the name of owner-chef Billy Zoellin's bustling Tahoe Park restaurant understates the variety of its breakfast, lunch and brunch offerings. (Vegetarians, in fact, make up some of Bacon & Butter's biggest devotees.) On the other hand, there's no denying the draw of the working-class meat that Zoellin and his team exalt to a delicacy. You barely have to step inside the Broadway destination before the smell overtakes you; indeed, the delicious aroma can make the sometimes protracted wait for a table all the more tormenting.
While the emphasis on seasonal local ingredients can often mean Zoellin's overall menu changes week to week, their crispy cornerstone remains constant: Bacon from renowned sources both near (slab bacon from Niman Ranch in Alameda, lamb bacon from Superior Farms in Dixon) and far (the famous pork purveyors at Beeler's in Iowa) influences flavors in ways subtle, pronounced, and every dynamic in between. For instance, rather than dipping bacon in maple syrup for the sweet infusion you might crave at home, try the bacon maple syrup that instead brings salty body to the syrup itself. It cascades over the bacon and eggs flapjacks, whose batter is both flecked with bacon and then cooked with strips of bacon reinforcing each individual cake. (Not bacon but equally stunning: the brittle "churro chicharrones"—basically cinnamon-sugar-dusted pork rinds—perched atop the flapjack stack with two fried eggs.)
Tender bacon suffuses the decadent biscuits and gravy bowl as well, while sliced bacon cubes anchor dishes like the famous "Kitchen Sink," which also includes crispy potatoes, caramelized onions, mushrooms, jack cheese and eggs. The adventurous grilled cheese Benedict presses bacon strips between a yellow cheddar cheese skirt and soft challah bread, all topped with poached eggs and drowned in hollandaise. Save room for a bacon fritter (pictured above, bottom right)—or better still, come back another time to try a whole other round. Those flavors—and that enticing aroma—won't let you stay away long. 5913 Broadway. 346-4445. baconandbuttersac.com  —S.T. VanAirsdale
---
Love Potion No. Swine
One local bartender's Valentine's Day bacon cocktail turns into a year-round hit
Do you believe in love at first bite? Ryan Seng, the head bartender at Grange Restaurant & Bar does now. Back in 2010, Seng created a special bacon-forward cocktail with former sous chef Brad Cecchi, and put it on a "His & Hers" menu that debuted on Valentine's Day. It was supposed to be a novelty drink, but it quickly became a bar menu staple. "We use real bacon [to get] the flavor into the drink," says Seng. "And that kind of stuff isn't going out of style."
Called Tusk (it's currently made with pork bacon, but was originally made with boar bacon), the cocktail blends bourbon with bacon-infused sweet vermouth. The house vermouth, he explains, is created by mixing the vermouth with maple syrup, Angostura bitters and six pieces of bacon, along with bacon grease, and refrigerating the concoction for two hours to allow the bacon fat to congeal. Topping the drink is a piece of candied bacon, which is also made in-house. The idea is to take a bite of bacon and then a sip of the drink. A bacon-infused vermouth cocktail with candied bacon? We are both shaken and stirred. 926 J St. 492-4450. grangesacramento.com  —Jessica Rine
---
The Piggy Stayed Home
Not so hog wild? Try tasty bacon made with turkey, duck, lamb and, yes, even soybeans
Turkey Bacon
Bacon sans pig may be blasphemy to bacon purists, but we'd risk eternal damnation for Luigi's turkey bacon. This pizza-topping take on the sizzling staple doesn't try to imitate its pork counterpart. Instead, it plays up sliced turkey's strengths—subtle saltiness and lightweight consistency—to full effect. It's almost like a subtler pepperoni for pizza lovers. Those who prefer to spice things up can pair turkey bacon with pepperoni, salami and Portuguese linguiça to transform their pizza into multilayered meat ecstasy. If you're itching to dial Luigi's now to deliver you a hot turkey bacon pie, our apologies, but the Oak Park parlor only offers pizza for takeout or dine-in. Trust us, it's worth the trip. 3800 Stockton Blvd. 456-0641. luigispizzaparlor.com
Duck Bacon
"Bacon is a loose term," says Cask & Barrel sous chef Matt Rocha. "You can use the process of making bacon for almost anything." To that end, the year-old North Sacramento restaurant previously experimented with egg yolk bacon and, for its Sunday brunch menu, currently transforms a traditional Benedict dish by inserting duck bacon as a complement to chicken-fried eggs, hollandaise and charred mushrooms. To prepare the duck bacon, Rocha cures duck leg meat overnight in salt, then smokes it for seven hours the subsequent day and, finally, roasts it for three hours on the following day. "It's a three-day process, but it's well worth it," he asserts. Indeed, it is. The resulting duck bacon is pull-apart tender and savory. Distinguishing it from its pork rival, it doesn't relinquish its powerful briny flavor and look in the course of becoming bacon. May this be the start of a new duck dynasty. 1431 Del Paso Blvd. 922-6792. caskandbarrel916.com
Tempeh Bacon
As sources of milk, flour, tofu and more, soybeans are the workhorses of the food supply chain. And tempeh, a cultured and fermented product originally from Indonesia, is perhaps one of the lesser-known soybean derivatives, but the protein-heavy ingredient has traveled all the way to Fox & Goose—the popular British pub on R Street serves it in strips to replace bacon and as elective components of Benedict dishes. Expect four thick pieces of the  tempeh-based facon (fake bacon) when you order it with a Pub Grill, a hearty breakfast choice containing eggs, country potatoes and choice of toast (including crumpet). Bursting with nuttiness, while tempeh lacks the twin punch of fattiness and crispiness fried pork bacon can deliver, the dense soybean strip is an impressive (and healthier) salty alternative to its animal equivalent. Mmm, facon. 1001 R St. 443-8825. foxandgoose.com
Lamb Bacon
The Red Rabbit counts on traditional bacon to fill the seats—nearly half of the midtown eatery's lunch items feature it. But in November, chef-partner John Bays switched things up by mixing lamb bacon lardons with spinach, candied walnuts, blue cheese, Fuji apples and honey bourbon vinaigrette to concoct the Bloomsdale Spinach Salad. "We were looking for something different, and I tried wrapping the lamb bacon, but the best use was in the lardons," explains Bays, who notes the lamb is cured at the celebrated Superior Farms in Dixon. This version of bacon has a deeper flavor than pork, and the sizable lardon cubes ensure eaters don't miss it amid the salad's other ingredients. They also bring a saltiness that contrasts deliciously with the delicately sweet bourbon dressing, and add a weightiness to the light lunch dish that renders their pork cousins skimpy. The combo makes it the most inventive bacon salad we've ever had, baa none. 2718 J St. 706-2275. theredrabbit.net  —Rachel Brown
---
Sweet Meat
Beef may be what's for dinner, but bacon is definitely what's for dessert (or snacks) when a sublimely sweet-and-salty combo is all that will sate your appetite. Here are six decadent examples
Bacon Maple Doughnut and Bacon Maple Croissant Doughnut
Blink and you'll miss Baker's Donuts as you drive down Florin Road. Its diminutive, shack-like structure belies the colorful and flavorful eye candy inside that has created region-wide demand via its wildly popular Instagram page that boasts some 30,000 followers—more than double the national following for Hostess, no less. But amidst the creative toppings that include everything from sweet yam frosting to Fruity Pebbles and Cap'n Crunch, one of the South Sacramento shop's most popular flavors remains a modern classic—the bacon maple doughnut. The sweet and salty treat starts with Baker's plain doughnut—a surprisingly light and airy fried bread—which gets dipped in a thick maple coating that more closely resembles frosting than the toffee-colored shell that crowns most doughy orbs. The finishing touch: a strip of bacon cut into bite-size squares and arranged on the top of the circular confection so that each mouthful allows for a measured taste of each individual layer. Feeling adventurous? Spring for the store's croissant-doughnut concoction boasting the same sweet-salty combo on flaky layers of buttery dough. 5880 Florin Rd. 392-8466. instagram.com/bakersdonuts
Bacon Caramels
When Deb Ray says her flavored caramels have a homemade quality to them, she's not kidding. This commercial property manager by day—and self-proclaimed "caramel maven by night"—does indeed handcraft her coterie of creative caramels (which you can order by the dozen or half dozen) right in her Natomas home. There Ray experiments with flavors like honey lavender, and fig, balsamic and mascarpone, as well as local olive oils and beers, for her one-woman operation, Rebel Confectionery & Jams, which she launched in 2013 after drawing raves from friends and family—and awards from the California State Fair—for her treats. Our fave: her bacon caramels. The thick chunks of soft salted caramel (made with cream, butter, sugar and corn syrup) are flecked with bits of crispy bacon, and virtually melt in your mouth. For a sweeter alternative, her brown butter bacon apple pie caramels—which were developed for this year's Bacon Fest and are now a menu staple—are also filled with bacon, but contain fresh-pressed and hard apple ciders to conjure the fall-time essence of the classic fruit pie. "I like strongly flavored things," says Ray. "And caramel lends itself well to bacon—it's that sweet and savory kind of thing." rebelconfectionery.com
Maple Vanilla Bacon Melt
The ice cream sandwiches (dubbed "melts") at the Carmichael doughnut emporium Sweet Dozen will have you rethinking those rectangular ice cream truck treats from your childhood. The desserts comprise a scoop of Gunther's ice cream and additions like crushed Oreos and sprinkles panini-pressed inside of a doughnut. And last spring, brother-sister owners Jeremy Khamphay and Nuny Cabanting debuted the Maple Vanilla Bacon (MVB) Melt, which quickly became a crowd favorite. The caramelized exterior of the honey-glazed doughnut is served warm, but the vanilla bean ice cream keeps cold while the generous handful of rich, salty bacon (which is baked, not fried, to drain the excess fat) is balanced by the dark sweetness of the maple glaze inside, creating a truly transcendent dessert experience. 5207 Madison Ave. 344-2000. sweetdozen.com
Gingerbread French Toast with Bacon Gelato
We were already crushing on Cibo 7's breakfast-for-dessert concept after tasting executive chef Ray Silva's crisp-edged cornbread topped with sweet and tangy buttermilk gelato and candied bacon, but now we're madly in love, thanks to his gingerbread French toast with house-made bacon gelato. A winning combination of imagination and artistry, the newest incarnation is first and foremost a sensory experience–the heady aroma of cinnamon in the French toast, the cool texture of the smooth gelato against the warm brown butter maple syrup poured tableside and the rich cake contrasting the incredibly light aerated foam of brown butter and milk. A dish of contradictions and complements, it's made all the more sublime by the show-stealing bacon gelato, which is created by grinding up Hobbs' applewood-smoked bacon, pan-frying it, and adding it to the house gelato base. In fact, it's such an intriguing blend of smoky, sweet and salty flavors that Silva limits his cooks to one spoonful a day—which is a rule we're more than happy to break. 1465 Eureka Rd. Roseville. 789-8585. cibo7.com
Maple Bacon Cupcake
Of the 51 rotating flavors at Rocklin-based Icing on the Cupcake, it may come as no surprise that we're partial to the maple bacon cupcake, served only on Sundays (any more than that and we'd be in serious trouble). This bacon lover's mouthful starts with a sweet cake that is fluffy, moist and, perhaps most critically, laced with diced smoked bacon. The cupcake is then topped with a swirl of buttercream frosting that's been infused with real maple extract. And the pièce de résistance? Even more bacon is sprinkled over the top for good measure. Just try and resist—we certainly can't. Locations in Rocklin, Folsom and Sacramento. 303-4333. icingonthecupcake.com  —Jessica Rine, Jennifer Resnicke