Modern Classics
With a new landmark study, Sacramento is officially recognizing the mid-century modern structures that define a critical period in our city's architectural history. Here are five retro-cool gems—from Gunther's to Eichlers—that deserve a deeper look into what makes them both time-specific and timeless.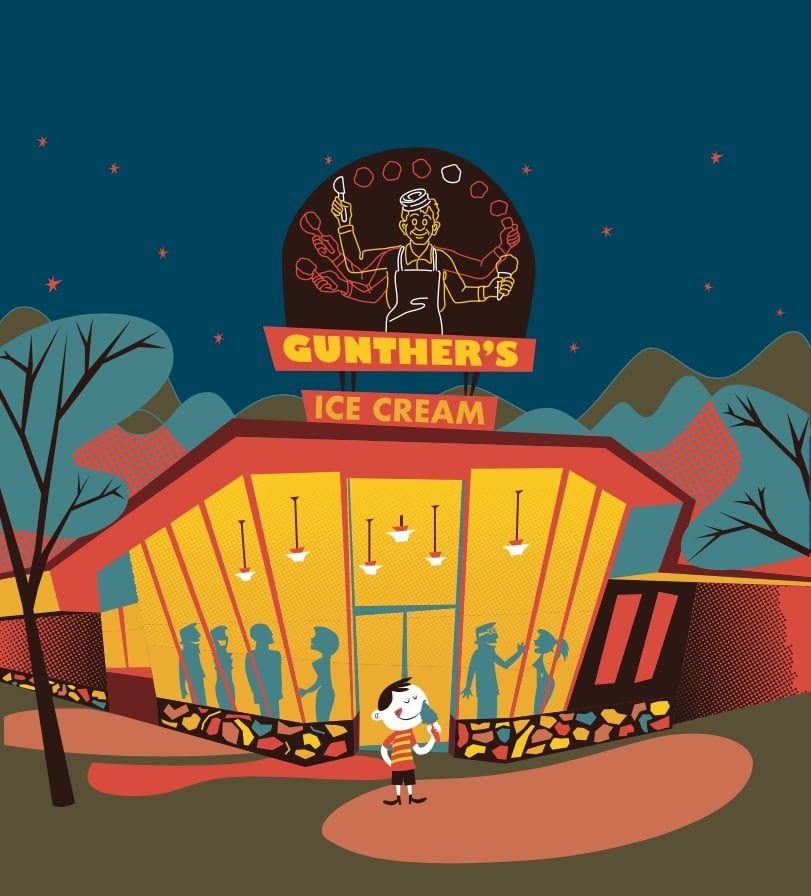 In a city that prides itself on heritage architecture—think late 19th-century midtown Victorians and '20s-era East Sacramento Craftsmans—its diverse tableau of mid-century modern (MCM) design has remained largely unrecognized. Until now. Most of Sacramento's mid-century buildings, dated from 1940–1970, presently qualify for landmark status: A minimum age of 50 years is typically a requirement for such a distinction, which may be why the relatively young style—on a continuum that features the ancient Parthenon on one end and amoeba-shaped "blobitecture" on the other—hasn't drawn much attention from resident baby boomers and early Gen Xers, much less city leaders. "Who wants to be thought of as historic?" jokes Gretchen Steinberg, the co-founder and president of the nonprofit preservationist group Sacramento Modern (SacMod). Granted, the style's low profile in the cityscape may be by design: In contrast to Victorian grandeur or Craftsman handsomeness, MCM was distinguished early on by simple geometry, utilitarian post-and-beam construction, and large glass expanses that put the focus on sunlight and nature. Embellishments in the form of classical arches or solar screens would, later in the era, soften the austerity.
Collaborating with the city on a historic context survey of MCM buildings in the area, Sacramento Modern organized a monumental 18-month undertaking that began in March 2016, inspired by similar audits completed in places like Portland, Los Angeles, San Francisco and even Davis. With the help of a team of architectural historians (funded with $40,000 in grant money and proceeds from SacMod's triennial MCM home tours), plus a small army of volunteers who evaluated promising structures on foot using a smartphone app, an initial wide sweep of 48,000 buildings was whittled down to just five MCM treasures (and hopefully more in the future), selected for closer scrutiny and possible landmark status: Gunther's ice cream shop, the Gordon D. Schaber Sacramento County Courthouse, the Iva Gard Shepard Garden & Arts Center, the Chase Bank of Freeport Boulevard (formerly Senator Savings), and an Eichler tract in South Land Park Hills.
Steinberg, who owns an Eichler in the aforementioned neighborhood and once lived a few cottages down from MCM vanguard Ray Eames' childhood home in Curtis Park, is careful to rebuff any notion that these five indicate a definitive ranking. "These places exemplify the features and characteristics that we want people to understand visually," she says. "We tried to make sure that we had commercial, community and residential examples represented from all over the city." Other no-less-worthy sites on the long list include the Sacramento Zoo entrance buildings with their striking hyperbolic paraboloid roofs, and the Streng Bros. homes, with their indoor atriums, a coveted feature absent from the region's similarly modernist Eichlers.
Along with the survey's other achievements, which include Sacramento Modern's list of the most notable MCM properties in the city, the findings of a deeper dive into the final five are being presented to the city's preservation commission in December. "Just knowing who the architect was and what year the building was constructed is not enough," says preservation director Carson Anderson. "You also have to explain why the work is an important example of the architect's style and how it relates to the culture of the time. More dots, better ones, must be connected." While the hope is that there will be space for the five on the local or national historic registers alongside another MCM gem, the currently-under-renovation SMUD headquarters, recognizable by its Brutalist precast-concrete solar screen and Wayne Thiebaud mosaic, for now, Steinberg is content with giving them some much-deserved time in the spotlight. "You can label something 'historic,' but the best way to save a place is for people to speak up for it," she says. "In other words, celebrate to elevate."
Gunther's Ice Cream Shop
Category: Commercial
1949
This beloved soda fountain in Curtis Park, designed in 1949 by the Sacramento architectural firm Koblik & Fisher, is just "one great big advertisement," says Anderson. "It expresses a new approach to merchandising and design." The shop is thought to be of the mid-century Googie style, made popular by renowned Los Angeles architect John Lautner, who was inspired by car culture and space travel. The retro-futurism is characterized by large swoops, hard angles and cantilevered roofs.
Gunther's far-reaching glass façade, which forms three sides of an unusually shaped (read: attention-grabbing) building, is the design's exhibitionist moment, allowing a voyeuristic glimpse of the happy cone heads inside. The apparent M.O.? Incite the fear of missing out in every passerby. Even the slight outward pitch of the tall windows is intended to accentuate the building on a quiet level; more resoundingly, the angular cantilevered roof, though symmetrical, unapologetically adheres to no geometric shape in particular, considering the zigzag tendrils that drop down on either side.
The building's grandest feature, the animated neon Jugglin' Joe sign, is the cherry on top of this eccentric architectural sundae—while these electric come-hithers are a 1920s contrivance, the craft hit its stride in the 1940s and '50s. Depicting the trajectory of a cone-bound scoop of ice cream, the Gunther's display is itself a brilliant broadcast, but its corner orientation is a clear attempt not just to lure customers, but also the occasional commercial archaeologist (a person who studies the structures, signs and symbols of 20th-century American merchantry). Steinberg may qualify as one such authority, considering her love of neon, including the other Sacramento displays that were also designed by the Electrical Products Corporation, such as the iconic Tower Theatre insignia and the Hollywood Hardware hammer in Hollywood Park. "When I lived in the neighborhood, I would go out of my way to drive by this corner," she says. "The Gunther's sign just makes me happy." 2801 Franklin Blvd.
Eichlers of South Land Park Hills
Category: Residential
Mid-1950s
In the mid-1950s, as the groundbreaking real estate developer Joseph Eichler was expanding his orbit of influence beyond the Bay Area, where he built approximately 10,500 modernist dwellings for middle-class families, he set his sights on Sacramento as a more agrarian testing ground for his design-forward work. A tract of 143 homes was planned for an area abutting the swampy, wooded Reichmuth Park (a long-established destination for migrating birds), although only about 60 materialized, making them even rarer limited editions. (Currently, 53 remain.) Similar to their Bay Area counterparts, the Sacramentans interested in the Eichlers were, says Steinberg, "more cosmopolitan, more progressive, more intellectual," than the average homebuyer, a population rumored to have referred to the homes as "chicken coops."
The truth is, the naysayers weren't totally unfounded in their assessment. After all, architects A. Quincy Jones and Frederick Emmons, who were responsible for designing nearly half (5,000) of the Eichlers in California, were fans of the coop-like shed style, an MCM archetype distinguished by its flat or low-slope roofs, deep overhanging eaves, and exposed post-and-beam construction. Making up for the almost zero use of street-facing windows, which could be misinterpreted as inhospitable or aloof, the architects designed floor-to-ceiling plate-glass walls for the backsides of the homes—a feature that predates the atriums that would become an Eichler hallmark—allowing for a healthy infusion of warming sunlight and views of nature and birds (West Coast warblers, mainly). Inside, open floor plans made the most of modest square footage; Philippine mahogany walls gave the interiors richness; cork floors were luxuriously rigged up with radiant heat; and fireplaces were constructed with cinder blocks, a touch of Brutalism (or Coop-ism?) in an otherwise refined, well, roost.
Gordon D. Schaber Sacramento County Courthouse
Category: Civic
1965
As a symbol of justice, courthouses are often impressive, muscular buildings, fortresses of integrity both in their structure and purpose. Although this 1965 downtown courthouse, designed by Starks, Jozens & Nacht (the Sacramento legacy firm is now known as Nacht & Lewis), is less majestic than, say, the iconic columnar façade of the U.S. Supreme Court in Washington, D.C., built in the decidedly fussier neoclassical style, it is nevertheless robust and substantial by virtue of its architecture.
"Brutalism is a much-maligned and misunderstood style," says Steinberg. Derived from the French béton brut, or "raw concrete," Brutalism is the most honest expression of form and function—like the courthouse, these edifices are often hulking, rectilinear masses of unpolished concrete. In the eyes of traditionalists, the harshness can be a little severe on the aesthetic sensibilities. And yet, a more considered reflection reveals the courthouse building's beautiful moments: Its solar screen, an architectural regionalism born out of the need to shield interiors from the Sacramento Valley sun (see also the Senator Savings bank below), is elegant in its precision and lovingly shades the deep-set windows. A welcoming entry plaza, designed by Massachusetts-based Sasaki, Walker and Associates, epitomizes the interplay between nature and man, and features an arboretum's worth of shady sycamore trees as well as a fountain sculpture by Aristides Demetrios (aka Charles and Ray Eames' former son-in-law) called Proteus, which is composed of bronze-and-copper forms that depict everything from antlers to flames to seals a-frolic (in Greek mythology, Proteus is the shepherd of seals).
Despite these thoughtful elements and a strong and steadfast presence, Anderson notes that the courthouse is nevertheless considered "threatened." If the financing fizzles, and a new courthouse doesn't begin to sprout in the railyards in the coming years—early renderings depict a sleek, glassy edifice—then the preservation of this Brutalist beauty as a purposeful monument to truth will be its own form of poetic justice. 720 9th St.
Senator Savings
Category: Commerical
1964
Every detail of this round two-story building, designed in 1964 by architects Silvio Barovetto and Albert Thomas, is inextricably aligned with its raison d'être: money. "There is absolutely nothing subtle about this bank," says Steinberg. In the style of New Formalism, which typically features elements that convey a certain level of prestige and decorum (in this case, a heavy cantilevered roof for gravitas, an intricate architectural screen for fancy sun protection, and a stylized colonnade of concrete pillars), the architecture was intended to evoke a stack of coins, right down to the layered look of the clay tiles and the ridged crown, the latter a tribute to the reeded edges of small change. In the name of continuity, the interior of the original Senator Savings branch also captured the spirit of money and wealth with green carpet, shiny brass lamps, and countertops with rippled copper trim.
While some would argue that such a seemingly shameless approach to design could be considered alienating, especially where the influence of greed is palpable, Steinberg still considers the building a "community experience." Back then, the interest rate on a home loan was 5.80 percent, which seems staggeringly high for a postwar economy. As such, "banks had the resources to build these monuments and share them with the public," she says. With the structure now housing a Chase branch, the architecture's original intent is upheld, proof of the architects' enduring vision. (But that's just our two cents.) 4701 Freeport Blvd.
Iva Gard Shepard Garden & Arts Center
Category: Community
1958
This classic 1958 example of mid-century modernism anchoring the McKinley Park annex was designed by an unsung local architect named Raymond Franceschi as a "love letter to the community," says Steinberg. While this is evident from its very important role as a gathering place for nearly 3,000 local hobbyists of such good-natured activities as painting, pottery and horticulture (the building's namesake was a garden columnist at The Sacramento Bee and a student of ikebana, the Japanese art of flower arranging), the essential construction of the building is also a testament to its significance. Departing from the postwar era's telltale quick builds and inexpensive materials (industrialization made the housing boom possible), the center is an example of meticulous and thoughtful craftsmanship, right down to the original perforated spun-aluminum outdoor lights, which still illuminate the paths under the eaves, and the vintage Futura-esque signage, which is as much an indication of modernism at work as anything else.
"When this building was built, it was considered the most modern in the city. It has a lot of integrity," says Steinberg of the design's unchanged post-and-beam entrance, enduring flagstone exterior, and original plate-glass windows that bring sunlight into the building and provide views onto the picturesque Evans Garden Court. Named after Frederick Noble Evans, a former parks superintendent, the spacious patio, which features a Japanese garden, continues to be the site of many a pottery, bromeliad or textile show. The hallmark roofline combines a distinctively MCM single-slope shed-style roof with a V-shaped butterfly roof to create one zigzag contour, most apparent on the south façade. Even the original outdoor bench seating was designed to mimic the form. "How exuberant!" says Steinberg. "It's such an optimistic building." 3330 McKinley Blvd.