Mother's popular chef's tasting menu makes a comeback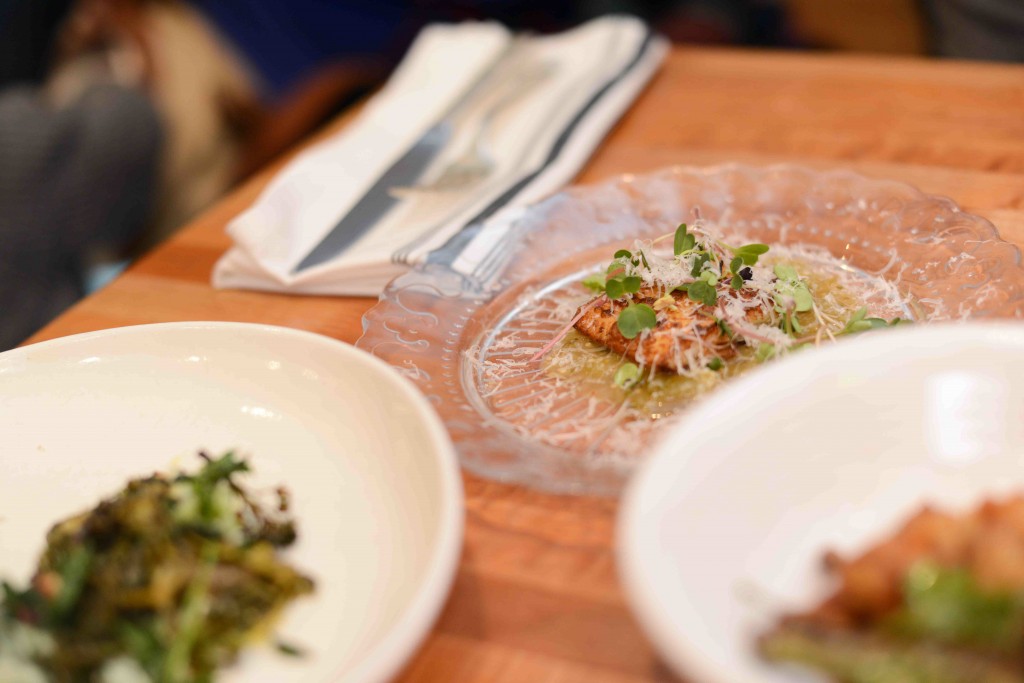 Sacramento foodies can end 2016 on a high note, as Dec. 31 marks the return of a much-loved local dining phenomenon, the chef's tasting menu at Mother.
The popular vegetarian restaurant on K Street, owned by chef Michael Thiemann (formerly of Ella), his wife Lisa and Ryan Donahue, introduced its original $45 prix fixe "Chef's 10" menu shortly after opening in January 2014. The service for two was then composed of 10 highly inventive dishes that arrived to the table at once. At the time, Donahue says, "Mother started as an incubator for Empress," the team's sister restaurant a few doors down in the same Crest Theatre complex, so the kitchen was full of talent itching to experiment. With Empress opening in 2015, the team decided to shelve Mother's labor-intensive tasting menu after New Year's Eve 2014, to focus efforts on the new venture.
Now, two years to the day later, with Thiemann having circled back to inhabit Mother's kitchen full time, the tasting menu is making a comeback, beginning this New Year's Eve. For the revival, called Chef's Tasting, Thiemann and new Mother chef David LaRoche, formerly of Hock Farm, aren't constraining themselves to the 10-dish format. Diners who score a booking for one of three seatings on nights when the $50-per-person menu is available will receive eight to 10 dishes, which will cascade out of the kitchen as they're completed.
One thing, happily, will remain the same: Limited only by its meatless agenda, kitchen's new tasting menu will be just as creative and varied this time around, judging from the sneak taste we received. "Mother is an interesting restaurant in that it's wildly vague," says Thiemann. So you might see a strip of roasted, caramelized parsnip served on a wooden board, drizzled with lavender-infused olive oil and tangy yogurt sauce: The lavender here is unrecognizable—not at all the perfumy, bombastic lingerie-drawer note you'd expect, but rather a sweet, low-profile harmonizer, like vanilla.
Expect to see inspiring pasta dishes, too, like grilled radicchio ravioli perched atop of a bed of beets whipped with olive oil, topped with grilled citrus, macadamia nuts and arugula, a dish so well-balanced that after you recover from the swoon brought about by the first bite, you immediately want to play food detective, dipping one fork tine at a time into the various constituent parts as you try to deconstruct just how the flavor synergy between bitter, roasted, sweet and savory works.
If the stars align, you'll also get a surprising dish like Thiemann's broccoli rabe four ways, comprising blanched, fried, preserved and charred layers of the assertive vegetable, bound together by a tart, lemony, Caesar-inspired dressing.
The restaurant is justly famous for its chicken-fried mushrooms, which have the toothsome texture of fried clams or calamari and may also appear on the tasting menu, accompanied by a smoky mayonnaise for dipping alongside blistered shishito peppers. There might also be a tender slice of grilled polenta bathed in tomatillo marinara sauce.
For version 2.0, the group has taken a novel approach to scheduling that will allow for more flexibility and leave Thiemann plenty of time off to tour with his rock band. A new online booking system lets the restaurant to schedule the chef's tasting nights at will. Patrons reserve a table and pay up in advance, service included, somewhat like buying a concert ticket—apropos for Mother's rock star chefs. New Year's Eve's three seatings are already sold out, but there are currently eight more dates available in January.
The regular menu at Mother has gotten a top-to-bottom update as well, and now that LaRoche's pasta-making talents are in the house, it includes the aforementioned ravioli and a new lasagna with kale, broccolini, button mushrooms and tomatillo marinara sauce. But if any of these dishes sound like must-tries, get there soon, because frequent change is what Mother is all about.
"When we had our sign made, we had the 'M' put on a different circuit so we could turn it off and have it just read 'other,'" says Donahue. "We want to keep experimenting."
1023 K St. 594-9812. mothersacramento.com
You Might Also Like
10 ways to ring in the New Year in and around Sacramento
Everything you need to know about West Sacramento's growing dining scene
Pushkin's Bakery owners open new restaurant in midtown