Moving Images
In Chicago and Moscow, local artists and museums have transformed train cars into mobile galleries and one-of-a-kind art events. Here's why Sacramento's second Saturday needs to get on board, too.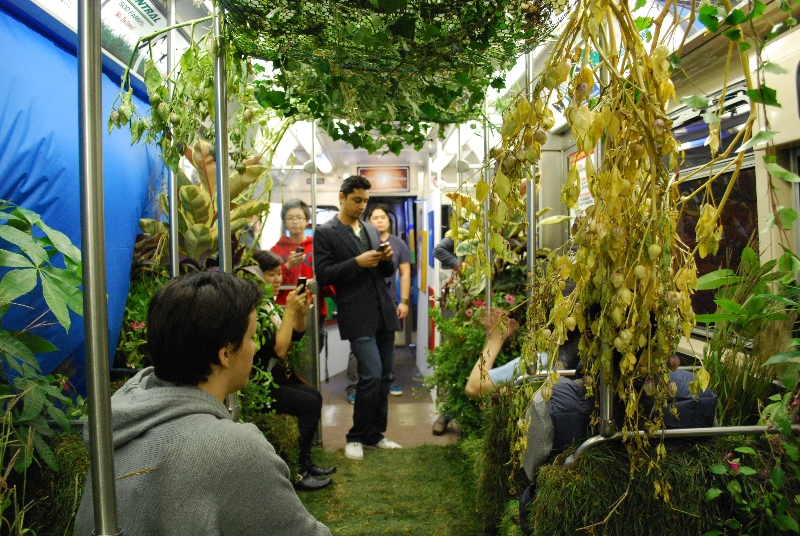 The Idea
In 2008, some students at the School of the Art Institute of Chicago came up with the idea to hold art shows on one of the city's commuter trains. Ever since, for one night each year, six to eight attached railcars become what organizers now call the "world's largest mobile art gallery," with an artist or arts group taking over one of the cars for the night.
One project converted a train car into a mobile garden with sod floors and seating and passengers were encouraged to pick the hot peppers to take home; another involved a local improv group that interacted with the passengers. One group hosted a fashion show, replete with red velvet ropes and a dressing room. Still another involved a massive, interactive Lite-Brite board in a darkened train car. This past September, the event drew over 2,000 paying visitors in a five-hour period.
Since 2007, Moscow museum staff have selected prints of great works of art to display in the city's subway cars.
Imagine converting six light-rail cars in Sacramento into mobile galleries on one or more Second Saturdays each summer or fall. It would make for a fun way to get downtown, and extend the Second Saturday experience far beyond the borders of the central city.
The Players
Regional Transit and the Sacramento Metropolitan Arts Commission are the two obvious players, but groups like the Verge Center for the Arts or the Center for Contemporary Art would make natural facilitators, helping get the word out and evaluating gallery proposals.
The Bottom Line
For the first time this year, the Art on Track program used the fundraising website Kickstarter to raise $10,000 to help pay for the one-day event. Most of the costs go to rent the trains, but some also go to the artists and their projects. The artists pay nothing for the space but must come up with most of the materials on their own. Adults pay $10 per ticket, with part of the proceeds going to a nonprofit that helps the poor.