Murders, She Wrote
Over the past decade, Granite Bay author Theresa Ragan—or T.R. Ragan, as she's known on Amazon, where she has sold more than 3 million books—has been penning mysteries and thrillers in which female vigilantes exact not-so-sweet revenge on their male predators. Her latest page-turner stars a Sacramento crime reporter and a crew of femmes "fatal." Get ready for a bloody good read.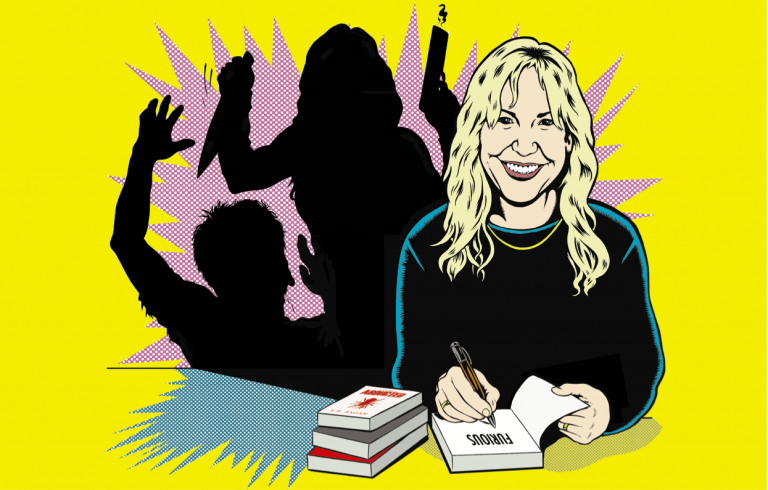 AA group of Sacramento women meet on Reddit and discover they have something unusual in common. Unusual enough that they quietly move to a chat room on the dark web. With usernames like Malice, Bug and Psycho, this ragtag posse that calls itself The Crew only meets in person when the members come together to help one another wreak revenge on the men who have raped or abused them. Their motto: One douchebag at a time. These covert vigilantes are the latest brainchildren of a sunny, blonde Granite Bay mother of four named Theresa Ragan—T.R. Ragan on Amazon, where she has taken the thriller category by storm, selling over 3 million copies in the past decade, almost all to women who, like her, crave the fictional exorcism of some very dark demons in order to make that sunshine all the brighter.
In Don't Make a Sound, the inaugural installment of the author's new series that launched in June (the second book is due out in November), The Crew shares alternating chapters with heroine Sawyer Brooks, a crime reporter for the Sacramento Independent, a newspaper that resembles the Bee. Sawyer's sister describes her as "too fearless," that she's "drawn to death and destruction like a moth is attracted to a flame."
Sawyer Brooks is a quintessential Ragan heroine, exuding a fierce, risen-from-the-ashes determination (Emily Blunt circa Edge of Tomorrow served as inspiration for the character). By the time Sawyer's surprising connection to The Crew is revealed, it's but one of a dizzying flurry of twists and turns in a plot as intricate as a Swiss watch.
Ragan's imagined universe is more feminine and earnest than the cynical, edgy noir we've come to expect from other genre masters (think Michael Connelly's Harry Bosch and Micky Haller or Davis-based John Lescroart's Dismas Hardy). But while Connelly and Lescroart's detectives and lawyers are cool customers (Bosch even listens to cool jazz when he's not solving cold cases), Ragan's warrior women are on fire, fueled by howling levels of personal pain. Lizzy Gardner—her first series heroine, who made her debut in 2011—escaped a serial killer's clutches at 17 (she dislocated her own shoulder to wriggle free of her restraints) and grew up to become a private investigator solving similar crimes over the course of six books, including Evil Never Dies, which hit No. 7 on The Wall Street Journal best-seller list in 2015. Jessie Cole, another PI protagonist, forged a career finding missing persons after her sister's disappearance. And Faith McMann, a fourth-grade teacher on page one, transforms into a vigilante and begins a crusade to take down human traffickers after her husband is murdered and her children are abducted.
The secret to the addictive appeal of Ragan's characters for readers is that these women act out hyperbolic versions of scenes everyone fantasizes about—the perfect burn, the cool wink, the smooth exit, the ultimate revenge. When a serial killer threatens to cut up a victim like a Thanksgiving turkey, the bound gal quips, "Don't forget the cranberry sauce." When Faith McMann finds the woman responsible for murdering her husband and trafficking her children, she dunks the killer's head in a toilet over and over, demanding, "Where are my kids?" It's a moment so well earned that it feels primal and cathartic. And when The Crew has a serial roofie rapist named Brad duct-taped to a radiator in his own basement, their primary goal is to unlock the videos on his computer and turn them over to police, but they go way, way further than planned. "Psycho grabbed the pruning shears and used them to cut off his boxers," Ragan writes. "The tree or the apples?" she asks Brad. Spoiler alert: he doesn't really get to choose.
On a sunny afternoon in April, Ragan, 61, is sheltering in place with her husband Joe, a former business executive who now runs her business operations, at the large 4,000-square-foot home in Granite Bay they bought in 2013 with proceeds from the first few of the 14 titles she has published with Amazon's boutique publishing imprint Thomas & Mercer, as well as her self-published romances. Over FaceTime, she cracks wise about the size of the home, which isn't where she and Joe raised their four kids, now aged 27 to 39—that took place in "a little house" nearby. Plaques commemorating her book covers line the wall behind her, like gold records in a music mogul's studio. So it's funny when, in answer to a question about how she researched her new character, she eagerly brandishes a copy of Journalism for Dummies with a self-deprecating grin (joke aside, she consulted a local detective and Pulitzer Prize-winning journalist Bryan Gruley in her research).
"It was 1992, and I was pregnant with the youngest," she says, recalling the day nearly 30 years ago when the writing bug first bit. "My sister handed me a romance novel, and it seriously took me away. The escapism! I still get chills thinking about it, because it really did take me to another place. I thought, 'Oh my gosh, I want to do this for people.' I started writing and never looked back," she says. The first book, a time-travel-themed romance, took five years to write, and in the meantime, she joined the Romance Writers of America (RWA), finding community in the Sacramento chapter, where she befriended author Brenda Novak. "Theresa had four children, and I had five," recalls Novak, who lives in Auburn. "Their ages matched up pretty well, and we'd take them to the park so we could sit and talk writing."
En route to becoming an author, Ragan found support and encouragement, but also epic levels of frustration. For example, she was nominated again and again and again—six times in total—for the RWA's Golden Heart Award for unpublished writers. The point of the recognition was to help bring them to the attention of publishers, but Ragan got no bites. Novak, meanwhile, caught the brass ring after being nominated for the Golden Heart Award in 1997 and 1998, subsequently publishing with HarperCollins and Harlequin to great acclaim.
Then Ragan read about Lisa Gardner, who started out as a romance novelist, but found mainstream success when she turned to thrillers, hitting No. 1 on the New York Times best-seller list in 2011 and winning every major genre award along the way. "I thought, 'Why didn't I think of that?' " recalls Ragan. "I love to read thrillers: Stephen King, John Grisham, Michael Connelly."
As Ragan immersed herself in research on serial killers, she tapped into another latent source of rage—her own history with sexual assault. One incident she details as an example is of a time when she was a college student walking to her car on campus and a stranger rubbed up against her, then followed her to the parking lot. She ran into the library, but when she returned to the parking lot for her car, she saw him parked next to it, waiting. A near miss of exactly what, she will never know. She leaves the rest of her experiences unspoken. The books help her play out the responses she wishes she'd had—the responses we all wish we'd had under duress, that fantasy about being, well, a badass.
Publication remained elusive. Then in March 2011, she decided to take a chance, throwing an early romance title up on Amazon Kindle. It promptly blew up. "It was crazy," she says. "I would hit refresh [on the Kindle sales page] and it was like, ding, ding, ding." She fired her agent and published other books on her own, including her first thriller. "It was hugely advantageous that she had such a backlog of material to publish," Novak says.
Soon, big publishing finally came calling, but so did Thomas & Mercer, the niche thriller publishing house started by Amazon to compete with the mainstream houses. Ragan went with them, and has never looked back. Today, she regularly collects six-figure advances.
Although her audience is national, the books are also dotted with Easter eggs for locals, little surprise gifts in the form of familiar locales and favorite haunts. In Deranged, for instance, the settings range from the Old Sugar Mill in Clarksburg to Folsom State Prison, while the Roseville Galleria pops up in both the Jessie Cole and Lizzy Gardner series.
In the new book, you can find Crew member Bug taking a call from her co-conspirators at the bar inside the Shady Lady Saloon on R Street, and Ragan gives Sawyer Brooks a fictional hometown, River Rock—a thinly disguised stand-in for the small town of Yreka, located in Siskiyou County above Mt. Shasta—where very bad things happen.
Good things, meanwhile, continue to happen in Granite Bay, where Ragan just got off a video conference to talk book promotion strategies with none other than her role model, Lisa Gardner. "It was a pinch-me moment," Ragan says.
Gardner is in turn eager to gush about Ragan, emailing a comment that sounds ready to print on the back cover: "Ragan's latest, Don't Make a Sound, represents the perfect storm of a brilliantly talented author with a breakthrough concept— family dysfunction, vigilante justice and small-town secrets."
Words indicating that while Ragan's fictional alter egos may continue to battle the darkness, her own story has a happily ever after that is entirely nonfiction.