Musical series that began inside an apartment to find home at Capital Stage for one night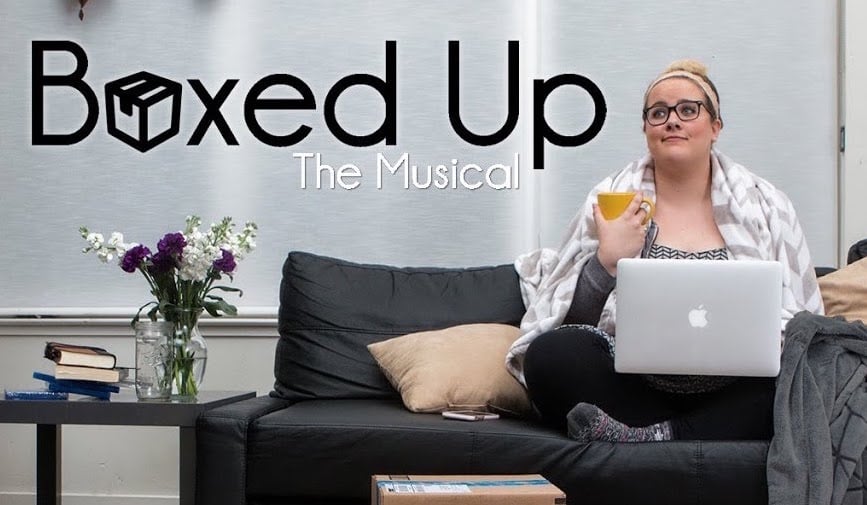 On May 5, 2017, almost 30 people squeezed into David Taylor Gomes' and Wesley Gomes' 750-square-foot apartment at midtown's Warehouse Artist Lofts to watch a live musical the couple created.
The show, Boxed Up: The Musical—part rom-com, part societal discourse—follows Marion (played by Lizzy Poore), a lovable shut-in who makes a living reviewing products online, orders everything she needs from the Internet and develops anxiety at the thought of leaving the safe confines of her apartment, until she falls for Jake (played by Joshua Glenn), the handsome delivery guy.
"It's our very light commentary on the digital world we live in and how communication breaks down when we put screens in front of each other," says Joelle Robertson, who served as a producer and writer for the show.
The show was born out of an artistic response to the R Street Corridor's First Friday events, during which WAL artists open their homes and studio spaces to the public to showcase their work. David Taylor Gomes is a professional composer and musician, who is currently the musical theater instructor with Sacramento Theatre Company's School of the Arts, and his husband Wesley Gomes is a performance artist who recently served as the production manager for The Actor's Playpen's production of Lizzie: The Musical. The couple wanted to find a way to contribute to the monthly event.
After the success of the first show in May, they brought on a new writer each month to pen the script for each installment of Boxed Up and the story continued until October in the form of 20- to 30-minute vignettes, each one set up in a different spot within the apartment, and one staged as a party on the WAL complex's rooftop. The crew included professional musicians, sound mixers and lighting technicians, who staged five back-to-back showings per night to accommodate the line of audience members waiting outside the door.
"People were in shock at how we pulled it off," Robertson says. "A lot of artists and art lovers who see [shows] in L.A., Chicago and New York were saying that this is the kind of site-specific or episodic theater happening in theater scenes there."
Now, the cast and crew and are taking their production to Capital Stage for a one-night-only run on Nov. 5, offering the entire six-episode show in one sitting, accompanied by a six-piece band. Following the 90-minute performance, the cast and crew will host a Q&A session with the audience.
Taylor Gomes hopes Boxed Up will continue to inspire performance arts in the capital city.
"Some people may think musical theater is something that happens elsewhere and comes to Sacramento, but we want people to see that there's new, innovative work happening right here in town, specifically in musical theater," says Taylor Gomes. "It's something to be proud of."
$25 in advance; $30 at the door. Nov. 5. 7:30 p.m. Capital Stage. 2215 J St. 995-5464. boxedupmusical.com
You Might Also Like
The curtain rises on a new Sacramento theater company's debut production
A downtown bus shelter transforms into "The World's Smallest Concert Hall"
New documentary on the storied Alhambra Theatre is forthcoming