Feel the Burn
In hot pursuit of a Nash & Proper spicy chicken sandwich? Just follow the heat to the buzzy mobile eatery's first brick-and-mortar shop.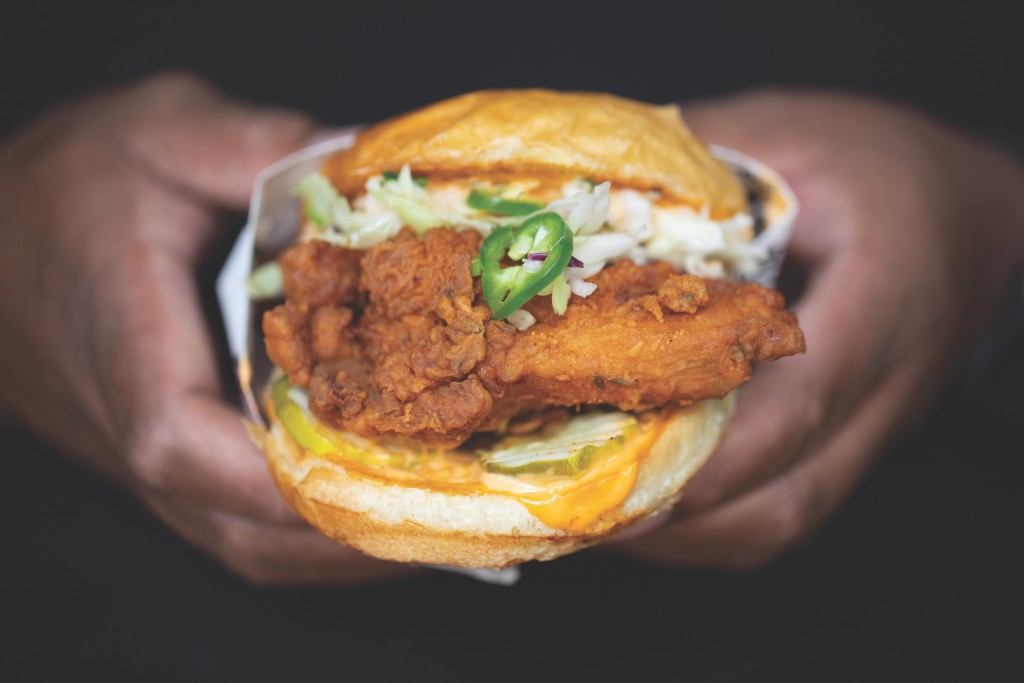 Since hitting the streets in 2018, the food truck Nash & Proper has been going full throttle, hawking its Nashville hot chicken sandwich at festivals and farmers' markets all over Sacramento. Two years later, after winning Downtown Sacramento Partnership's 2019 Calling All Dreamers contest, chef-owners Jake Bombard and Cecil Rhodes II (pictured below) have expanded their fleet and opened a brick-and-mortar version of their four-wheeled sensation in September. The location: a storefront on K Street last occupied by popular vegetarian eatery Mother, a cosmic irony for a carnivore-centric establishment.
The new setting—emblazoned with wall murals designed by Magno Lopez and painted by Jeremy Stanger, including one of a fire-breathing chicken—may be different, but the long lines for N&P's Instagram-famous sandwich are the same. Each boneless chicken thigh for the signature dish is double-dredged in egg wash and seasoned flour before it's deep-fried to an extra crunchy crisp. Then, a choose-your-own-adventure moment: Will you order your fried chicken "naked" or risk one of four increasingly fiery oil dips, from mild (made with cayenne) to "cluckin' hot" (a Carolina Reaper-flavored plunge)? Whichever path you take, all roads are paved with a baseline of bite—toppings include a pickled jalapeño slaw and a spicy mayo "fuego" sauce slathered on a brioche bun.
Other menu standouts—such as the deep-fried cauliflower florets or fried-chicken-topped Proper Fries—can also be spiced to your desired heat level. But if you think you'll conquer the most incendiary tier with taste buds unscathed, think again. Many of the uninitiated have found themselves begging for an ice-cold bottle of King Cong Brewing IPA to dampen the inferno. "First-timers always think they can handle the spice," says Rhodes, chuckling. Consider yourself warned.
1023 K St. nashandproper.com