New Brunch Boys food truck puts weekend tradition on wheels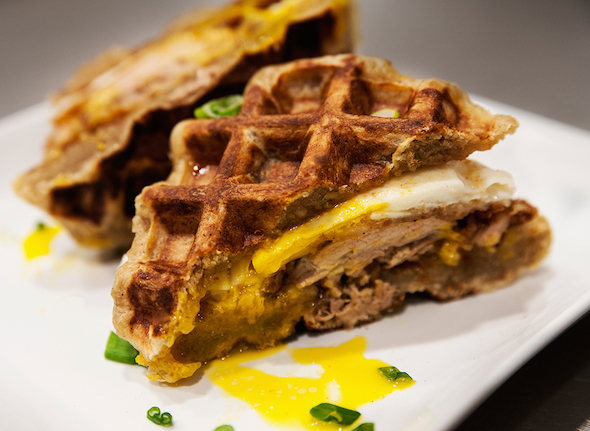 Starting this week, a new food truck is bringing a unique specialty to the roads around Sacramento: Brunch.
The Brunch Boys truck arrived in town on Jan. 30, debuting a healthy, fresh—and mobile—approach to the area's brunch culture. The truck was co-founded by chef Charlie Cardona and his business partner Kevin Hardekopf, who set out to share their mutual passion for food on the road.
"There are still many people who equate food from a truck with junk food, and that's all they want," Cardona says. "But the perception is changing, and we are aiming to provide restaurant-quality [brunch]."
Dish options range from the chunky carrot soup (a medley of corn, carrots, Italian salami, kale and crème fraîche), to the hearty chicken and waffle sandwich (stacking Belgian waffle, fried chicken, egg, provolone and spicy bacon aioli), and brioche stuffed with bacon, cheese and ancho chile sauce.
Since receiving classical culinary training from Le Cordon Bleu, Cardona polished his skills at restaurants like BOA Steakhouse in Los Angeles and Rose Pistola in San Francisco. Searching for a change of pace in his life and career, Cardona moved to Davis in 2013 and thought the town could use a few more good brunch spots. Cardona soon conceived the idea of a food truck specializing in brunch, which he launched after some nudging from Hardekopf.
Although trained in French techniques, Cardona ditched fine dining for a less confined route, giving him the freedom to directly connect with his customers.
"Brunch is a concept that allows for a lot of creativity and flexibility," Cardona says. "In a food truck, I can see the whole process through, from buying ingredients to serving the customers—getting immediate feedback is very rewarding."
The Brunch Boys regularly update their whereabouts to followers of their Twitter and Facebook pages; catch them on 5th and R Street in downtown Sacramento on the first Tuesday of every month.
905-3043. brunchboystruck.com
Related Links
–New food truck to bring fresh Maine lobster to the streets of Sacramento this spring
–New brewery tour hits hot spots of Sacramento's beer boom
–Hawks Provisions & Public House set to open in March