New "Contagious Color" mural set to brighten road to Sacramento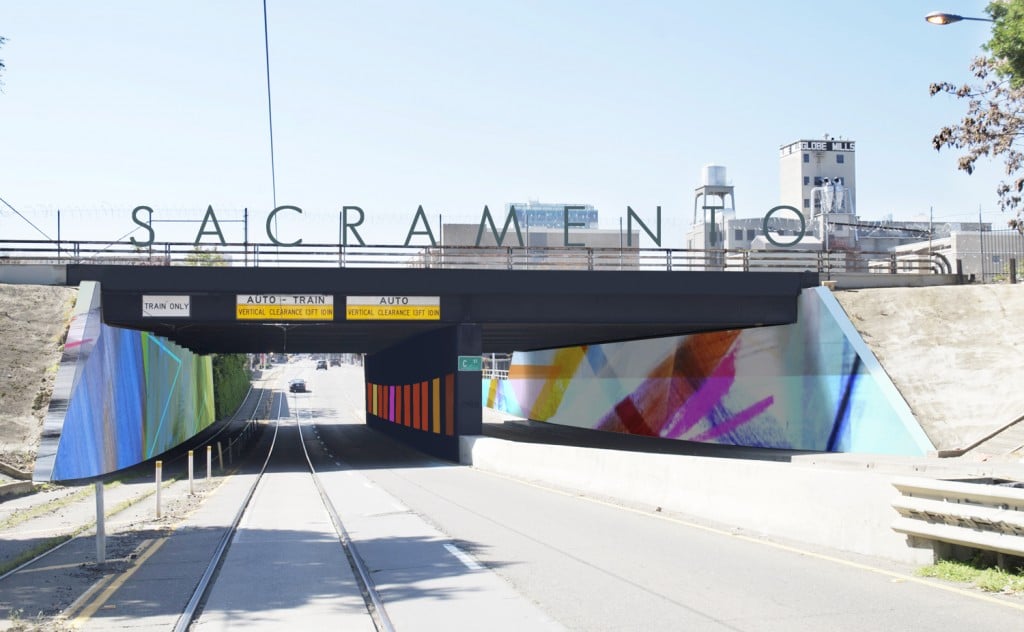 Come November, the once-neglected 12th Street passageway into the central city will become an appealing, lively corridor thanks to Contagious Color, a new public-art initiative approved this past week by the Sacramento City Council.
The project is helmed by L/C Mural & Design, the Sacramento-based team of artists Sofia Lacin and Hennessy Christophel, whose work includes other public projects—like a 14,000-square-foot water tank in east Davis and the planned Bright Underbelly mural at the Sacramento Central Farmers' Market—that are geared towards adding beauty to industrial structures. "[12th Street] is such a gateway, and this really formalizes that fact," Lacin says. "We really want to uplift that whole tunnel and that whole area."
Contagious Color features a 10,000-square-foot painted mural at the underpass where several thousand pedestrians, light rail passengers and commuters traverse between The River District and the northern edge of downtown.
"For the mural, we really focused on the idea of bringing light into the tunnel," Christophel says of the thoughtful, abstract design that the duo will paint by hand. "We really wanted to bring in a painting that would feel really clean and fresh. We wanted something that would feel like a wash of color and positive energy as you pass through it."
The piece will be underway this month thanks to financial and logistical support from the city (which is providing more than $30,000 of in-kind support in a charge led by Councilman Steve Cohn), Regional Transit, and groups like The River District Board of Directors. The artists hope to raise $25,000 to complete the piece by November.
The potential second phase of the project, planned to begin early next year if grant applications are approved, will include the installation of backlit aluminum letters spelling out Sacramento on the Union Pacific railroad overpass there, serving as a welcoming, attractive entryway to the central city.
"This [signals] a very new chapter for Sacramento, and I think that's what we are most excited to achieve," Lacin says. "Contagious Color [symbolizes] this idea of color being something you can catch as an energy or emotional feeling, so maybe you will pass through the tunnel and it makes you excited about Sacramento."
For more information about the project, or to contact the artists to contribute financially to Contagious Color, visit treborden.com/projects/contagious-color.
Related Links
–Artists debut huge new mural planned for Farmers Market
–Massive new mural promotes big-time health in Sacramento
–Painting the Town