New documentary on the storied Alhambra Theatre is forthcoming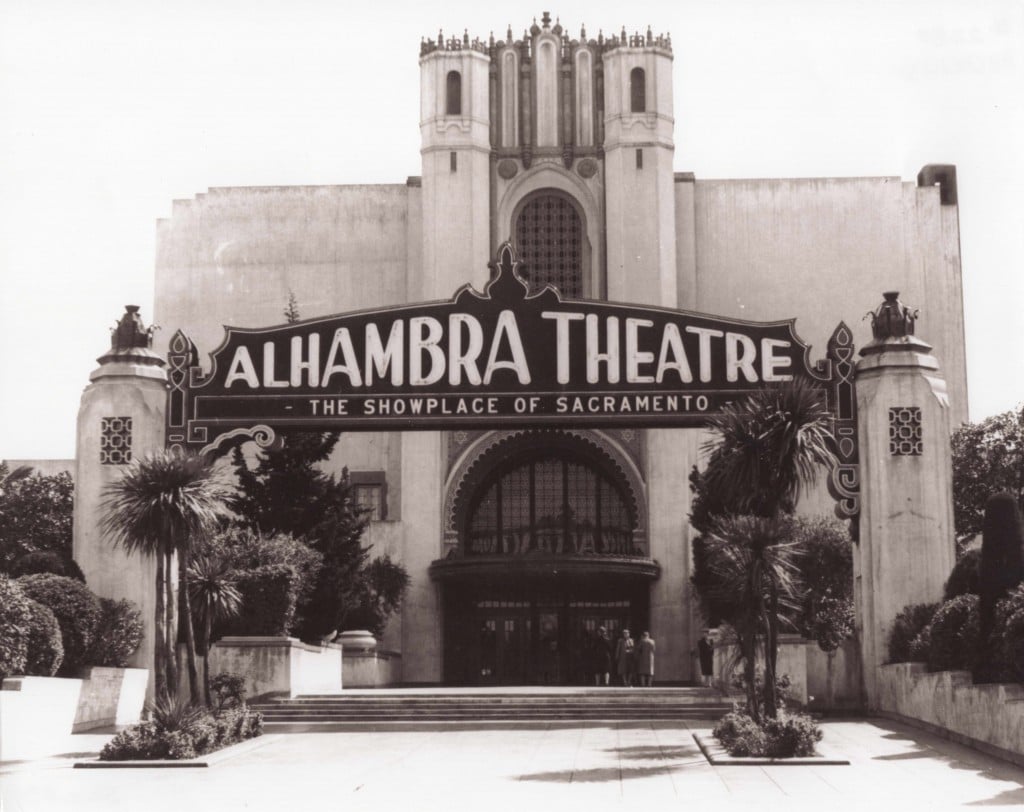 Update 1/10/18: Alhambra: Sacramento's Palace of Fantasy will premiere at the Tower Theatre on Feb. 21 at 7 p.m. (The second showing will take place at 8:20 p.m.) Movie-goers will need to purchase tickets, which are $30 each, in advance. The screenings, which will benefits the Center for Sacramento History, are expected to sell out. Purchase tickets at centerforsacramentohistory.org, and scroll down to read more and watch the new teaser trailer.
********
It's the stuff of local legend: The grandest movie palace of all, the Alhambra Theatre, reigned over Sacramento from the day it opened in 1927, back when black-and-white "talkies" were all the rage. A lavish, red-carpeted Moorish castle in East Sacramento, with a courtyard and a fountain, the architecturally striking building (think Arabian Nights) was surrounded by lush gardens where your grandparents may have strolled hand in hand after catching Errol Flynn in some swashbuckler.
The Alhambra survived a scant 40 years, evolving into a concert venue before the storied venue was unceremoniously demolished in 1973 when a county ballot measure aiming at saving it failed to pass. Now, just in time for what would have been the theater's 90th birthday, local filmmaker Matías Bombal is preparing a cinematic love letter to the past, to remind us all of what we're missing now that a movie night usually means pointing and clicking on Netflix.
Alhambra: Sacramento's Palace of Fantasy will be Bombal's third documentary in as many years with producing partner Chad E. Williams. The pair previously produced The Sacramento Picture in 2015 (which featured rare footage of capital city life from 1910 to 1974) and The Story Behind Your Radio Dial in 2016, about the creation of a 1948 short film centered on NBC's broadcasting facility at Rockefeller Center during radio's golden era. The latter documentary so impressed Davis entrepreneur Wendell Jacob, who remembered working in movie palaces as a young boy, that he volunteered to fund the Alhambra doc, which is slated to be released by the end of the year.
Bombal has been a lifelong cinephile with a particular fixation on classic films and a cult following for his unique video review series, Matías Bombal's Hollywood (Mad Men star Jared Harris called Bombal's review of Pompei "the most entertaining film review I've ever seen"). The local film critic and historian was born in Santiago, Chile—the poet Pablo Neruda was a family friend—and grew up in Berkeley and later Sacramento, where he took over management of the Crest Theatre at the tender age of 19. Over the years, he became involved with the restoration and operation of a number of historic theaters in California and Oregon.
Bombal, who frequently hosts classic movie nights at the Crocker Art Museum, says he wanted to capture the cultural history of the Alhambra before it fades away completely from our city's collective memory.
In pursuing the Alhambra story, he unearthed a treasure trove of original footage of the theater's demolition, which also depicts individuals swooping in to claim souvenirs from the rubble. After the theater closed, many of its accoutrements were sold off to collectors—some even went to decorate Harlow's nightclub in midtown (although none remain at the venue today), and Bombal and his team have been assembling a rich collage of Alhambra artifacts and snapshots. "We've got about 200 images that have never been published before," the documentarian says of the progress so far. "We have Boz Scaggs performing, and Van Morrison."
If the visuals appear a bit yellowed, rest assured that you will be able to hear exactly what the Alhambra sounded like. "We have the [theater's] original pipe organ, so we're going to use that to record the soundtrack," Bombal says.
But the research is far from complete, so he welcomes contribution from folks who have fond memories of Sacramento's premier movie palace or have any piece of memorabilia. No detail is too small to be of note, he says. "Even if all you remember is walking up the stairway and that the walls were yellow," he says, "at least then we'd know what color the walls were."
Matías Bombal can be reached at mabhollywood@gmail.com or 670-8684. For more information about his Alhambra documentary, visit the project's Facebook page and watch the video below.
You Might Also Like
Your guide to the Sacramento region's outdoor movie screenings
A new exhibit features rare artifacts from Hollywood's Golden Age
Dynamic video projection installation to open on K Street