New food truck serves up bubble waffle cones stuffed with ice cream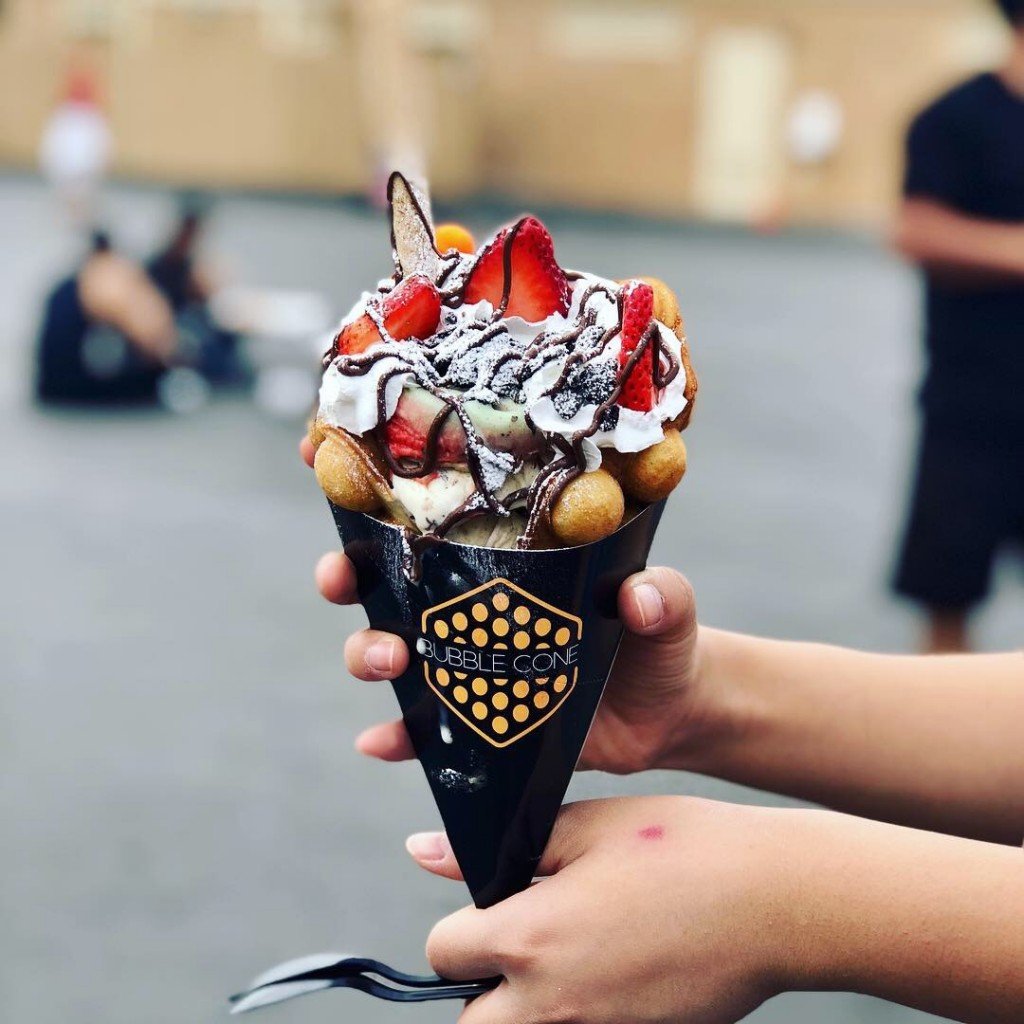 Talk about rolling in dough: A new food truck called Bubble Cone is bringing a Hong Kong-style pastry—bubble waffles—to Sacramento's mobile food scene.
The hexagonal waffles comprises egg-shaped puffs that can be broken off to eat piece by piece. Bubble Cone's owner Wahid Khalil, who lives in Elk Grove, describes the confection as being similar to a Belgian waffle, crisp on the outside and chewy on the inside, with a sweet, cakey flavor. While the popular street food is traditionally eaten plain in Hong Kong, Khalil decided to follow the current trend of rolling the bulbous pastry into a cone shape and serving it with ice cream.
Guests can choose from six different ice cream flavors, including vanilla, mint chocolate chip and Neapolitan, and then dress up their cones in one of eight variations like The Sexy, which is topped with strawberries, frosted animal cookies, Pocky sticks, whipped cream and strawberry sauce, or The Casual, with strawberries, blueberries, caramel syrup and powdered sugar.
Khalil, who makes the cones to order using a special waffle machine, first encountered the pastry in Sydney's Chinatown on a trip to Australia in 2017. "I was like, 'Wow, this looks interesting—it's something we don't have out in our area,' " says Kahlil. "I wanted to bring something new."
Bubble Cone, which launched in September, can be found at events like the Pumpkin Nights festival in Auburn, where it's serving up its limited-edition Halloween cone, which is covered in whipped cream, candy corn, orange cream Oreos and sprinkles, through Nov. 4. Bubble Cone also recently joined the Sacramento Mobile Foods (SactoMoFo) lineup, and is making appearances at select food truck gatherings.
916-812-4108. To find out where Bubble Cone will make its next appearance, follow the food truck on Instagram at @bubbleconesac.