New food truck to bring fresh Maine lobster to the streets of Sacramento this spring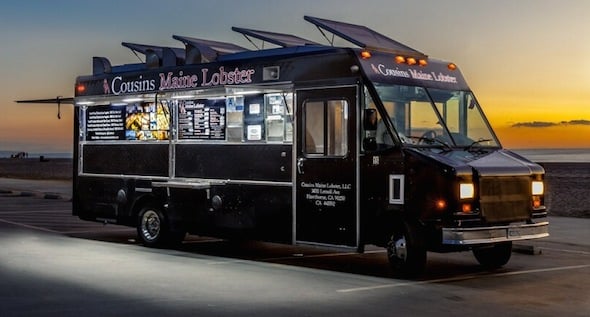 UPDATE: Cousins Maine Lobster will hit the streets in the Sacramento region starting in July, officially kicking off at Yolo Brewing Company on July 2 and 4. The menu for food truck, as its name suggests, will feature lobster-infused items like lobster rolls, lobster quesadillas (made with tortillas from locally based Madrid Santa Fe Trading), lobster bisque and lobster tater tots. Plus, don't miss the whoopee pies and the mysterious lobster ice cream for dessert. View the food truck's online schedule, which will be updated weekly, here, and read more about Cousins below. Kickoff at Yolo Brewing Company: July 2 (4-8 p.m.) and July 4 (11:30 a.m.-7 p.m.). 1520 Terminal St. West Sacramento.
*******
Cast your nets, Sacramento: A new losbster-centric food truck is headed to our culinary scene this year.
The newest mobile outlet from Cousins Maine Lobster—a burgeoning, New England-based food truck empire founded by cousins Sabin Lomac and Jim Tselikis (and spotlighted in TV showcases like Shark Tank, The Today Show and Good Morning America)—is set to arrive in Sacramento in April, serving fresh fare flown in daily from the rocky seashores of New England.
Paul Sharkey, owner and proprietor of the newest addition to the Cousins fleet (they have five trucks nationwide, with six more in production) says he looks forward to sharing the fare he grew up eating in Boston and Cape Cod with Northern California.
"It's authentic," Sharkey says. "It's the same thing that you'd get on the East Coast right now—the quality of being right off the dock, but in a food truck."
The menu boasts all things lobster, from the Maine Lobster Roll (a traditional offering of chilled lobster with mayo served on a bun also shipped fresh from the state) to the Cousins Lobster Tacos (with cabbage, pico de gallo, cilantro lime sauce and local handmade tortillas) and the innovative Maine Lobster Ice Cream, which is exactly the sweet hybrid of crustacean and dessert treat that it sounds like.
Initially, Sharkey says he plans to visit as many regional events as possible before the truck settles into a regular schedule around town, potentially partnering with Yolo Brewing Company and the city of Rocklin. (The Cousins truck will also provide catering services.)
And while Sharkey admits he's excited to bring his fare with first-timers, he says also hopes to connect with fellow New Englanders in Sacramento.
"There are a lot of people in Northern California that come from [the East Coast] that expect the best," Sharkey says. "So I'm excited to bring back memories for those people."
270-2674. cousinsmainelobster.com/sacramento
​Related Links
–New Flavor Face food truck hits the streets of Sacramento​
–Bacon Fest Sacramento gears up for fourth delicious year
–New brewery tour hits hot spots of Sacramento's beer boom