New gift boutique with a focus on the hip and handcrafted opens in midtown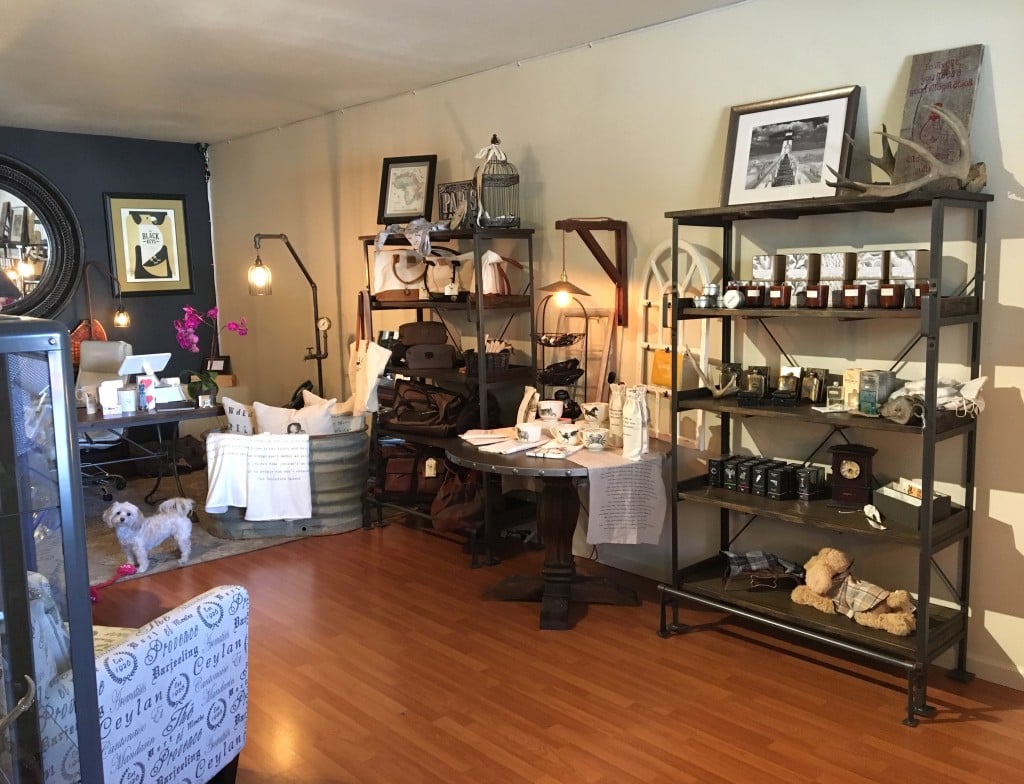 Stylish hand-sewn throw pillows to complement your sister's French farmhouse décor. A silver flask just perfect for your hipster friend's birthday. Sweet-smelling soy candles in amber glass your ex-hippie mother would love.
Shoppers in midtown's Handle District have a new place to linger before dining at Zocalo or Aioli with the opening of Boar Haus, an atmospheric gift boutique in the 1801 L Street complex whose vibe is at once rustic and modern, with an emphasis on handcrafted items, many of them local.
"We're trying to find these really cool pieces that have a story to them and are celebrating the creativity of the American entrepreneur," says Elizabeth Bacon, who runs the boutique with her business partner Briana Ezzell.
Boar Haus—the name derives from the image on the Bacon family's crest, which dates back to the Elizabethan era—soft-opened in late December and held its grand opening Feb. 4.
Inside the neighborhood shop, you'll find a wall of colorful greeting cards made by artists and indie cartoonists like Gemma Correll and John Atkinson, as well as items by local artisans, like shrub syrup and gift packs from Sacramento's Burly Beverages and light fixtures by West Sacramento-based artist Jeff Bina made with antique knobs and repurposed parts from miners' lamps.
Other U.S.-made products line Boar Haus' shelves: hand-stamped necklaces and rings from Oregon-based Nashelle Jewelry, rugged travel duffels from Will Leather Goods, also based in the Beaver State, and soy candles in scents like cedarwood-vanilla from Brooklyn Candle Studio.
Bacon says her team plans to turn the floor above the boutique into a bookstore that will serve complimentary coffee and may one day host special events or simply serve as a casual hangout, representing the "Haus" portion of the boutique's name.
She and Ezzell also run The Kiln, a branding agency whose clients include the likes of University of the Pacific, and they plan to eventually roll out a handful of new businesses, including Owl + Boar, a pop-up bar offering whiskey tastings, a travel agency called Ex-peditions, and an estate planning and design service.
For now, Bacon says, they are focused on developing the boutique and have begun a personalized subscription service that customers can sign up for to receive a box of presents each month for themselves or loved ones, in line with Boar Haus' philosophy of customized gift-giving.
"It's not about the gift, it's the experience of opening something up and having someone know you so well that they found this really incredible thing," Bacon says. "If I can duplicate that for our customers so they can really speak to someone through an item or a card, or [find] just the right way of saying 'I love you,' I feel like that's a job well done."
Open Wed.-Sat. from 11 a.m.-7 p.m. 1117 18th St. 899-2019. boarhaus.com
You Might Also Like
A new fair-trade boutique to open in midtown
New boutique with designs made for and by women opens in Oak Park
Local group launching campaign to relight the Tower Bridge with LEDs