New Japanese restaurant Aji Dori opens on R Street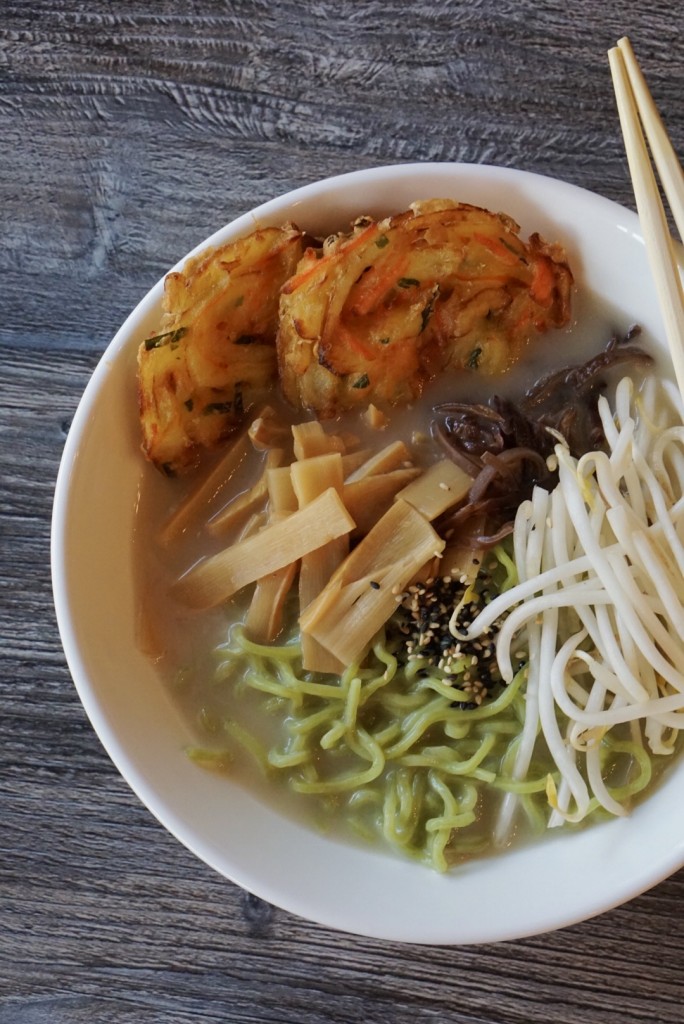 Aji Dori, a new Japanese restaurant on R Street, will host its grand opening on Saturday, June 15, following a brief soft-launch phase.
This is take two for the team behind Takata-Ya, a fast-casual Japanese-Hawaiian spot that occupied the same spot, which also formerly housed Italian restaurant Amaro. Joining the ownership group is Russell Okubo, who previously served as executive chef of the Fat Family Restaurant Group before earning a reputation for elevating traditional Asian cuisine at his El Dorado Hills-based eatery Aji Japanese Bistro.
The chef aims to bring a scaled-down, informal version of his suburban hot spot to downtown, focusing on an extensive lineup of Asian street food ("aji" translates to "taste" and "dori" translates to "street"), like kalbi beef tacos, kakuni (braised pork belly) sliders and panko asparagus, and comfort foods including ramen bowls with char siu and stir-fried yakisoba noodles.
Vegetarians can slurp up a ramen made with spinach noodles or nosh on snacks like vegan gyoza filled with edamame, cabbage and carrots. The menu also includes selections from a raw bar, like Hokkaido scallops with garlic miso on crispy shiso leaves, as well as sushi rolls like the Zatoichi Roll, a holdover from Okubo's EDH bistro, which is named after a famed blind swordsman in Japanese pop culture because diners blindly order a roll that the chef invents on the spot.
Aji Dori will be open for lunch and dinner during the week, as well as for dinner on weekends. In July, it plans to add brunch service—which will include dishes like loco moco and Japanese arabiki sausages—on Saturdays and Sundays.
The drink menu focuses largely on sake with nine varieties served by the glass (two are on tap), plus beer, wine and a selection of Asian ciders and soft drinks like sodas in flavors like melon cream and yuzu.
El Dorado Hills-based interior designer Marcia del Toro has decorated the 3,900-square-foot space with elements like oni (demon) masks, abstract paintings of geishas, and silhouettes of Japanese cultural icons like No-Face from Hayao Miyazaki's Spirited Away, sci-fi superhero Ultraman and a sword-wielding Hello Kitty. On the east wall, a projector screens Japanese films and TV shows: think Akira Kurosawa's 1960s samurai flick Yojimbo or animated cartoons like Speed Racer.
"It's a fun place," Okubo says. "It's not your typical Asian restaurant with neon signs and [noren] curtains and 99 rolls on the menu."
At the grand opening celebration, which will be held this Saturday from 3-8 p.m., the restaurant will offer street food items for free. Also taking place will be performances by local drum ensemble Sacramento Taiko Dan (at 4 and 7 p.m.) and a traditional kagami biraki ceremony, where a barrel of sake will be broken open with wooden hammers.
Hours of operation are Monday-Thursday from 11 a.m.-9 p.m., Friday from 11 a.m.-11 p.m., Saturday from 3-11 p.m. and Sunday from 3-9 p.m. 1100 R Street. @ajidori.sac on Instagram.
You Might Also Like
Shake Shack to open its first Sacramento location
A sneak peek at Shangri-La, the retro Palm Springs resort-inspired restaurant
Here's when downtown hot spots like Solomon's Delicatessen, Kodaiko, KoJa Kitchen and more will open