New-look, new-menu Capital Dime reopens this weekend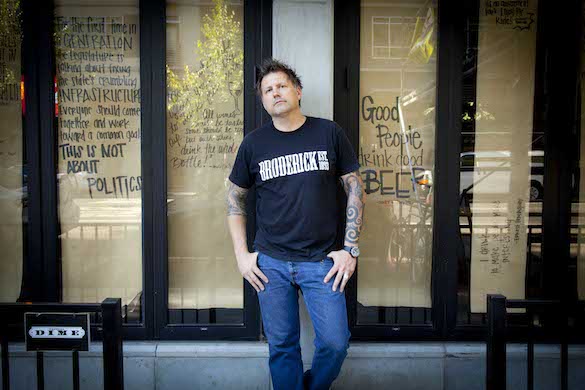 Midtown restaurant Capital Dime, which recently joined the Broderick Roadhouse family of restaurants, will unveil a new look and a new menu when it reopens on Saturday afternoon.
The one-year-old L Street eatery will renew its original focus on small plates and other cuisine developed in Sacramento's booming farm-to-fork tradition, with dishes served a la carte and most falling in the $5 to $10 range. New selections will include everything from Broderick's renowned burgers to comfort foods like fried green tomato BLTs, bison sloppy Joes, taco plates (featuring steak, grilled fish, duck, tofu and other options), fried chicken wings, mac and cheese, and vegetarian selections like a Reuben decked out with marinated king oyster mushrooms.
"It's going to be what it probably should have been in the first place: a farm-to-fork small-plates kind of restaurant, one that's truly working with lots of small farmers and not just trying to capitalize on the market," says Chris Jarosz, the Broderick Roadhouse co-founder now helping oversee Capital Dime. "We want it to be kind of a comfort-food place that people remember from when they were a kid, with a farm-to-fork twist."
Jarosz names an array of local providers like Hanks Hens & All Things Good, Watanabe Farms, Dragon Mushrooms, Passmore Ranch and others from whom Capital Dime will utilize ingredients. He adds that the new proprietors plan to adapt the restaurant's back patio to grow kitchen-ready vegetables on-site.
The new menu will also feature salads, dessert dishes (including house-made ice cream sandwiches and bread pudding) and treats like bacon lollipops with brown sugar coating. Capital Dime's bar menu will receive an update as well in the weeks ahead, with a shifting emphasis to both whiskeys and local beers, including those currently available from Ruhstaller and New Helvetia Brewing Co.
Capital Dime opened in summer 2013 with celebrated executive chef Noah Zonca, formerly of The Kitchen, at the helm, but has struggled to find its place in the buzzing midtown restaurant and bar scene. Zonca departed Capital Dime earlier this year.
It was only weeks ago that former restaurant owners Rick Lobley and Melissa Sanchez spun off control of Capital Dime and its recently opened sister pizzeria, Trick Pony, to Jarosz and his Broderick partners. The new management team, which also oversees the Wicked 'Wich food truck, wasted little time reworking Capital Dime's identity.
"I feel like there's a hole here, especially for this space," Jarosz says. "You go to Firestone, you go to Lowbrau—you have the people in this neighborhood, it just hasn't been the right concept to attract local people."
Jarosz and company closed Capital Dime this week for a minor facelift that includes replacing the booths in the dining room with a more casual high-top table setup and swapping what Jarosz describes as the "loungy, clubby" artwork for décor employing vintage farm tools and other rustic touches.
Diners can have a look at the new Capital Dime when it reopens Saturday afternoon at 3 p.m. The restaurant will only serve dinner for the time being, while plans to restore a weekend brunch service are underway. In both cases, Jarosz is looking forward to the neighborhood's response.
"We really wanted to make sure it's a place that people feel more comfortable in," he says. "We wanted to be that place where we could establish a local clientele and a family-friendly atmosphere and where people could hang out every night."
Capital Dime is at 1801 L St. 441-1010. capitaldime.com