New parklet patios planned for two Sacramento restaurants in June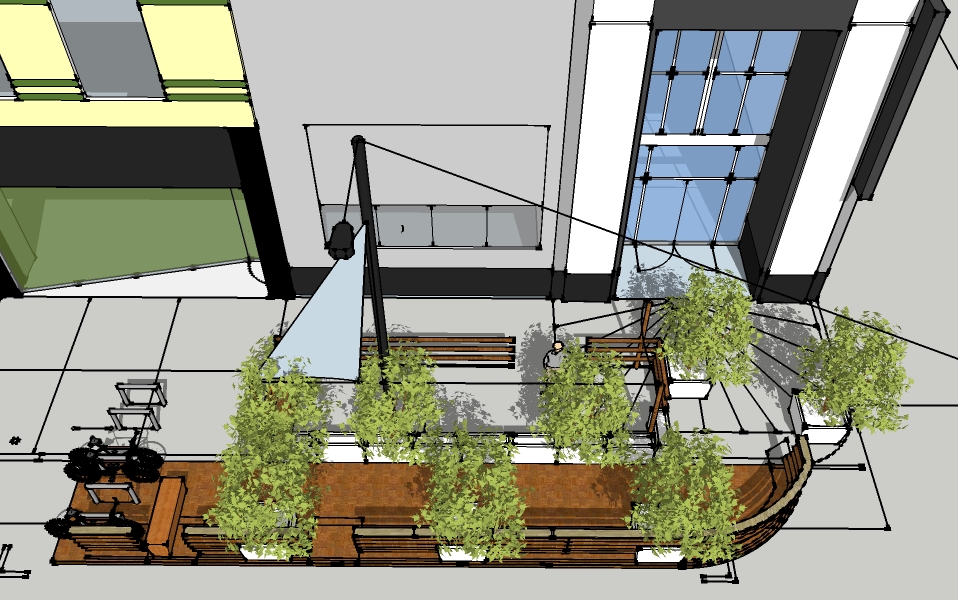 A new crowdfunding campaign from Blackbird Kitchen + Beer Gallery is part of a plan to deliver the city's first parklet patios to two restaurants on the grid this June.
The downtown restaurant, along with the midtown building that houses the popular eatery Capital Dime, is planning its parklet along with the City of Sacramento, which will repurpose street parking spaces and transform them into public patios for eating and dining.
In a step toward its proprietors' ambitions to rebrand the neighborhood with its vintage "West End" nickname, expect Blackbird's pirate ship-themed patio to dock into three parking spaces on 9th Street between J and K streets. The establishment plans on affixing a sail to a light pole in the center of the rectangular patio (resembling that of a mast on a ship), which will provide shade for guests during hot summer days, as well as function as a screen during the night for which local artists will screen projection art from atop the restaurant's ceiling.
Video rendering courtesy of Blackbird Beer Kitchen + Gallery
Supporters of the project can be a part of Sacramento parklet history by having their names engraved on tiles that will pave the patio's floor, which Blackbird co-owner Anthony Priley says he hopes to fund from a new GoFundMe campaign. The "stern" of the parklet will feature bike racks, and the public space will be adjacent to a commercial area (separated by the mast) where guests can munch on the restaurant's offerings or drink up from the beer gallery's fresh brews.
"The idea here is to create something artistic, but also have a public space and use public space in an innovative way in order to enhance the neighborhood," Priley says.
A new parklet patio is also expected to pop up in the next 6-8 weeks in front of Capital Dime at 1801 L Street. The complex plans on transforming three parking spaces into a patio complete with trees, benches, string lights and an engraved metal frame. The parklet patio is meant to open concurrently with the restaurant's new outdoor seating.
"For us, we went with something clean and something nice," says 1801 L property owner Sotiri Kolokotronis. "It will be a place where people who will be waiting to be seated in the restaurant or across the street can spend a little time. They can have a cup of coffee, they can have an ice cream or some yogurt."
Blackbird Kitchen + Beer Gallery. 1015 9th St. 498-9224. blackbird-kitchen.com 1801 L. 1801 L St. 443-1801. 1801L.com