New plant-based eatery to offer veganified versions of comfort food classics like fried chicken and mac and cheese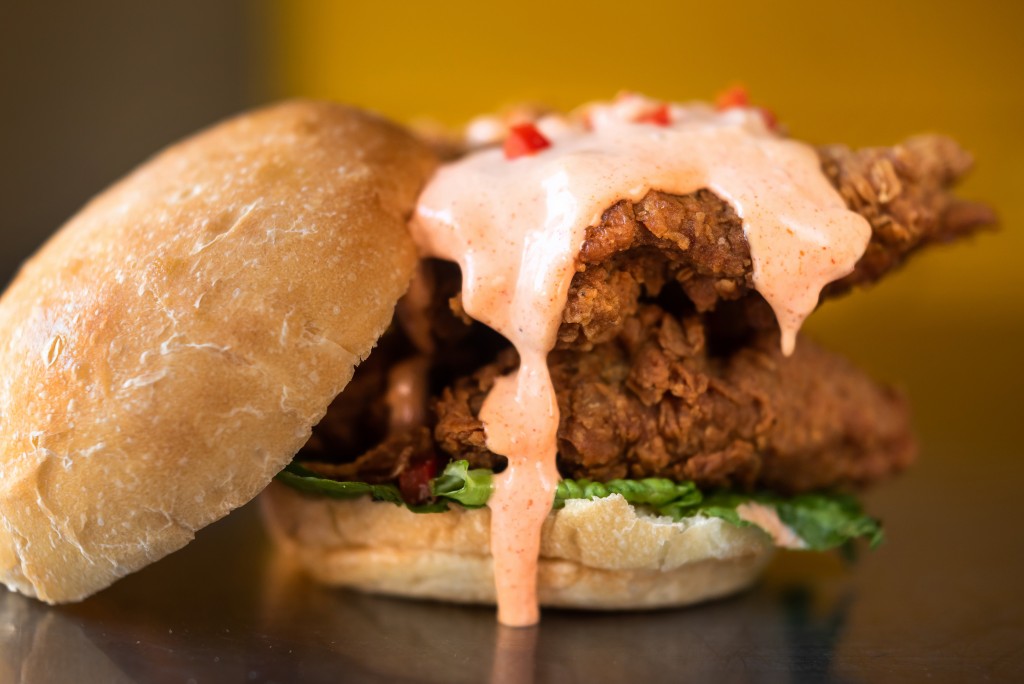 Whether it's your mom's Velveeta mac and cheese or grandma's cast-iron fried chicken, comfort food is typically—gloriously—meaty, cheesy and greasy. But a new restaurant, Pure Soul Plant-Based Eats in East Sacramento, will challenge that convention with its lineup of all-vegan home cookin' when it launches later this month.
The closet-sized diner—a 750-square-foot spot that was the longtime home to the recently shuttered hot dog hut The Weinery—will sling plant-based versions of the aforementioned comfort food favorites, as well as other cozy staples like burgers, mashed potatoes and chili. Sure, there will also be "healthy" options like fruit smoothies and grain-based Buddha bowls loaded with roasted veggies, but owner Jamie Cavanaugh says she wants to cater to people with hankerings for those soulful, homey classics.
"When you want a burger, you want a good burger, or when you want mac and cheese, you want good, creamy mac and cheese," she says. "Just because you're vegan doesn't mean you stop craving those foods."
Describing her menu as "transitional" (that is, approachable for those who think that vegan food is synonymous with rabbit food), Cavanaugh hopes to entice carnivores as well as veg heads to her eatery. Her burgers will feature patties from Beyond Meat, which utilizes pea protein for its juicy imposter (she is also developing a lentil patty). And while the Sacramento native will be making her own chicken substitute in-house using seitan, a wheat protein, she also hopes to bring in Atlas Monroe's wheat-based Cajun fried "chicken," which Cavanaugh served at a pop-up event in September that sold out in less than two hours. The "chicken" has been taking the plant-based world by storm since Ryan Grim, former editor-in-chief of Time magazine's breakfast blog Extra Crispy, declared it the best dish he ate at the 2018 National Fried Chicken Festival in New Orleans. Also adding to Atlas' notoriety: The SF-based company surprisingly turned down a $1 million buyout offer from Shark Tank's Mark Cuban last October.
A rotating lineup of desserts may include Rice Krispies Treats with vegan marshmallows, and weekly specials might feature items like jackfruit tacos on Taco Tuesdays. Cavanaugh—an avid cook who worked in her family's downtown Sacrameto cafe, Tantric Urban Bistro, and had planned to take over the reins before it closed in 2014—has been wanting to open a restaurant with vegan comfort food since adopting a plant-based diet two years ago after, she says, "watching one too many graphic documentaries. I'm a total animal lover."
With the opening of Pure Soul—which is expected to soft-launch at the end of February, and open with regular hours a week later—and more potential concepts down the line (she has designs on a vegan drive-thru, á la your favorite fast food joint, for example), Cavanaugh hopes to turn die-hard carnivores, pescatarians and others of animal-based dietary persuasions into low-key vegan converts.
"[Friends] have said, 'If I could eat this food, I wouldn't have a problem switching over, so hurry up and open,' " she says. "I'm trying!"
715 56th St. puresoulpbeats.com
You Might Also Like
The Other Red "Meat"
Burger Patch pops up in midtown to serve up all-vegan fast food
Opposites Attract