New shop in Folsom will serve gelato in churro-like cones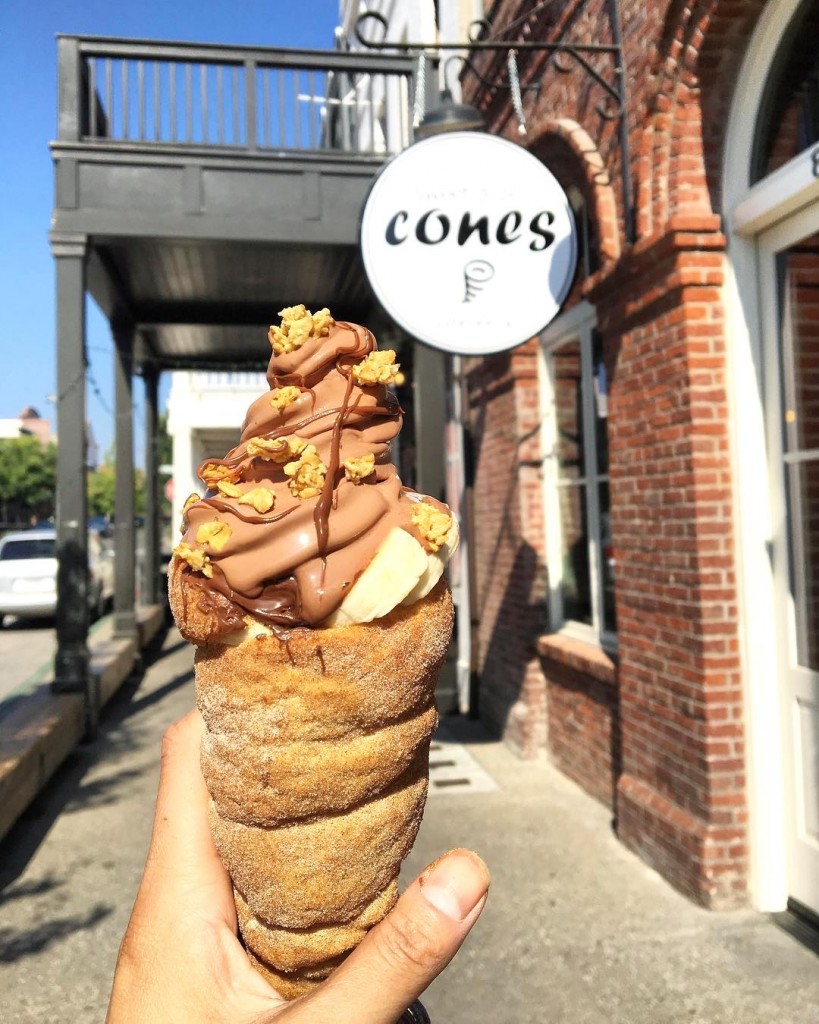 Update: Sweet Dozen Cones will host a grand opening with giveaways on Sept. 15. The shop's regular hours are Wed.-Sun. from 12-8 p.m.
Your holiday weekend just got a whole lot sweeter. A new ice cream shop called Sweet Dozen Cones will soft open in Historic Folsom on Monday, Sept. 4, whipping up soft-serve gelato in doughnut-like cones called chimney cakes, or Romanian kürtőskalács.
"The inside's like a sweet dough, soft and chewy, and the outside has this crispy, crunchy crust," says Nuny Cabanting, who runs Sweet Dozen Cones and the North Highlands doughnut shop Sweet Dozen with her family. "We put a little butter on the outside, and then it's rolled into cinnamon sugar. People compare it to a churro but it's a little softer."
The cones will be handmade daily in small batches. The dough is rolled into strips and wrapped and baked on wooden pins shipped in from Slovenia, where the dessert is popular. Cabanting believes her family's shop is the first in the Sacramento region to offer the pastry cones, which can come dusted with Oreo crumble, toasted coconut or crushed walnuts in lieu of cinnnamon and sugar, and filled with Dannon's chocolate and vanilla bean YoCream gelato.
Sweet Dozen Cones will offer 13 flavor combinations of the dessert, like S'mores (pictured below), Matcha Dreams, Cereal 'n' Milk and Sticky Mango—a cinnamon sugar cone that's filled with chocolate gelato, mango and coconut and topped with sweetened condensed milk. There will also be an apple à la mode variety with apple pie filling and vanilla bean gelato doused in caramel and sprinkled with granola.
At its new location, Sweet Dozen Cones will soon serve some of its sister doughnut shop's signature items—like the doissant (a donut-croissant hybrid)—along with coffee and espresso from Rocklin-based roaster Vaneli's Coffee. Eventually, Cabanting says they also plan to offer a light lunch menu comprising savory versions of the chimney cakes filled with ham and cheese or pizza toppings.
Sweet Dozen Cones will soft open at 807 Sutter St. in Folsom on Sept. 4 from 12-9 p.m. and will be open Wed-Sun. from 12-9 p.m. For more information, visit sweetdozen.com.
You Might Also Like
Beat the heat with Ginger Elizabeth's macaron ice cream sandwiches
Sweet Rides: five ice cream trucks to chase down the street
Four frozen, boozy drinks to put on your tab this summer