New sports bar and restaurant project underway near downtown arena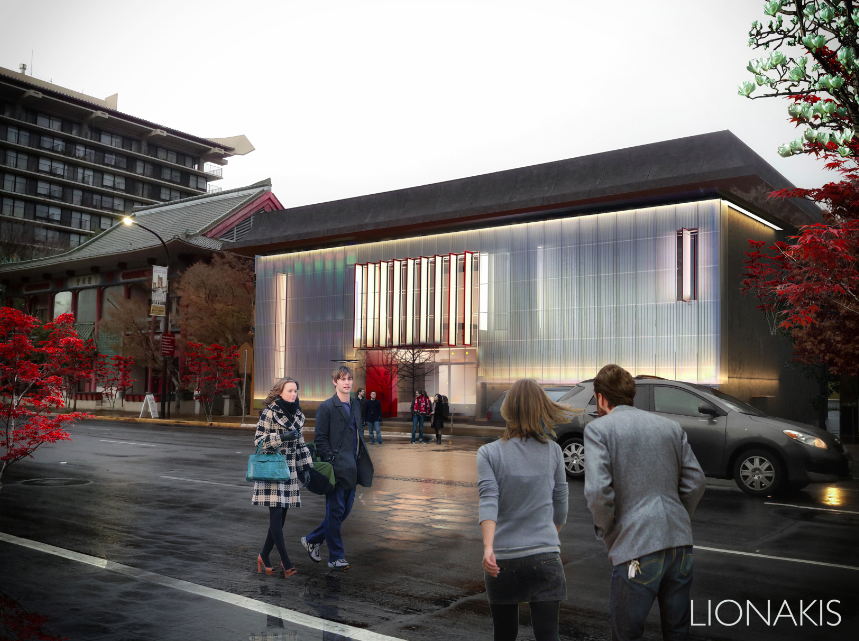 April 1 update: Shown above is a new rendering for the Triple Double by Sacramento-based architectural firm Lionakis.
​**************
Plans are in place for a downtown building at 419 J Street—formerly the home of Zokku nightclub—to be redesigned and welcome a new sports bar and restaurant, which is scheduled to open in June.
Playing off of the basketball theme—with downtown's Entertainment and Sports Complex in the works less than a block away on J Street—the name for the location is Triple Double. The venue is set to occupy two stories and include a large restaurant, a bar filled with flat screen TVs and areas for private banquets.
Curtis Smith, CEO of Silver Lining Properties, purchased the three-story, 12,825-square-foot building last August for $2.1 million and has been meeting with possible tenants for the space for several months. Contracts were finalized March 2 with a restaurant ownership group composed of couples Joseph Waltz and Emma Berry, and Trevor and Kristina Elliott. All four have extensive restaurant backgrounds in cities from New Orleans to Waikiki to Philadelphia.
As construction for the ESC and adjacent hotel/retail/residential tower continues across the street, Waltz says the timing and location are right for a sports bar and restaurant to occupy the space."When we found this location, it was perfect," Waltz says. "We would love to cater toward everybody coming in to watch the games at the arena and hopefully the new soccer complex [at the nearby railyards for the Republic FC] and tap into the sports crowd. But on the other hand, we'd also like to tap into the people who are interested in really good food."That means elevated bar food like smoked meats, raw seafood dishes and farm-to-fork cuisine. Waltz is communicating with local farmers and working on planting a rooftop garden from which he plans to source ingredients for the kitchen. He says he also hopes to tap into his Southern roots for Cajun-style dishes and events like seafood boils."For both parties involved, this is our dream—to open our own place and express ourselves through our food," Waltz says
Trevor and Kristina Elliott are both graduates from New York's Culinary Institute of America, and they say they plan to move to the Sacramento region in May as Trevor closes out his roles as the executive chef of both the gastropub Cresheim Valley Grain Exchange and the Falls Tap Room in Philadelphia.
Trevor and Waltz met in 2011 while working at acclaimed Japanese chef Roy Yamaguchi's restaurant Roy's in Waikiki, Hawaii. Waltz, originally from North Carolina, then held stints in New Orleans, most notably under chef and cookbook author John Besh before becoming part of the opening staff of James Beard Award-winning Pêche Seafood Grill. Kristina's background is in the corporate restaurant field and Emma's background is in bartending.
Sacramento architectural firm Lionakis was hired to complete the redesign of the building, which the developer Smith says will trade its Chinese-inflected architectural characteristics for a more modern style.
"I know that whole area is going to change dramatically in the next couple of years, so we're trying to do a design that goes along with the renderings of not just the arena, but the other buildings surrounding it," Smith says.
Smith says remodel construction is expected to start in the next couple of weeks. Stay tuned to sactownmag.com for updates.
Related Links
ESPN doc on the Sacramento Kings to debut at New York's Tribeca Film Festival
New time-lapse video shows Sacramento on the rise
Trailer released for new Sacramento Kings documentary