New tavern to open at former Cask & Barrel spot in North Sacramento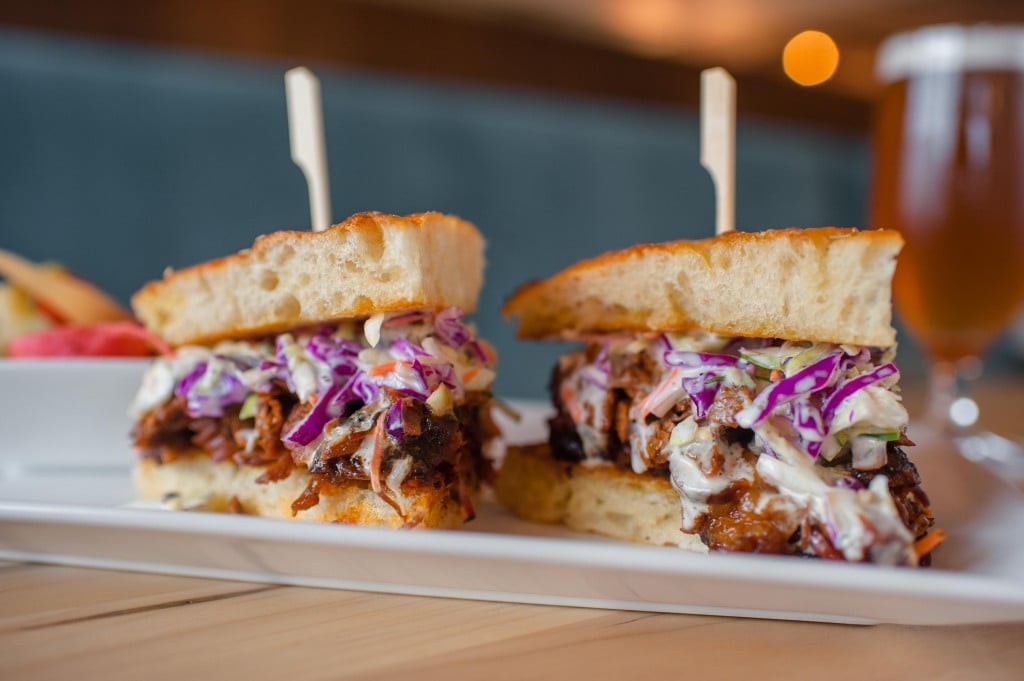 Update: Woodlake Tavern will host its grand opening Tuesday, Jan. 10, from 4-9 p.m. Following that evening, the restaurant's regular hours will be Tues.-Thurs. from 4-9 p.m., Friday from 4-10 p.m., and Saturday from 5-10 p.m., with happy hour available from 4-6 p.m. Tues.-Fri.
********
Deneb Williams, who has served as executive chef of The Firehouse for the past 10 years, and his wife Elizabeth-Rose Mandalou, who has worked at Ella as a sommelier for the past six, will open three restaurants before the end of next year, with the first, Woodlake Tavern, slated for an early January opening in North Sacramento.
Under the business moniker WM Restaurants, Williams and Mandalou have taken over the restaurant and event space on Del Paso Boulevard that formerly housed Enotria, and most recently Cask & Barrel. The husband-wife team is converting the space into two restaurants—Woodlake Tavern, which has an invitation-only soft opening planned for Jan. 5-7 and a grand opening planned for Jan. 10, and Uptown Pizza Kitchen, which they hope to open around April/May. Williams says they are focusing on "craft comfort" spots with good food that align with the neighborhood's needs.
"In this neighborhood there are no grocery stores; there's really no restaurants," he says. "I don't know about you, but I don't want to cook every single night. We're always looking for that, 'I don't want to go out to a restaurant but I don't want to cook' [place]."
In the soon-to-open Woodlake Tavern, beige paint and '90s-era carpet and wall sconces have been replaced with gleaming white walls and funky, geometric floor tiles. A chandelier will hang front and center, while edgy, contemporary works by local artists will decorate the interior. Williams, along with head chef Matthew Stauss, is putting together a comfort food-focused menu of small plates (pan-friend oysters and a "carnivore sampler"), barbecue (a Texas-style beef brisket and a half-rack of pork ribs prepared in a new rotisserie smoker out back), sandwiches (a shrimp and oyster roll), and other inventive house-made specialties including chicken pot pie, polenta succotash and beef tallow fries. The bar will also take a seasonal approach to its craft cocktail program.
Uptown Pizza Kitchen will inhabit the connected space, with its entrance on Del Paso Boulevard highlighted by a large vertical sign with light bulbs and an arrow pointing to the door ("We're going for that art deco, theater style," says Williams). Aiming for a more casual vibe, the couple envisions a neighborhood joint where folks can grab pizza, pasta, panini and salads with their families, or order a pitcher of craft beer and watch a game on the wall-mounted TVs.
"We're not trying to reinvent any wheels, or do anything crazy in this space," Mandalou says. "Just well-made food and great drinks, and trying to keep the price points better for this neighborhood."
"My chefs and I have been in fine dining for years and years," adds Williams. "We're going to try and take the same approach of standards—the same type of passion for attention to detail—and bring it to this venue of comfort food. That's how we like to eat anyway. I don't go out to four-star, fine-dining dinners three times a week—I just want real food."
Part of the back area of the shared space, which was previously used primarily for events (Williams hopes to rent it out for events as well), will be converted into covered, heated seating for outdoor diners, while a waterfall, outdoor fire pit and resin furniture will contribute to the relaxed atmosphere.
The couple's third space, Allora, which will inhabit the erstwhile Rust Florist shop on Folsom Boulevard in East Sacramento, will boast more of a fine dining atmosphere according to Williams, and is slated to open by fall of 2017.
1439 Del Paso Blvd. 514-0405. woodlaketavern.com
You Might Also Like
New sports bar to open across from Golden 1 Center in January
Wine and dine at 15 of the region's best restaurant patios
Grange Restaurant & Bar reopens with fresh new design details