New vintage craft store opening in Oak Park this fall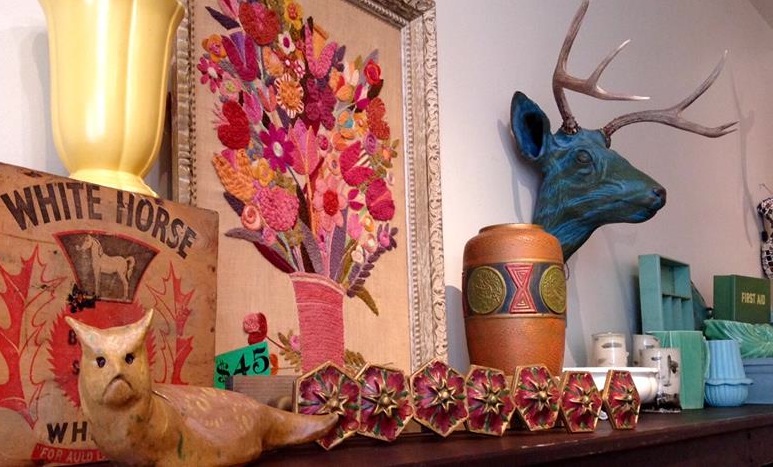 For Lori Easterwood, what's old is newly fashionable.
The former librarian is opening Make/Do Sacramento, a vintage, fabric and handmade goods shop, this fall in Oak Park. The cozy boutique will feature rare and vintage fabrics, antiques, craft materials and locally handmade products including jewelry, ceramics and bags.
"A lot of things are languishing in closets that can be brought out and repurposed rather than just buying new—I love finding the utility in things," Easterwood says.
Currently, Make/Do operates as an online store, which highlights items like reclaimed, steam punk-style jewelry by Sacramento native Christina Edmondson and a ceramic elk skull wall lamp by Velk that's adorned by mosaic tiles and light bulbs on its antlers.
Easterwood, who has been collecting fabric for years, hunts for vintage material at estate sales around town. The crème de la crème of treasured rarities: barkcloth, a heavy-duty fabric from the '30s and '40s (with a reappearance throughout the '60s) that is repurposed into pillow and bag coverings in Easterwood's shop. She eventually hopes that customers will sell their vintage fabrics for cash, as they would clothes in thrift stores.
In addition to hard-to-find fabrics, Make/Do will sell embroidery craft kits with retro patterns and fabric yo-yo kits (round quilt toppers made of gathered scraps of leftover fabric) that Easterwood constructed. (The shop owner also plans to lead craft classes, which she did when she worked at the Sacramento Public Library.) Other items she'd like to feature include locally made soaps, candles and clothing made from vintage fabric.
"I want to keep it local and give local artists a spot for reasonable consignment in a great and growing part of town," Easterwood says. "I want them to be able to really feel that Sacramento pride."
2907 35th St. makedosac.com
You Might Also Like
Warehouse Artist Lofts to launch a public market in May
Tower Records doc 'All Things Must Pass' coming to theaters in September
13 top farmers' markets to visit around the Sacramento region