16 Fun Food Festivals in 2022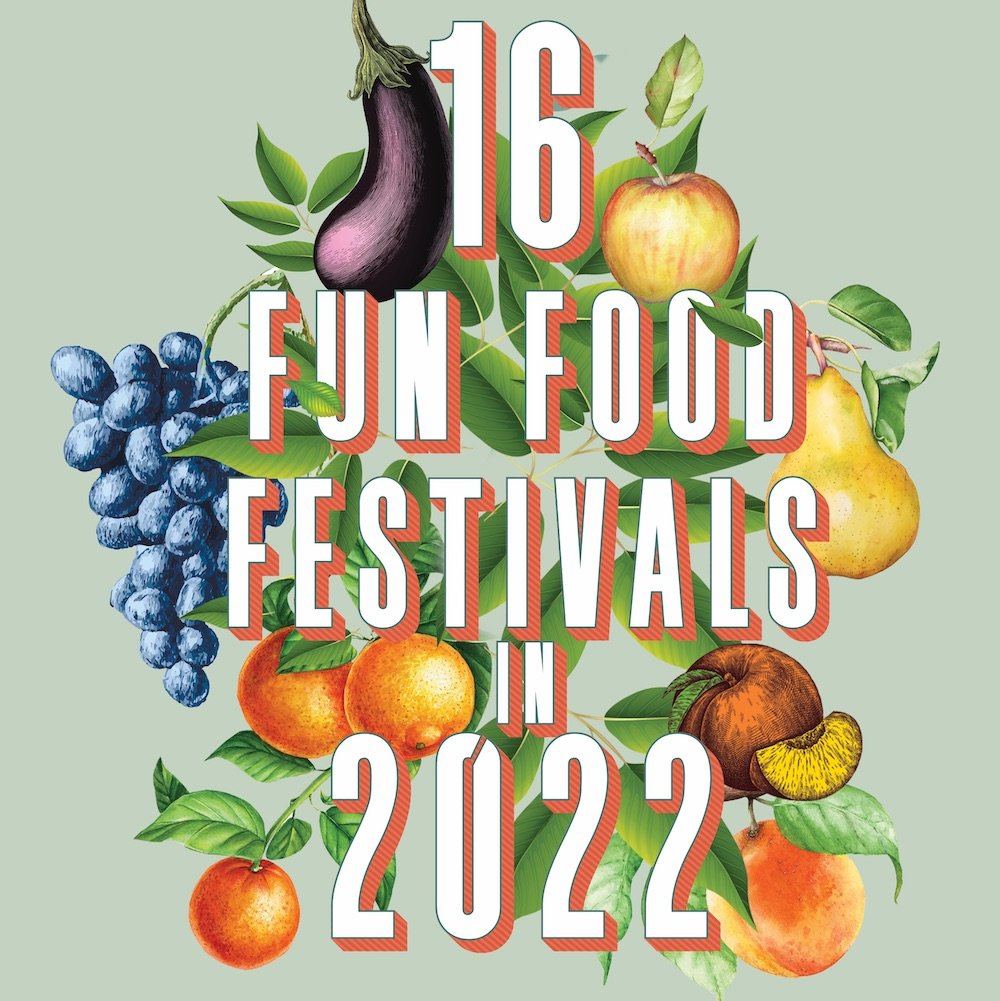 After a long pandemic pause, harvest fairs are back and bursting with all the varied flavors of Northern California's farm-fresh bounty. From pear pies in Courtland to asparagus ice cream in Stockton and mandarin-topped pizza in Auburn, here's our guide to a year's worth of produce-packed feast-ivals. Your fruitful journey awaits.
---

FEB. 27 For a couple of weeks every February, tree branches in orchards throughout Capay Valley appear as though they're covered in slightly rose-tinted snow. The white petals creating this winter wonderland effect are almond blossoms, the delicate flowers of the persnickety namesake trees that are grown commercially in only five regions in the world—including here.
Sacramento, among its other nicknames, is known as the Almond Capital of the World, with the surrounding Central Valley yielding about 80% of all the almonds on the planet and sustaining a $9.2 billion statewide industry.
One of the most picturesque and productive of California's almond-growing areas is the aforementioned Capay Valley in Yolo County, which has been celebrating its agrarian heritage since 1915. Its multi-town fest offers visitors an almond-themed array of treats and attractions as they meander along Highway 16 through Rumsey, Guinda, Brooks, Capay, Esparto and Madison.
"Doesn't matter where you go," says Randy Jacobs, president of the Esparto Regional Chamber of Commerce. "You're always going to find something you like."
This February, after skipping last year due to Covid, the almond festival promises to return to its success in 2020, when the event boasted more than 70 purveyors and food trucks, as well as live music at the Esparto Fire Station, orchard tours and beer gardens. Past years have also included unique eats like almond blossom ice cream, and the presentation of the Almond Queen in Esparto. So rest assured that no matter the final 2022 lineup, there will be plenty of deliciously different ways to go nuts. 8 a.m.-4 p.m. Locations vary. espartoregionalchamber.com —Sean Timm
MUST EAT
Don't miss the homemade Almond Roca from the Western Yolo Grange organization in Guinda. But you'll want to move fast—the group's decades-old Granny Wyatt recipe, as the delicacy is known around these parts, sells out almost every year.
MAY 6-8 "I've tasted asparagus from different regions and countries, but there's nothing better than Delta asparagus," says Tony Noceti, organizer of the San Joaquin Asparagus Festival, the 36th incarnation of which will take place this spring in Stockton. The 2022 festival is expected to serve more than 10,000 pounds of spears in inventive ways that include bacon-wrapped bundles by Roe's Kitchen or asparagus corn dogs from Space Age Food Concessions or as refreshment in the form of asparagus lemonade by Mu's Kitchen.
The quick-growing vegetable, which can shoot up to 7 inches in one day, will also be available fresh at the festival: Look for bright green stalks and tender, purplish tips; when you're ready to cook it, just snap off the fibrous ends. While the Asparagus Cup car race is no longer, you can still get your motor running by hitching a rumbling ride on one of Straight Up Racing's monster trucks.
In spite of the region's changing landscape—at its peak, Stockton produced almost 25,000 acres of its signature crop, but is now down to a single 450-acre asparagus farm—Noceti hopes to keep the festival alive for as long as possible. "This is the people's festival. It belongs to San Joaquin County," he says. "I'll grow the asparagus myself if I have to!" Friday & Saturday noon-9 p.m. Sunday noon-8 p.m. San Joaquin County Fairgrounds. 1658 S. Airport Way. Stockton. sanjoaquinasparagusfestival.net —Curtis Yee
MUST EAT
The namesake vegetable is puréed for asparagus ice cream from Gleason's. You might not want to save dessert for last, though: This treat typically sells out on the last day.
MAY 7 Talk about busy bees: Nearly 2 million colonies of honeybees are needed every year just to pollinate almonds in the Golden State. To fête the indispensable insect, Woodland has been hosting the California Honey Festival, a collaborative event with UC Davis' Honey and Pollination Center, since 2017.
While visitors can buzz around watching dozens of beehives in full honey-making mode, the sweet spot is the Honey Lab. There, a 7-foot-diameter flavor and aroma wheel will help festivalgoers discover various varieties of the viscous golden nectar, including buckwheat and sweet clover. For recipe ideas, attend a cooking demo, which have been led by local chefs like Justin Severson of Father Paddy's Irish Pub in previous years. (And for a honey of a time leading up to the big day, head out to Woodland from April 30 through May 7 for Honey Restaurant Week. Themed offerings will include almond-crusted prawns with habañero honey dip at Father Paddy's and hot honey-glazed fried chicken at Morgan's on Main.)
The festival will also feature a pop-up garden with bee-loving flowers like poppies, buttercups, daisies and sweet peas to give attendees a granular view of the way bees navigate the plant kingdom. But their contributions to this region are much more significant than what a pollination garden could possibly demonstrate. "Yolo County is a major player in the farm-to-fork movement," says festival co-founder Al Eby. "If we didn't have the pollinations, none of this agriculture would exist." 10 a.m.-5 p.m. Main St. Woodland. californiahoneyfestival.com —Curtis Yee
MUST EAT
Taste the world's oldest adult beverage, honey wine (aka mead), at the Beer Garden. For a carbonated twist on the 4,000-year-old ambrosia, seek out Rancho Cordova's Strad Meadery, which will likely be pouring its signature sparkling versions.