16 Fun Food Festivals in 2022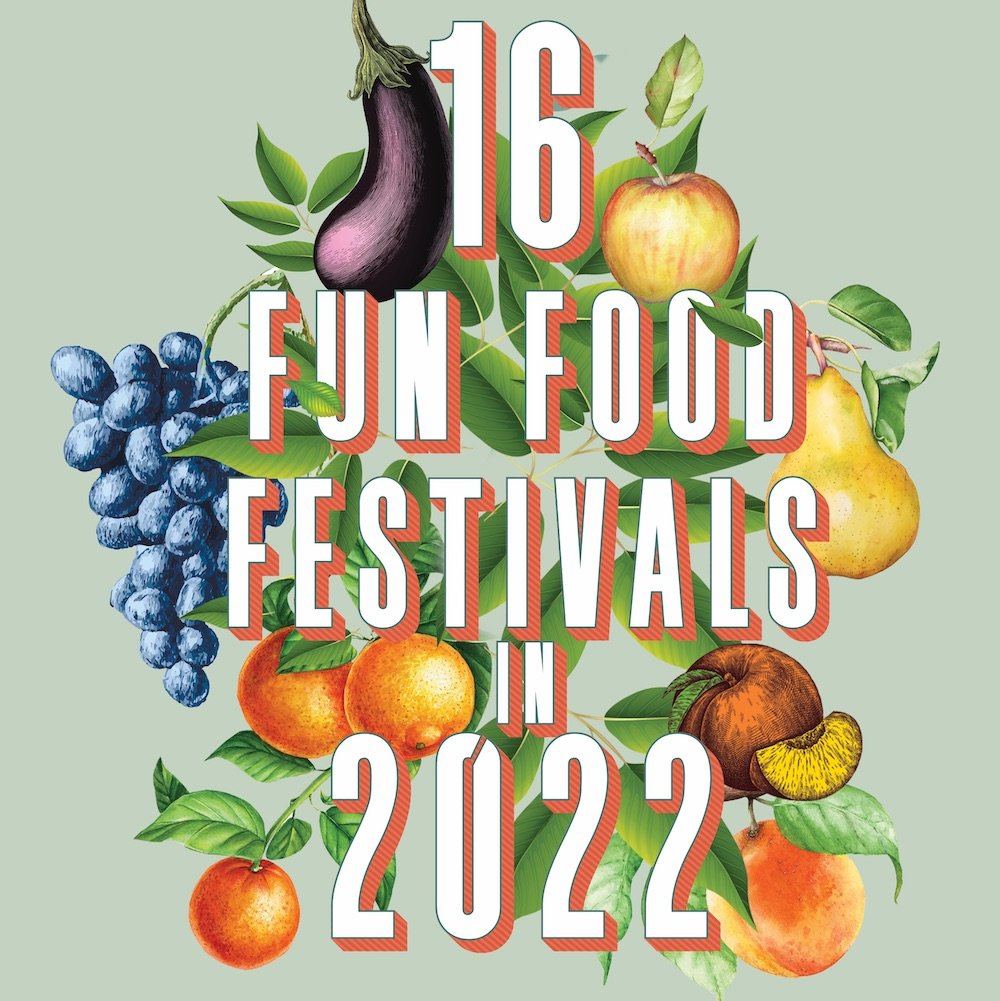 After a long pandemic pause, harvest fairs are back and bursting with all the varied flavors of Northern California's farm-fresh bounty. From pear pies in Courtland to asparagus ice cream in Stockton and mandarin-topped pizza in Auburn, here's our guide to a year's worth of produce-packed feast-ivals. Your fruitful journey awaits.
---

FEB. 27 For a couple of weeks every February, tree branches in orchards throughout Capay Valley appear as though they're covered in slightly rose-tinted snow. The white petals creating this winter wonderland effect are almond blossoms, the delicate flowers of the persnickety namesake trees that are grown commercially in only five regions in the world—including here.
Sacramento, among its other nicknames, is known as the Almond Capital of the World, with the surrounding Central Valley yielding about 80% of all the almonds on the planet and sustaining a $9.2 billion statewide industry.
One of the most picturesque and productive of California's almond-growing areas is the aforementioned Capay Valley in Yolo County, which has been celebrating its agrarian heritage since 1915. Its multi-town fest offers visitors an almond-themed array of treats and attractions as they meander along Highway 16 through Rumsey, Guinda, Brooks, Capay, Esparto and Madison.
"Doesn't matter where you go," says Randy Jacobs, president of the Esparto Regional Chamber of Commerce. "You're always going to find something you like."
This February, after skipping last year due to Covid, the almond festival promises to return to its success in 2020, when the event boasted more than 70 purveyors and food trucks, as well as live music at the Esparto Fire Station, orchard tours and beer gardens. Past years have also included unique eats like almond blossom ice cream, and the presentation of the Almond Queen in Esparto. So rest assured that no matter the final 2022 lineup, there will be plenty of deliciously different ways to go nuts. 8 a.m.-4 p.m. Locations vary. espartoregionalchamber.com —Sean Timm
MUST EAT
Don't miss the homemade Almond Roca from the Western Yolo Grange organization in Guinda. But you'll want to move fast—the group's decades-old Granny Wyatt recipe, as the delicacy is known around these parts, sells out almost every year.
MAY 6-8 "I've tasted asparagus from different regions and countries, but there's nothing better than Delta asparagus," says Tony Noceti, organizer of the San Joaquin Asparagus Festival, the 36th incarnation of which will take place this spring in Stockton. The 2022 festival is expected to serve more than 10,000 pounds of spears in inventive ways that include bacon-wrapped bundles by Roe's Kitchen or asparagus corn dogs from Space Age Food Concessions or as refreshment in the form of asparagus lemonade by Mu's Kitchen.
The quick-growing vegetable, which can shoot up to 7 inches in one day, will also be available fresh at the festival: Look for bright green stalks and tender, purplish tips; when you're ready to cook it, just snap off the fibrous ends. While the Asparagus Cup car race is no longer, you can still get your motor running by hitching a rumbling ride on one of Straight Up Racing's monster trucks.
In spite of the region's changing landscape—at its peak, Stockton produced almost 25,000 acres of its signature crop, but is now down to a single 450-acre asparagus farm—Noceti hopes to keep the festival alive for as long as possible. "This is the people's festival. It belongs to San Joaquin County," he says. "I'll grow the asparagus myself if I have to!" Friday & Saturday noon-9 p.m. Sunday noon-8 p.m. San Joaquin County Fairgrounds. 1658 S. Airport Way. Stockton. sanjoaquinasparagusfestival.net —Curtis Yee
MUST EAT
The namesake vegetable is puréed for asparagus ice cream from Gleason's. You might not want to save dessert for last, though: This treat typically sells out on the last day.
MAY 7 Talk about busy bees: Nearly 2 million colonies of honeybees are needed every year just to pollinate almonds in the Golden State. To fête the indispensable insect, Woodland has been hosting the California Honey Festival, a collaborative event with UC Davis' Honey and Pollination Center, since 2017.
While visitors can buzz around watching dozens of beehives in full honey-making mode, the sweet spot is the Honey Lab. There, a 7-foot-diameter flavor and aroma wheel will help festivalgoers discover various varieties of the viscous golden nectar, including buckwheat and sweet clover. For recipe ideas, attend a cooking demo, which have been led by local chefs like Justin Severson of Father Paddy's Irish Pub in previous years. (And for a honey of a time leading up to the big day, head out to Woodland from April 30 through May 7 for Honey Restaurant Week. Themed offerings will include almond-crusted prawns with habañero honey dip at Father Paddy's and hot honey-glazed fried chicken at Morgan's on Main.)
The festival will also feature a pop-up garden with bee-loving flowers like poppies, buttercups, daisies and sweet peas to give attendees a granular view of the way bees navigate the plant kingdom. But their contributions to this region are much more significant than what a pollination garden could possibly demonstrate. "Yolo County is a major player in the farm-to-fork movement," says festival co-founder Al Eby. "If we didn't have the pollinations, none of this agriculture would exist." 10 a.m.-5 p.m. Main St. Woodland. californiahoneyfestival.com —Curtis Yee
MUST EAT
Taste the world's oldest adult beverage, honey wine (aka mead), at the Beer Garden. For a carbonated twist on the 4,000-year-old ambrosia, seek out Rancho Cordova's Strad Meadery, which will likely be pouring its signature sparkling versions.
MAY 28-29 While the recent spate of mushroom media—Michael Pollan's best-seller How to Change Your Mind, for example, or the Brie Larson-narrated documentary Fantastic Fungi—has newly opened minds to 'shroomy wonders, psychedelic and otherwise, the small Siskiyou County town of McCloud has been celebrating the vegetable for nearly 20 years.
Held in the spring—prime mushroom-harvesting time for the snowmelt-soaked forests of neighboring Mount Shasta—the McCloud Mushroom, Music & Wine Festival features two days of fungi-focused fun. The 2022 program lineup won't be finalized until closer to the event, but master mycologists like Eric Schramm—owner of Mendocino Mushroom, whose clients include star chefs like Daniel Boulud and Thomas Keller—are likely to host workshops during the fest (for instance, you might think you hit pay dirt finding truffles in McCloud, but you'll learn that not one of its four varieties is edible).
While the event's food offerings adjust each year, past eats have included paella packed with porcini; potato croquettes imparted with the earthy taste of morels; and churros topped with a dust of dried candy cap mushrooms, famous for their sweet maple flavor.
Budding foragers can join Bay Area chef Todd Spanier, who grew up mushroom hunting in these parts with his grandfather, and members of his Chef's Lounge community on a guided quest for chanterelles, boletes and shaggy manes—a few of the approximately 700 edible varieties in California. The excursion will end with a foraged feast, for which Spanier and company will sauté the earthy bounty in copious amounts of butter over a propane camp stove. "There's nothing more intimate than picking food from nature," he says. 10 a.m.-6 p.m. daily. Main St. McCloud. mccloudchamber.com —Jessica Rine
MUST EAT
The mushroom jerky from Sebastopol's Jewels of the Forest is a perennial hit. Brothers Wyatt and Hunter Bryson dehydrate baby oyster mushrooms for eight hours, resulting in a chewy camping snack with flavors like sweet teriyaki and Thai coconut curry.
JUNE 3-5 If you ask Dave Santos, an apricot farmer in Patterson for over 50 years, what an apricot tastes like, he'll tell you, "It's like tasting wine. You can get hints of black pepper, almond or even caramel." But, he adds, chances are you won't get those tantalizing flavors unless you bite into a fresh-picked apricot from his hometown, aka the Apricot Capital of the World.
In the 1950s, the Stanislaus County town produced about 40% of the nation's "cots" (industry slang for the stone fruit). While the apricot yield has dwindled since then, it still honors the crop at its Apricot Fiesta, which began in 1970 and features such varieties as the firm Golden Sweet, the blush-hued Apache and the aptly named Patterson, which has skin like a sunset, soft yellow deepening to hazy orange, that gives way to juicy flesh with a complex blend of those aforementioned almond and caramel notes.
While the versatility of the fruit is showcased in the cooked fiesta fare (think apricot-topped funnel cakes, apricot shortcake and barbecued ribs with apricot glaze), nothing beats the simple pleasure of biting into a fresh-picked cot. This year, organizers hope to reintroduce the "Whiskerino" mustache competition, which was last held in the '70s, as well as host a hot air balloon launch and mount a grander version of the already bang-up fireworks show. Make sure to get a good seat for the pyrotechnics. Says festival president Kristen Valentine, "People won't want to miss it." Times vary by day. Downtown Patterson. apricotfiesta.com —Jessica Rine
MUST EAT
Members of Patterson's Boy Scout Troop 81 hand-churn over 100 gallons of apricot ice cream for the fiesta, serving it up in scoops or blended into thick and creamy shakes.
JUNE 4 In 1909, it rained Rainiers (and Royal Anns and Bings) in San Leandro and the record bumper cherry crop was celebrated with a citywide festival, complete with a 21-gun salute and fresh cherry giveaways weighing in at 15 tons. Today, the cherry orchards are long gone—razed for urban sprawl—but agriculture heritage in this East Bay city lives on in the town's cherry festival, which takes place on the first Saturday in June.
A farmers' market is expected to sell nearly 10,000 pounds of the stone fruit (all of them grown in Northern and Central California), and home cooks may be able to vie for the honor of cherry pie champ in a baking contest. Look for Billboard-ranked musical acts (past headliners have included R&B group En Vogue and Oakland soul singer-songwriter Goapele), local dance troupes and martial arts dojos to perform on two stages, dubbed the Cherry Blossom and the Royal Ann. And at the San Leandro History Museum, cow-roping and butter-churning are often taught by docents donning 1850s-era garb.
In addition to the usual cherr-ific fare (think cherry-topped funnel cake and cherry crumble), festivalgoers can count on finding creative concoctions—past examples have included an Indian-style ice cream from Koolfi Creamery with mix-ins of dark cherry, almond and Ghirardelli chocolate, and a cherry-studded rosemary focaccia from As Kneaded Bakery. And San Leandro brewery Cleophus Quealy has been known to make a 150-gallon batch of its signature Belgian cherry sour specifically for the fest: The tart beer is fermented with wild yeast and infused with 300 pounds of sour-cherry mash to achieve that ideal pucker. 11 a.m.-6 p.m. Downtown San Leandro. sanleandro.org —Jessica Rine
MUST EAT
A cherry glaze coats the popular namesake snack from Hayward-based Old Fashioned Kettle Corn. "It's like caramel corn, but with a fruity pop of sweet and sour," says festival coordinator Ely Hwang.
JUNE 11-12 The artichoke may have been declared the state vegetable of California in 2013, but the Monterey County town of Castroville, which produces nearly two-thirds of the country's crop, has been celebrating this tasty thistle since 1959.
Castroville's coastal climate—warm days and cool nights, thanks to a reliable marine layer—allows the artichokes to grow nice and meaty without blooming a headdress of purple fringe (a sign that it's past its prime). And the artichoke festival—which moved to the city of Monterey to save costs in 2013—showcases the area's bulbous bounty, going beyond the traditional steamed and grilled preparations of the vegetable with inventive offerings like vegan artichoke lumpia or artichoke ice cream.
"Artichokes have a little bit of panache and mystery," adds Pat Hopper, former manager of the California Artichoke Advisory Board. She will attempt to demystify the heavily armored plant at her popular "ABCs of Artichokes" talk, revealing the proper way to peel back the globe's layers and expose its buttery heart. If you want to take on the barbed buds yourself, grab a selection of fresh-picked crops at the on-site Ocean Mist farmers' market.
This year's celebration will also see the return of events like an artichoke eating contest, chef demos, a quilting competition and a pre-fest 5K beach run, plus the debut of other activities. "We want to keep adding new things for people to enjoy," says festival president Katheryn Parish. "Covid may have slowed us down, but we've got plenty of big plans." Saturday 10 a.m.-6 p.m. Sunday 10 a.m.-5 p.m. Monterey County Fair & Event Center. 2004 Fairground Rd. Monterey. artichokefestival.org —Curtis Yee
MUST EAT
Castroville's Giant Artichoke restaurant will flash-fry 3,000 pounds of artichoke hearts for the event. While the finger foods will be served naked, save for a sprinkling of salt and a lemon wedge, you can ask for ranch dressing on the side.
JULY 15-16 Its reputation as a nutrient-rich, cancer-preventing, heart-disease-fighting super fruit may only be blossoming, but Sutter and Yuba counties have long had a soft spot for the succulent peach. The region will host its 22nd "Peach Bowl" in downtown Marysville in July, at the sweltering height of the crop's harvest.
From firm-textured Summersets to creamy white peaches, a wide assortment of the fuzzy fruit will be available at the two-day fête, but for Steve Lendl, who owns KT Farm and Produce in Yuba City, the must-bite is the O'Henry, a sweet blushing beauty whose hearty flesh makes it perfect for both eating off the tree and stuffing into baked goods. As for the latter, register for the peach pie eating contest, where you might get lucky with an O'Henry-filled crust. Even if you don't, Red Globe, Sun Haven and Rio Oso Gem are also just peachy in pastries and make appearances at the event.
You can also participate in other competitions like the water balloon relay. Or join the 5K run and walk to earn that hot dog with peach sauce, peach pie ice cream and, of course, peach cobbler (try the one from Sodaro Orchards, whose namesake family started the peach fest in 1999, but act quickly—their cobbler sold out early last year). That said, it's hard to beat the stone fruit in its original orbed form. "Peaches are like Starburst candy," raves Lendl. "When you bite into them, the juiciness—oh man! There's nothing like it." Friday 4-10 p.m. Saturday 10 a.m.-10 p.m. Downtown Marysville. marysvillepeachfest.com —Curtis Yee
MUST EAT
With their tangy richness, the peach-glazed ribs from Ozark Backwoods BBQ are a longtime festival favorite. For those looking for a new flavor adventure, the Sutter-based catering company is upping the thematic ante this year with additional offerings like peach salsa and peach teriyaki shish kabobs.
JULY 31 In the tiny Delta town of Courtland, the last Sunday of July is known as the "Big Day"—a celebration in honor of its primary crop, the pear.
The day is expected to begin with early morning runs along winding pear-tree-lined roads to rev up the metabolism for a feast of fair treats like pear fritters, pear doughnuts and pear mimosas.
"Pears brought a lot of farmers and families to the area 160 years ago," says Ryan Elliot, a sixth-generation farmer at Stillwater Orchards. "We still pay homage to the heritage they started."
While Courtland growers cultivate a variety of pears, from the russet-skinned Golden Bosc to the creamy French Butter, the most popular is the Bartlett, which turns golden yellow to signal the moment of custardy ripeness. Just-picked fruit will be available by the bushelful at the festival and can also be tasted in fresh-baked pie form, a recipe carefully guarded by the River Delta Unified School District's PTA coalition. If you want your slice a la mode, Gunther's pear-studded ice cream is likely to put a cool, creamy spin on Big Day swelter.
The Pear Parade is the fair's high point: You'll see a dedicated tractor pulling the year's largest pear, as determined by a cutthroat weigh-off (2019's winner registered on the scale at 1 pound, 3 ounces) and the Pear Lady making her much-anticipated appearance. "In an [area] of 600, this is the one day of the year when there's actually traffic," says Elliot, laughing. 9 a.m.-5 p.m. 180 Primasing Ave. Courtland. pearfair.com —Curtis Yee
MUST EAT
Using a decade-old hush-hush recipe, homemade pear pies are baked by PTA parents, who dish out over a thousand slices of the dessert to bankroll student activities.
AUG. 13-14 In August, 5 acres of apple-themed fun can be found in the shade of the old oak trees at Sebastopol's Ragle Ranch Regional Park. During the Gravenstein Apple Fair—a community tribute to the heirloom summer fruit that flourishes in the warm days and cool coastal nights of west Sonoma County—mounds of this sweet-tart micro-grow will be on hand for everything from snacking to juggling.
Grab a seat on a hay bale and try the fruit in a slice of homemade Gravenstein pie or a handheld apple fry pie. If you're in the mood for something savory yet equally appley, sink your teeth into an apple BLT or a sandwich layered with Gravensteins, blue cheese and wildflower honey. If you'd prefer to drink your apple a day instead, Slow Food USA is expected to offer fresh-pressed apple juice and Windsor-based cidery Tilted Shed will tap a special festival brew.
You can try your hand at farm life with how-tos ranging from cow milking to butter churning to the Boot Scootin' Boogie, a popular country line dance. For some, the fair is a world away from the daily grind of city living. "It's a very rich experience and it's low-tech too," says Carmen Snyder, the fair's manager. "As you walk around, [you may see] people on their phones taking pictures because it's so colorful and beautiful, but people are not stuck to their phones texting. It really feels like you're kind of back in time and just experiencing the moment." 10 a.m.-6 p.m. daily. Ragle Ranch Regional Park. 500 Ragle Ranch Rd. Sebastopol. gravensteinapplefair.com —Jessica Rine
MUST EAT
Headlining this year's offerings will be apple fritters by the Sonoma County Farm Trails organization, which produces the fest and will serve up its deep-fried apple rings dusted with powdered sugar and cinnamon.
SEPT. 15-18 Known for its bold-flavored, hearty-skinned zinfandel and cabernet grapes, Lodi has been touting its vine growers and vino makers with a grape festival since shortly after the repeal of Prohibition— the first official event took place in 1934.
More recently, this San Joaquin County town has been in the limelight for the Lodi Rules for Sustainable Winegrowing—formed in 2005, the program has been gaining international implementation in vineyards across the globe. But as Lodi's reach expands, its traditions retain their small-town charm. The grape fest, a state fair in miniature, has a classic Ferris wheel and a long-standing grape mural competition, in which teams use fresh grapes and vines to create original artwork.
When in a wine town, do as the locals do— drink vino. At the four-day gathering, this pastime is made convenient with local wineries gathered in one pavilion. While this year's list of vintners is to be determined, past participants have included Oak Farm Vineyards and Michael David Winery, which was named American Winery of the Year in 2020 by Wine Enthusiast. Don't attempt such merrymaking on an empty stomach, though—a couple of the popular grilled-cheese-and-grape sandwiches from A Moveable Feast should soften the buzz. Times vary by day. 413 E. Lockeford St. Lodi. grapefestival.com —Curtis Yee
MUST SIP
Shell out $15 for a tasting flight at the Grape Pavilion, which gets you a commemorative wine glass and 10 pours from various Lodi wineries, including potentially Robert Lauchland Vineyards, whose 2015 "Hat Trick" white field blend nabbed a gold medal from the San Francisco Chronicle.
SEPT. 29-OCT. 2 (planned) To celebrate its claim to fame as the largest producer of cantaloupe in the state, the tiny Fresno County town of Firebaugh pulled out all the stops for its first melon bash in 1951. A parade of military troops marched in lockstep downtown, live music fueled all-night dancing in the streets and literal tons of cantaloupes were given away for free.
These days, the affair is more like a carnival with nearly two dozen rides like the Ferris wheel, Tilt-a-Whirl and Scrambler, but the center of the four-day extravaganza is still the cantaloupe. After all, Fresno County itself is responsible for nearly 60% of California's cantaloupe crop, producing about 250,000 tons of the melon per year (its scorching, rain-free summers are ideal growing conditions for the fruit).
At the fair, fresh-picked melons show up mashed in refreshing slushies, sliced on top of funnel cake, or hollowed out as an eco-friendly, partially edible vessel for ice cream. Local farms bring their top crop to vie for the coveted title of Best Tasting Cantaloupe. Former champ Garrett Patricio of Westside Produce notes that Firebaugh might be one of the few places you can get soft-fleshed, musky-flavored cantaloupe at peak ripeness, fresh off the vine—a rare find in grocery stores, as the prematurely cut variety is typically favored for its longer shelf life. "People who know cantaloupe know the difference," Patricio says. Now that's what we call using your melon. 5 p.m.-midnight daily. Dunkle Park. Q and 15th streets. Firebaugh. firebaugh.org —Jessica Rine
MUST EAT
"When I had the cantaloupe salsa, I thought, 'This is legit,' " says Firebaugh Mayor Freddy Valdez of the condiment by Arambula's Taqueria that adds a sweet kick to the restaurant's tacos or carnitas pupusas.
SEPT. 30-OCT. 2 It's not the cinnamon and brown sugar sweet potato fries with marshmallow dipping sauce or the hand-feeding of raw sweet potato cubes to resident camel Addy that draw people to the two-day Sweet Potato Festival in the Merced County town of Livingston. Believe it or not, it's the kids' sweet potato decorating contest, in which 200-plus spuds are transformed into everything from the Ghostbusters logo to Mickey Mouse. So popular is the potato-meets-Picasso challenge that a grown-up division was added in 2019.
As the most prolific producer of sweet potatoes in the state (the town accounts for almost 90% of California's crop), Livingston lives up to its title as the Sweet Potato Capital of the World. Area farmers grow eight different kinds, including your standard Thanksgiving spud, the Jewel; the starchy, russet-like Jersey; and the Stokes, famous for its vibrant purple interior.
You'll find these varieties and more for purchase at the ninth festival—organizers have not yet finalized this year's dates, but believe the event will take place in late September—but if you want to dig into the crop a little more, a farming expo follows the tuber from dirt to plate. Or if you'd rather just dig into a plate or bowl instead, many indulgent iterations of the humble spud will be served, including sweet potato ice cream and camotes enmielado, a Mexican-style sweet potato candied with caramelly piloncillo sugar. 4 p.m.- 11 p.m. daily. Max Foster Sports Complex. 2600 Walnut Ave. Livingston. livingstoncity.com —Jessica Rine
MUST EAT
Head to Mininger Foods, who put the "sweet" in sweet potato fries with their unconventional toppings. "Marshmallow and cinnamon sugar are always a favorite," says Livingston Recreation Superintendent Jacquelyn Benoit.
OCT. 1 Here they purple: California ranks as the second largest eggplant producer in the country, and the town of Loomis has been touting the jewel-toned vegetable since 1987.
While the festival itself takes place annually on the first Saturday of October, the revelry traditionally begins seven days prior with the start of "Purple Week." (This year, the community is hoping to expand the pre-event celebration.) During this time, local haunts start incorporating the nightshade in uncommon menu items, like Taylor's with its eggplant milkshake covered in purple sprinkles and The Ugly Mug with its eggplant tacos. The Loomis Basin Chamber of Commerce also issues daily challenges like Dress a Pet in Purple Tuesday and Take a Break and Enjoy a Purple Cooler Thursday (LBB Gastropub makes a stiff one with purply prickly pear purée, St. George citrus vodka and lime juice).
You'll know when festival day finally arrives because you'll hear it: The first order of business is always the Purple Kazoo Parade, where all are encouraged to march down Taylor Street behind the newly crowned Eggplant King and Queen. From there, festivalgoers disperse for a full day of activities, including an eggplant cooking competition and a chalk art contest. Pick up an eggplant Parmesan sandwich from Rubino's Ristorante, a hot link dressed with eggplant relish from Between the Bunns, or free Black Beauty eggplants from High Hand Nursery and the Loomis Grammar School Garden before you snag a seat for new contests and concerts. The entertainment lineup hasn't been finalized, so no word yet on a cameo by Loomis-raised poet-rapper Hobo Johnson, but his hit "Peach Scone" is probably better suited for another festival anyway. 10 a.m.- 5 p.m. Downtown Loomis. loomischamber.com —Curtis Yee
MUST EAT
There's no school like the old school when it comes to classic themed dishes by a pair of local faves. "Rubino's [Ristorante] and Red's [Bistro] make the best eggplant Parmesan and eggplant lasagna around," says Frank Udvarhely, CEO of the Loomis Basin Chamber of Commerce.
OCT. 15-16 For the past half-century, competitive pumpkin growers have been flocking to the Half Moon Bay Art & Pumpkin Festival in October, rumbling down Main Street in their pickup trucks, beds sagging under the weight of gargantuan gourds—some of them tipping the scales at over 2,000 pounds. "It's the Super Bowl of pumpkin weigh-offs," says longtime event organizer Tim Beeman.
The champion pumpkin, on display for photo ops at the fair, becomes the poster squash of this year's 50th gourd gathering, robustly representing San Mateo County, which produced over 1,000 tons of pumpkins last year. If you thought Thanksgiving pie and seasonal lattes were the culinary limits of this vegetable, you're in for a treat with the fair's cinnamon pumpkin ice cream, gooey pumpkin sticky buns, hearty pumpkin chili, and pumpkin spice mac and cheese topped with pepitas.
Ever nature's canvas, pumpkins are also live-chiseled with the visages of Davey Jones, President Obama and Yoda by "Farmer Mike" Valladao and his trusty buck knife. Come early for the parade on Saturday (look for a San Francisco Giants star to serve as the grand marshal; past honorees have included Hunter Pence, Willie Mays and Barry Bonds) and be sure to set aside time to scour dozens of surrounding pick-your-own patches along Highway 1 and Highway 92 for your own spook-tacular Halloween pumpkin. 9 a.m.-5 p.m. daily. Main St. Half Moon Bay. pumpkinfest.miramarevents.com —Jessica Rine
MUST DRINK
Half Moon Bay Brewing Company's pumpkin ale—amber-style suds made with locally grown Sugar Pie pumpkins, pumpkin spice and sweet potato—is a popular autumnal guzzle that you can find at one of two festival beer tents.
NOV. 18-20 While 92% of the nation's mandarins are grown in California, the festival held every November at Auburn's Gold Country Fairgrounds celebrates a unique niche: Placer-grown Owari Satsuma mandarins, which have gained fanfare for their complex, honey-like flavor.
After participating in the 5K or 10K fun run through the streets of Auburn, head to the fairgrounds where you can replenish your electrolytes by eating as many mandarins as you please from over a dozen local growers (if you bag a bunch, drop off the haul with Newcastle's Boy Scout Troop 13, which offers chivalrous delivery to your vehicle).
At the festival, you'll find dishes and drinks that take the zesty mandarin to interesting new heights. For example, try Drewski's grilled-cheese-and-barbecue-pork sandwich, which is ameliorated by the addition of fresh citrus, and chase it down with a vodka-mandarin cocktail or a mandaran milkshake.
During a peel-and-eat contest, hopefuls who try to hoover through as much of the region's famed "zipper fruit" (so named for its easy-off skin) as possible in under two minutes probably won't pack away enough immune-boosting Vitamin C to get through the winter, but not to worry—flu shots are also available at the festival. In terms of other health benefits, the endorphins triggered when biting these cuties of the citrus world are not to be discounted. "Mandarins are little bundles of joy," says Josh Huntsinger, Placer County's agriculture commissioner. "They're probably the perfect fruit." Times vary by day. Gold Country Fairgrounds. 1273 High St. Auburn. mandarinfestival.com —Curtis Yee
MUST EAT
Old Town Pizza, which has multiple locations in Placer County, expanded to the Gold Country Fairgrounds last summer. At this new outpost boasting a large covered patio, indulge in the local restaurant chain's citrusy entry into fruit-on-pizza debate with its chicken pie topped with fresh mandarin segments.