Northern Comfort
A husband-and-wife team of fine-dining veterans elevate the art of comfort food at their inviting new North Sacramento restaurant. Pull up a chair under the old oak tree on the patio and sit a spell. Supper's almost ready.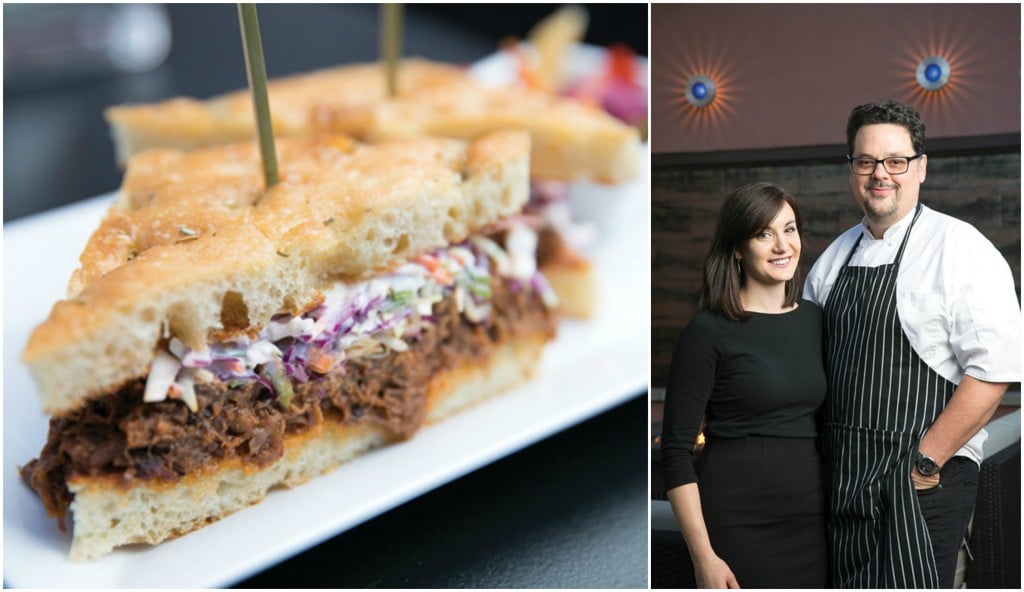 Woodlake Tavern
1431 Del Paso Blvd.
514-0405
woodlaketavern.com
R
"The brisket sandwich is as big as your head," Woodlake Tavern's chef-owner Deneb Williams says with a grin. T"It's this big, burly sandwich on homemade focaccia. We're not messing around here."
He's making a point: Just because Williams is the former executive chef of The Firehouse and just because his wife and business partner, Elizabeth-Rose Mandalou, used to be a sommelier at Ella, don't expect any chef-conscious, tweezer-plated fare to come out of the kitchen at their new North Sacramento venture, situated in an inviting Art Deco storefront on Del Paso Boulevard just outside the neighborhood of Woodlake.
That said, architecting a great sandwich may sound easy, but Williams' version is far from simple: that spice-rubbed brisket is smoked for 14 hours, the slaw topping is carefully dressed with house-made mayonnaise, and the fluffy, golden-crusted sourdough focaccia is baked from scratch. It's all worth it, though, when the neighbors start to filter in at happy hour, a crew of regulars who sit at the bar over sandwiches, beers, cocktails and unexpected, modestly priced wines like a $5 McManis cabernet. On a recent weeknight the locals' topic of choice was their own backyard barbecue techniques. They were talking about how to handle the spoils of the upcoming hunting season—who knows a good marinade for elk?
"There's a sign when you drive into the Woodlake neighborhood that reads, 'where neighbors are friends,'" Mandalou says. "I thought, OK, that's kind of cheesy. But they really mean it! The night we opened up, [diners] were all visiting each other's tables. It's like Cheers."
Last fall, when Williams and Mandalou took over the building formerly occupied by Cask & Barrel, and before that, Enotria—once billed as Sacramento's great hope for a Michelin star—they knew the secret to making a go of the space was to offer something welcoming and personal. So they hired a friend, Emily McCuiston, who had worked with Mandalou at Ella while studying design at Sacramento State, to do the interior. A jazzy patterned tile floor, casual bistro tables and a cheerful blue banquette replaced the former space's hushed beiges and browns, and another friend, Megan Flaherty, came in and created the geometric mural of the Sacramento skyline above the bar, a syncopated design that looks like something you'd see on the cover of a classic bebop album. The inviting, low-key space and inventive, down-home menu of craft comfort foods hit the sweet spot for underserved locals, from the old-guard denizens of Woodlake, a leafy burg of neat mid-century bungalows, to the young families buying up affordable houses north of Del Paso Boulevard. "It's this wonderful, eclectic blend of all types of people," says Mandalou.
"I wanted this to be a place people could come and have a cold beer and a burger," Williams says. Well, not just any burger. This one comes with tomato marmalade, fried onions and cheddar cheese that the chef smokes himself. "It's got this sweet and salty thing that people really relate to," he says, beaming with enthusiasm. "We hit it out of the park with the burger."
If the weather is nice, ask for a table on Woodlake's back patio, a secret garden shaded by a magnificent oak tree. With a babbling waterfall, a cozy fire pit and occasional live music (Elizabeth loves a duo that plays acoustic-tinged electronica), the totally enclosed space may be one of the most charming outdoor spots in town, especially once you catch a whiff of the smoker's perfume as the brisket beds down for a 14-hour snooze.
In addition to the aforementioned sandwich, the meat plays a prominent role in Woodlake's showpiece, the barbecue combo plate. As refined and pretty as any sushi platter, the dish includes smoked chicken, tender pork ribs, house-made sausage and a brisket that's so cleverly rubbed and roasted you may not want to obscure the aromatic char with sauce (the entrée comes with a trio of house-made variations, which you can always sop up with a luscious corn biscuit).
Williams' ideas about elevating barbecue came as an epiphany last summer, while he was off on a solo camping trip in the Pacific Northwest with his dog Michonne (yes, she's named after the couple's favorite character in The Walking Dead). Reaching Seattle, Williams stumbled into Bitterroot, a modern barbecue joint that really turned his head. "If you go down South, lots of barbecue stands are shanties and trailers and you get a pound of barbecue on a paper plate. This wasn't that," he says. "This was clean and modern and polished. You could tell craft had gone into it. So I started kicking around these ideas."
That head-clearing camping trip came just as Williams left his job as executive chef at The Firehouse, where he had spent nine years guiding the fine-dining restaurant and also met Mandalou (she was a server at the time). They were friends for a couple of years, he says, "and then more." For their first date, seven years ago, he took her to chef Billy Ngo's Kru.
Mandalou grew up in a restaurant family, her dad working as a chef at local country clubs and the celebrated Buckhorn Steakhouse in Winters. One of her first culinary memories is of eating baby octopi cooked by her Greek father. "They were delicious," she recalls wistfully. At this, Williams talks eagerly about an octopus recipe he's been working on in his head, but adds that it's not going to be appearing on the menu at Woodlake anytime soon—he is saving that for Mandalou's dream project, a wine-driven Italian seafood restaurant called Allora, which the couple intend to open in East Sacramento this fall.
Williams and Mandalou's seemingly overnight success at their new restaurant took years, and a lot of false starts. They had drafted and filed many a concept before coming up with the idea for Allora together a year ago and pitching it to investors David and Jan Hardie, who were so taken with the couple's exciting vision (it's hard not to be) that they said yes right away. Then, a couple of days later, the Hardies called back and said no. They already co-owned a restaurant on Del Paso Boulevard called Cask & Barrel (and the building that housed it), it seems, and the experience wasn't everything they'd hoped it would be. Williams started asking questions. Then he came up with a proposal to make everybody happy. But first, he had to sell it to his wife.
"I had the same knee-jerk reaction a lot of people [we told about it] had when he said, 'OK, here's the plan: Instead of one restaurant we're going to do three!' " Mandalou says. She rolls her eyes, then arches an eyebrow. "He's lucky he found someone who's as crazy as he is and totally down for the ride and the adventure."
His pitch to the Hardies? "Let's put a lot of love and passion into this wonderful facility," Williams said, referring to the Del Paso Boulevard building, with its good bones and two fully kitted-out kitchens. He suggested not one restaurant on the site but two, to give locals more options at the right scale for the neighborhood. The Hardies bought into Williams' concept for turning the property into a thriving scene, and in turn they agreed to a package deal that included Allora—a win-win scenario for all. Within months, the couple had opened the first two restaurants: Woodlake Tavern in January, and a fast-casual pizza, pasta and panini concept next door called Uptown Pizza Kitchen, which opened in March. While Uptown caters to families and does a brisk takeout business, Woodlake is a more subtle concept, an ongoing exploration of what the very idea of comfort means, the idea of home and family, and the menu reflects that.
As memorable as the barbecue is, it's Williams' dinner-plate-sized chicken pot pie that may well turn out to be Woodlake Tavern's signature dish. It's a particularly tricky item, more so than just about any of the popularly elevated classics (looking at you, mac 'n' cheese and chicken 'n' waffles), its charms too often perverted by childhood memory: you probably remember that after-school Swanson's pot pie being "good" much the way you remember Jake Ryan's sweater vest looking "cool" in Sixteen Candles.
Few commercial kitchens get pot pie right. Woodlake does, because pie making is part of Williams' personal culinary history. In his early 20s, he and two buddies got together to start a brewpub in Wyoming. When the aspiring chef realized he didn't know the first thing about desserts, he called his mom back home on Harbor Island in Seattle and begged her for help. She packed up Williams' little sisters and came out to pitch in. "My mom and I ended up working together for 12 years," Williams says. "We went from [my] brewpub to a steakhouse to a four star hotel. She was my pastry chef until she retired." More importantly, though, Williams says, "She taught me the nuance of pie dough."
Unlike many a grandma who would rather die intestate than reveal her secret to a flaky crust, Williams is happy to share. "It's all about the temperature of the butter," he says. "As they say, hot hands are the enemy of pie dough. I start with ice-cold flour and ice-cold butter. I'll run frozen butter through the cheese grater, then put it back in the freezer. You want those globlets of butter to stay frozen, so they keep that strata, for the flakiness."
He adds a dollop of curry powder to the chicken mixture, and bakes his pie in a wide bowl, crust only on the top, so no soggy bottom. The flaky top crust, glistening with egg wash, breaks under your fork like the sugar on a crème brûlée and yields to a delicate smoked chicken and vegetable stew. It's a culinary hug, a dish that makes you feel like you're being swaddled in a warm blanket and sung a lullaby: flavorful, unctuous, subtly spicy. However faulty your childhood memory, this pie fills in all the blanks and then some. If you're feeling the emotion in the dish, it might be because Williams has fond memories of making it for his daughters, Emma, 13, and Julia, 11, when they were little. "At the time I was a single dad," he says, "and it was something I could make ahead and throw in the oven."
Williams' menu is full of personal favorites. "Crab cakes are something I'm very passionate about," he says, having grown up between Puget Sound's prime crab country and Hawaii's great fishing grounds. His are traditional, lightly bound with crispy breadcrumbs and dressed with a classic rémoulade. The garnishes provide the element of surprise: a slice of fried lemon and a tiny fried gherkin. The lemon flavor lights up the whole dish, teasing out the silky subtlety of the rémoulade.
The menu item Williams devised for his own comfort is, of all things, a salad. "I eat salad almost every day," he says. Woodlake's entrée-sized version features an ever-changing chef's choice of ingredients; a recent plate included asparagus, snap peas, pork belly, smoked chicken, blue cheese, egg and pickled green beans.
Even the handful of craft cocktails on the menu have personal meaning, designed by Mandalou. The Cygnus, a smooth whiskey drink laced with artichoke-flavored Cynar, is named for the constellation that includes the star Deneb. "It's her little homage
to me," Williams says. The Light Rail, which features sweet potato liqueur, is both a reference to the public transit that runs by the restaurant and a play on a classic sidecar. "Elizabeth made up all those cocktails in our kitchen at home," Williams says. "That was a fun week."
That said, he adds that life these days includes few opportunities to relax with a cocktail. In addition to preparing to open Allora, Mandalou is currently spending up to five hours a day studying for the Court of Master Sommeliers' "advanced" sommelier exam in July. The rigorous test only has a 30 percent pass rate, and it's the last qualification before the "master" level, which only around one percent of aspirants attain. If she passes, Mandalou will be one of only a handful of Sacramentans to do so. "Last night we're lying in bed and I've got flash cards, quizzing her on the appellations, the terroir of Hungary," Williams says, marveling. "It's an amazing experience to be along for the ride."
With two restaurants down and one to go, the wild and mostly unplanned ride is far from over. "Real life throws a bunch of curveballs at you," Williams observes.
His wife seems to think that's an understatement, adding, "I'd say we've been playing dodgeball for a few years."
"But man," her husband replies, "the end result is beyond my wildest dreams."